The five things you need to know on Thursday February 11, 2016…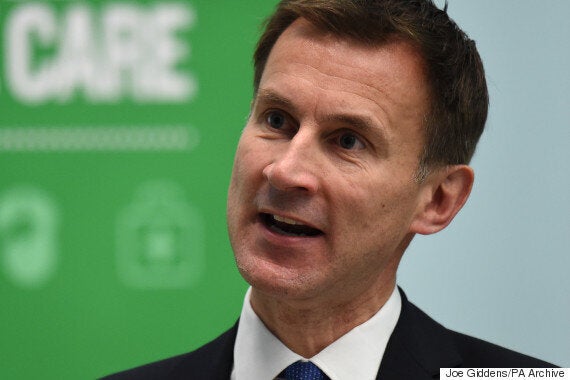 A senior NHS England source last night made this interesting comparison: "Hunt thinks he is Maggie Thatcher taking on the miners. But the problem is he doesn't have six months' worth of coal."
The Government and the BMA are currently eyeballing each other as determinedly as the NUM and Thatcher did. As Jeremy Hunt ponders imposing his contract on the junior doctors, and there's talk it could happen as early as today, it's clear there's exasperation in Government at the strike and a feeling that enough is enough. If lead negotiator Sir David Dalton concludes negotiations have failed, Hunt may act. Some cooler heads suggest this is brinkmanship given the contract doesn't need to be sorted until next week for a summer introduction.
The junior docs again showed their mastery of social media yesterday with the #iamthedoctorwho hashtag listing their various crucial duties. And No10 is very wary about taking on the docs and tarnishing the Tory brand for years. But some suspect Hunt's real agenda is to get 7-day working reforms among consultants - and possibly nurses and others - and junior docs are the Trojan horse.
Pressure on Hunt will intensify with today's new NHS performance figures expected to reveal an increase in delayed discharges - which would point to the crisis in social care. New studies by health charities reveal the NHS 'winter crisis' became a 'summer crisis' too last year. Meanwhile the FT reports NHS productivity has fallen, making those £22bn efficiency savings look even harder to achieve.
Late breaking news: Hunt is to make a Common statement on the Junior Docs contract at 11.15am. Could this be it? Imposition? Or another attempt to stare out the BMA?
Met chief Sir Bernard Hogan Howe's Brian Redhead lecture last night (and his Guardian article today) certainly prompted a real news story: a major shift in the way police handle allegations of sex offences. The default position of believing the accuser (as set out in 2014 by HM Inspectorate of Constabulary) should be changed, he says. Cops should instead now show empathy and support but "test the accuracy of the allegations and the evidence with an open mind".
Of course this all stems from the row over Lord Bramall and Lord Brittan, some of which stems from police insistence that the claims were 'credible and true', a phrase the Met chief says shows his fellow officer 'misspoke' about the guidance. Lots of papers want Hogan Howe to say 'sorry' over those cases.
On the Today programme, he said 'I can't really apologise' for authorising a serious investigation, though he had 'expressed regret' about some elements of the handling of the cases. He also hinted there was stuff not made public that were material to the investigation. Hogan Howe rightly pointed out that in the Janner allegations, the cops were accused of not doing enough. The UK's top cop also rammed home the point that the police had to follow the evidence 'without fear or favour'. Crucially he also said 'I have no intention of being dismissed'.
As for MPs, last night they voted to stop the practice of the Speaker naming Parliamentarians who have been arrested. They will now only be named if charged of any offences. John Mann wasn't happy, but Dennis Skinner had a fun tale about his own arrest on a picket line.
Is the Government paving the way for a retreat on George Osborne's Short Money plans as set out in the Autumn Statement? After my story on this yesterday - with smaller parties in particular going public with their anger and revealing the staff redundancies it would cause - it could well be.
I hear that an announcement of a consultation on the proposals for a 19% cut in the cash (and in policy development grants) had been due today and may now come tomorrow. Yes, that's a 'consultation', which suggests this is not a done deal and the 19% could be lowered, if not scrapped totally. If so, it will be a smaller scale version of the Treasury's MO on tax credits: initial bluster about austerity, followed by a climbdown after a backlash. I'd expect it to come up at Business Questions this morning.
Yesterday, Jeremy Corbyn wore his heart on his lapel, if not his sleeve, backing trade unions. And even if the Short Money pain is reduced, the Trade Union Bill still threatens an £8m loss in Labour's income. It wasn't as prominent as the junior docs hashtag, but lots of trade unionists tweeted "you won't get me i'm part of the union". Let's see.
BECAUSE YOU'VE READ THIS FAR…
The BBC has picked up the chatter of a 'unity reshuffle' that has been around since last week. The Times' Sam Coates deserves credit for kicking this off last week, not least with speculation that Hammond and Fallon and Grayling were lined up for exit, May set for Foreign Office and Boris lined up for Home Secretary.
Hilary Benn is making a speech around now which could see him make a warning about the dangers posed by Vladmir Putin if the UK were to exit the EU.
Nigel Farage declared the Cologne attacks proved we should quit the EU for the sake of our daughters. The Times splashes on claims that UKIP has criminal questions of its own, having known about convictions of some candidates last year (but maybe under David Cameron's reforms they wouldn't have to declare 'em when first applying?). The Indy splashes on revelations that 'independent' research for Brexit groups is not really that independent.
Boris's wife Marina entered the debate with a Spectator complaint the PM was doing little to tackle ECJ rulings that seemed to have legal force in the UK. But was she, like her hubby, arguing
for reform, not for exit from the EU?
The Times has a neat quote from Steve Baker at the Brexit conference where he claimed there was 'panic' among some in Government that Leave was ahead in the polls: "A Eurosceptic member of the government and I had a drink last night and he told me very plainly that it was his clear understanding that the government expected, having come back with this deal, that they would show it to the public, get a round of applause and be 20 to 30 points ahead for 'remain'."
Jeremy Corbyn could have done with shorter, sharper questions on housing yesterday, as well as a bit more thinking on his feet. If only he'd seen the story of Tory MP William Wragg telling Granada TV last Friday that he had to move back in with his mum and dad because he couldn't afford a deposit to buy a house (despite his £74k salary).
Maybe it proves MPs are in touch with the realities facing many (often less wealthy than them). And is Labour out of touch with the South? Labour's Steve Reed came a cropper in the council tax debate, as he suggested Tunbridge Wells was in Surrey, not Kent. He's now apologised on camera for getting it wrong. Maybe he knows a friendly 'geography teacher' in the Commons…?
Corbyn perhaps missed a trick too on the football fans debate. Cameron expressed concern at PMQs over ticket prices after the Liverpool walk-out and last night the fans got their way with a two year freeze. Corbyn tweeted his approval but Labour really could have seized that debate, given it had everything the Labour leader likes: street protest, market failure, working class sport, northern heartland etc etc.
Corbyn got a PMQs kicking over Trident of course and Madeleine Moon tweeted afterwards "nothing to do with me, I'm still in my darkened room". Still, David Cameron didn't exactly deny Julian Lewis's claim (and Lord West at the PLP said his top brass pals had said the same) that No10 wanted to delay the Trident vote until after Labour conference. This is a point I've been making ever since Cameron's announcement in November, and worth remembering whenever you see stories that the MoD wants a vote before Easter. We may get two votes though, one 'symbolic', one substantive.
If you're reading this on the web, sign-up HERE to get the WaughZone delivered to your inbox.
Got something you want to share? Please send any stories/tips/quotes/pix/plugs/gossip to Paul Waugh (paul.waugh@huffingtonpost.com), Ned Simons (ned.simons@huffingtonpost.com), Graeme Demianyk (graeme.demianyk@huffingtonpost.com) and Owen Bennett (owen.bennett@huffingtonpost.com)
Related