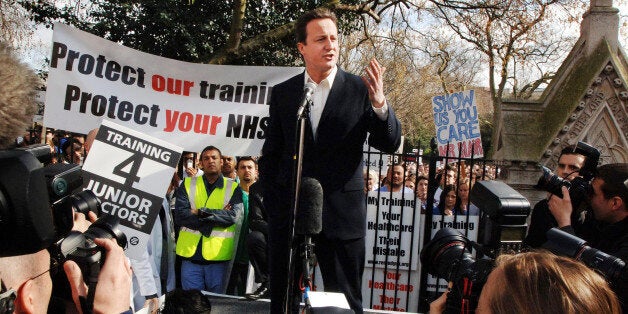 Video footage of David Cameron promising junior doctors he would trust them with the NHS has been seized upon by Labour as evidence the prime minister is guilty of "betraying" the profession.
In the wake of the government's decision last week to impose a new contract on junior doctors, medics are are sharing online a video of a speech given by Cameron in 2007.
The clip shows the then leader of the Opposition winning cheers from protesting doctors as he attacks the then Labour health secretary Patricia Hewitt.
Shadow health secretary Heidi Alexander told The Huffington Post the video "shows just how hollow David Cameron's promises on the NHS are".
"As Leader of the Opposition, he talked about 'trusting' NHS staff, but as prime minister he has turned his back on them and betrayed the very people who keep our NHS running," she said.
"The sad truth is that this whole sorry saga could have been avoided if David Cameron and Jeremy Hunt had decided to negotiate with junior doctors, rather than pick a fight with them."
At the time, junior doctors were angry at the newly-launched Medical Training Application Service (MTAS) system which they had to use to apply for specialist positions in the NHS.
In the clip, Cameron tells doctors Hewitt was seen by some as the "worst health secretary in the history of the NHS".
"I want to see politicians of all parties make some simple pledges," he said. "No more pointless reorganisations when you are asked to reapply for your own job."
"There is a simple truth at the heart of this that all of us have got to understand. "You came into the NHS not because you wanted to get rich, not because you wanted to get famous, but because you have a vocation about treating the ill, about curing people, about serving your communities.
"Politicians have got to understand that and start trusting the professionals that we have trained in our health service to run our health service."
"Those are the values, trusting the professionals, trusting people, those are the values that inspire me that inspire [then shadow health secretary] Andrew Lansley." Cameron said he would "fight for" for those values in Opposition and in government.
Popular in the Community