Lady Gaga did an excellent job of paying tribute to one of her biggest inspirations, David Bowie, at the 2016 Grammy awards.
Last month, the world of entertainment was rocked by the news that David Bowie had died at the age of 69, following a private battle with cancer.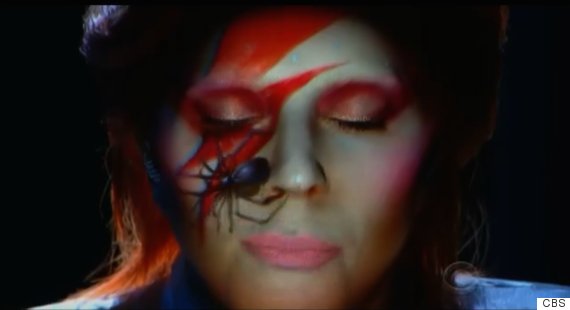 Gaga's performance incorporated songs and imagery from across Bowie's illustrious career
Gaga - who has repeatedly named Bowie as one of her biggest inspirations throughout her career - took to the stage on Monday night (15 February), to pay homage to the late singer.
Kicking off with a close-up of her face emblazoned with Bowie's iconic 'Aladdin Sane' lightning bolt, Gaga began her performance by singing 'Space Oddity', before whizzing through a collection of his biggest hits, including 'Changes', 'Ziggy Stardust', 'Suffragette City' and 'Rebel Rebel'.
Joined on stage by Nile Rodgers - who collaborated with David Bowie in the 1980s - she then launched into 'Fashion', 'Fame' and 'Let's Dance', before wrapping things up with one of his signature tunes, 'Heroes'.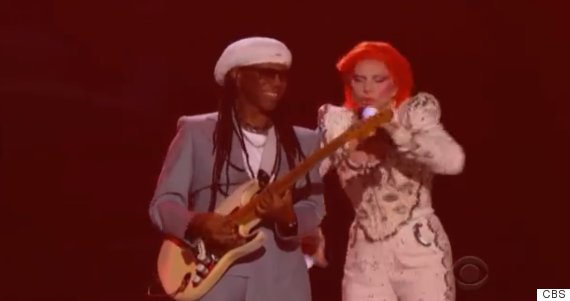 Lady Gaga and Nile Rodgers
Her ensemble was also greatly inspired by David Bowie's flamboyant costumes from his 'Ziggy Stardust' era, including her bright orange hairstyle, which she sported especially for the tribute.
In the days before paying her respects with her performance, she also unveiled a new tattoo of David Bowie, complete with lightning bolt.
It was previously revealed that this year's Brit Awards will also contain a tribute performance in Bowie's honour, with reports suggesting it will feature British singers like Adele, Coldplay and Noel Gallagher, among others.
MORE GRAMMYS:
LIKE US ON FACEBOOK | FOLLOW US ON TWITTER