A schoolboy was questioned by police under the government's anti-terror laws after he wore a "free Palestine" badge into school and asked permission to fundraise for children affected by the Israeli occupation.
Rahmaan Mohammadi was referred to police by teachers at Challney High School for Boys in Luton, Bedfordshire, last summer.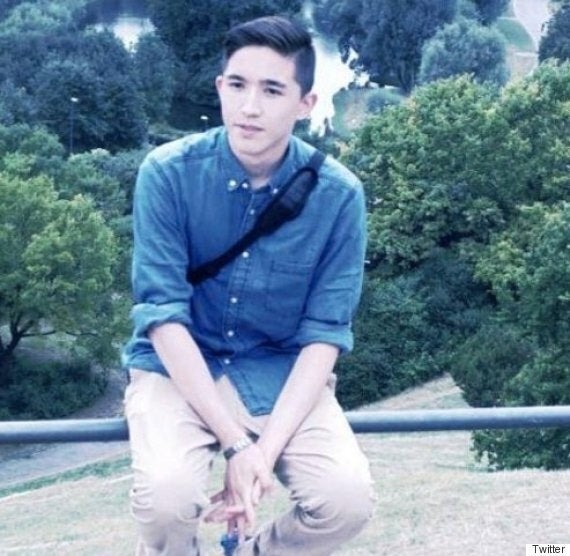 Rahmaan Mohammadi spoke of his experience during a Students Not Suspects meeting
Speaking at a meeting held last week by the Students Not Suspects campaign - which aims to fight back against the Prevent strategy - Mohammadi said: "I need to talk about the reality of Prevent, what actually happens in schools, colleges and campuses.
"As a Muslim, I fight for justice. The equality of freedom, and Prevent itself is fighting that. It takes basic human rights away."
He claimed his younger brother was approached by the school's staff and told to "advise Rahmaan to stop being radical or he would be referred to the authorities".
Mohammadi told The Sunday Times: "Prevent creates paranoia. In school . . . if a senior member of staff was walking past, we would whisper to each other saying, 'What if they're listening to our conversation?' That's how paranoid it makes you.
"When police come to your house and say, 'I want to speak to you', with this massive folder with your name on it, that's intimidating. It makes you feel alienated."
During his speech, which was held at Goldsmiths University, the teenager added: "I'm targeted in the UK because I'm from Afghanistan. If I go back to Afghanistan, I'm targeted because I've lived in the UK. So I don't really have a home."
Mohammadi was speaking alongside Moazzam Begg, director of Cage - an organisation which previously described ISIS terrorist Jihadi John as a "beautiful young man". Rizwaan Sabir, a lecturer in Criminology from Liverpool John Moores University and Malia Bouattia, NUS Black Students officer, also spoke at the event.
Yusuf Hassan, Vice President of the Federation of Student Islamic Societies (FOSIS) told HuffPost UK: "Instead of allowing our young people to critique and explore their opinions on such issues, the government are policing thoughts with initiatives like that of Prevent.
"Would a child wearing a badge in support of the illegal Israeli settlements be treated in such a manner? I highly doubt it."
In a statement, Bedfordshire police said: "The officers spoke to the boy and were satisfied that he was not at risk and he was given advice and support."
It read: "Prevent is not making anyone safer. Instead it damages the fabric of trust in our society, silences Muslims and dissent, and institutionalises Islamophobia at a time when the far-right is gaining influence in many parts of Europe."
Rupert Sutton, director of Student Rights, a group campaigning against extremism on university campuses, said "Mohammadi was found by teachers at least twice with leaflets produced by Friends of Al-Aqsa... and as such his school was right to be concerned.
"Claims he was referred to Prevent simply for wearing a badge or talking about Palestine ought to be scrutinised extremely closely, as there is an ongoing pattern of misinformation and false claims about this vital programme being spread on campuses which must be challenged."
Challney High School has been contacted for comment.
Related