Rebel Wilson has divided opinion with a joke attempting to highlight the Hollywood diversity row.
The 'Pitch Perfect' star sparked controversy when she made a quip about "practising her transgender face" BAFTAs on Sunday (14 February) night.
Rebel made reference to the continuing debate about diversity that has dominated this awards season, as she took the stage to present the Best Supporting Actor gong.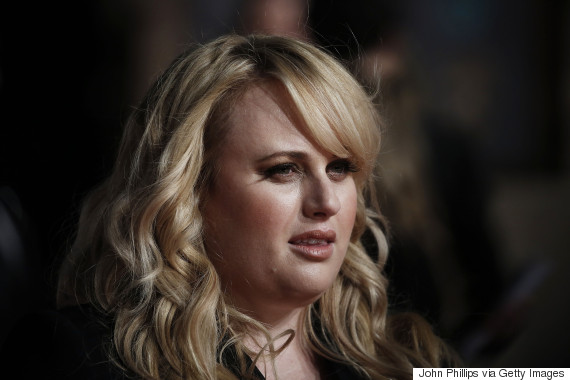 Rebel Wilson
She said she had "been practicing her transgender face" in the hope of winning an award in future years.
Not everyone was impressed with the way Rebel highlighted such issues, however, with many taking to Twitter to comment on her joke.
In today's #WTFnews @RebelWilson so disappointed in your #TransPhobic remarks. I would say #Joke but it wasn't funnyhttps://t.co/FqjAcP8EpP

— Samantha D. Lauzon (@samanthalauzon) February 15, 2016
ah rebel wilson..who likes to make police violence jokes at music awards and transgender jokes at movie awards..such a comedian, that one!!!

— Shay (@acharmingbore) February 14, 2016
@Lexialex @BadWilf so did Rebel Wilson. She said something about doing a "transgender face." So shitty.

— amazing amy (@rashaaaa12) February 14, 2016
Rebel Wilson was actually doing well as a presenter until she said "I've been practising my transgender face"

— isaac isaac THUNK (@stillfuckinitup) February 14, 2016
Stephen Fry shared a joke with his friend and there's outrage. Rebel Wilson makes a disgusting transphobic remark and you're all quiet? 👀

— Rowan (@worndowntoys) February 15, 2016
so disheartening to see many celebrities u admire laughing and applauding rebel wilson's transphobic joke on the baftas. basic unfunny jokes

— meebel (@tiredtrans) February 14, 2016
glad we're still a fucking punchline https://t.co/UN0zBgziz0

— Kinsey 5.8 Kevin (@desjardins) February 15, 2016
Rebel also made a quip about the Oscars, which have been at the centre of the row, after only white actors were nominated in the four main acting categories.
"I've never been invited to the Oscars, because as we know they are racists," she said.
READ MORE:
She then made another controversial joke while flirting with Idris Elba, saying that he made her nervous.
"I'm programmed to want chocolate on Valentine's Day," she said.
The comment also raised some eyebrows on the social networking site, but many also saw the funny side:
#bafta Rebel Wilson gets 1st laugh at 'Oscar racist' joke, then makes an unfunny racist joke about needing "chocolate" #Doublestandards

— David (@WeeLowry) February 14, 2016
REBEL WILSON PLEASE STOP THIS IS AWFUL EVEN IDRIS WAS TELLING YOU TO SHUSH

— bomb girls beth (@noblenymphadora) February 14, 2016
Rebel Wilson was saying what we were all thinking tbh 😂😂😂 IDRIS 😍 #BAFTA

— Alice (@AliceTillett) February 14, 2016
Oh man Rebel Wilson is hilarious. Comparing Idris to chocolate on Valentine's Day. Love her! #BAFTAS

— Ilsa (@ilsawill1975) February 14, 2016
Take a look at all the pictures from the 2016 BAFTAs in the gallery below...
LIKE US ON FACEBOOK | FOLLOW US ON TWITTER