Disturbing video footage has emerged appearing to show an Israeli police officer pushing over a wheelchair bound Palestinian man with disabilities.
The clip shows a soldier pushing the man away from a border in the city of Hebron, where a critically-injured woman lay after a shooting had reportedly taken place on Sunday.
After he fell to the floor, a group of Palestinians came to aid him, before an officer pointed his weapon and fired what appeared to be a stun grenade.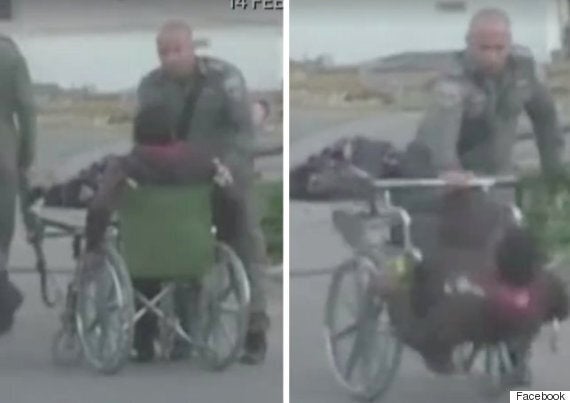 The moment the man appears to be pushed
The incident, which is being investigated by Israeli forces, occurred following an attempted stabbing of a police officer in the occupied West Bank, and was filmed by a local activist.
A 14-year-old Palestinian had been shot while trying to stab an Israeli officer at the border, it was reported, and fellow Palestinians can be seen in the footage attempting help her.
The man in the wheelchair claims to be Majed al-Fakhouri, a 53-year-old, who lost his left leg in a car crash a decade ago.
He told the Telegraph that he was trying to help the wounded woman.
"I saw blood coming out of her arm and side and I thought she was going to bleed to death,
"I tried to help her but a police officer stopped me and ordered me back. Then he turned me over and my head hit the ground," al-Fakhouri told the newspaper.
Micky Rosenfeld, a spokesperson for Israeli police, confirmed that the incident was being investigated.
Popular in the Community