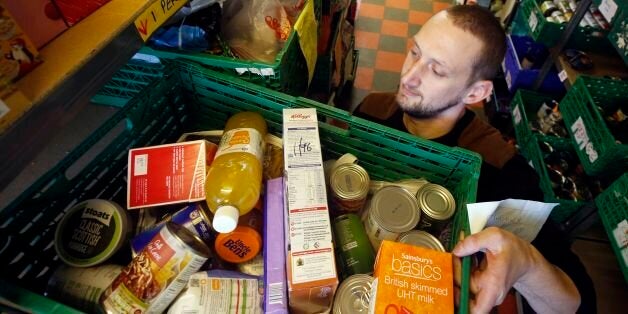 Asda executives are under pressure to reinstall food donation points relied on by charities and food banks after they were removed from stores across the UK seemingly unannounced.
A petition set up by customer Clare Smith, launched just 24 hours ago, had garnered the support of 65,000 people by Friday afternoon - all of whom are calling for the "essential and welcome community service" to be reinstated.
An investigation by the Guardian earlier this week discovered points allowing shoppers to donate food to local charities had been binned. In some cases, food banks had claimed up to 25% of their contributions came from Asda regulars.
The change in policy was instituted in January, but was not publicised until customers complained.
It prompted the petition to be set up on Thursday with signatories calling on Asda to "do the right thing" and reverse the cut.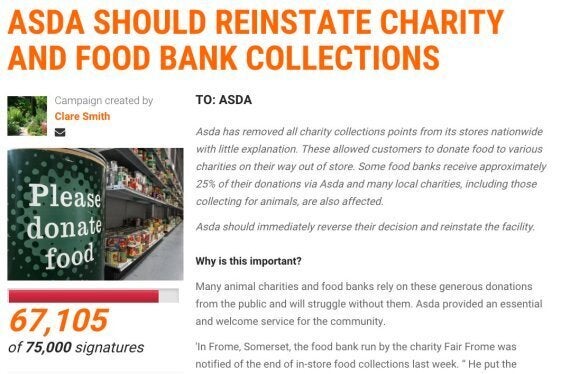 The petition has had over 65,000 backers so far
"Many animal charities and food banks rely on these generous donations from the public and will struggle without them," Smith's plea read.
"Asda provided an essential and welcome service for the community."
Her appeal moved tens of thousands of people, some current and former food bank users themselves piling in to ask Asda to reverse their policy.
"I have been a recipient of food aid from a food bank in the past," signatory Duncan M commented.
"I don't know how I would have coped without it. Please ASDA, it costs you next to nothing to do the right thing.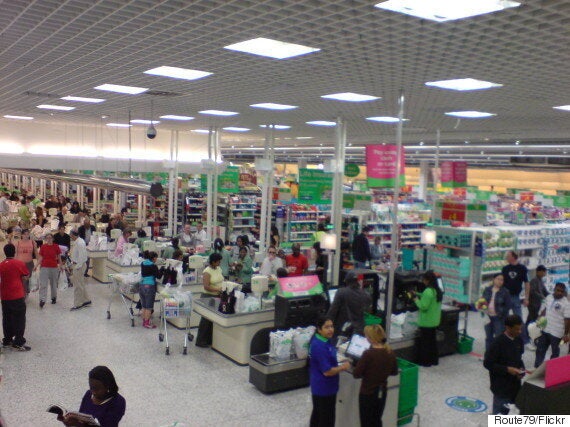 Asda is under pressure from customers to bring back the scheme
"This is an absolutely idiotic management decision; the most basic form of human solidarity dismissed without justification," user William H added.
"These idiots are already losing thousands of customers on a weekly basis to other supermarkets like Aldi... and they elect to do something like this. Sorry to break this to you, Asda executives, but this isn't going to help your reputation."
An Asda spokesperson told The Huffington Post UK the company wanted volunteers from charities and food banks to staff donation points, but had removed them before putting plans in place for this to happen.
"Asda plays an important role in the communities we serve," they said. "We know we can make a huge difference to local charities and our customers and colleagues are generous when it comes to supporting their local communities, which is why we try to make sure we host a variety of good causes in our stores.
"We've recently reviewed the Asda Community programme and are investing an extra £2m into local good causes through the Asda Foundation.
"We're also introducing some new processes and guidelines to make it fair and consistent for all the great charities we support and to enable our Community Champions to make the best use of their time.
"Food banks are very welcome to collect donations in Asda if volunteers are on hand to explain to customers where their donations are going, which we know increases the amount of food donated.
"Asda is a leader in the redistribution of food through our partnership with Fareshare and Company Shop, and we look forward to continuing to support them and local food banks in the future."