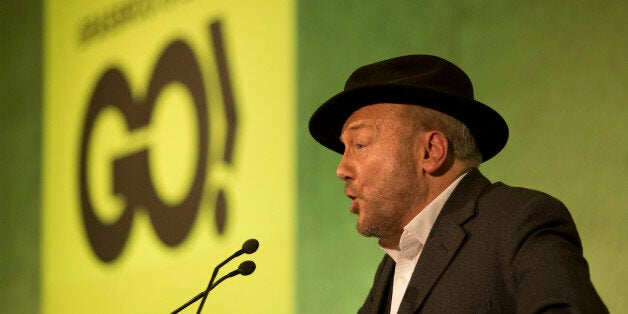 A huge anti-EU rally in Westminster ended on a controversial note this evening after more than a hundred people walked out as George Galloway took the stage.
The Respect Party leader was unveiled as the special guest at the end of the Grassroots Out event, prompting cries of "anti-Semite" from some in the crowd.
As people flocked from the hall, organisers were seen by the Huffington Post UK telling security staff to "shut the doors" in fear of a mass walk out.
One man who walked out told the Huff Post UK: "He's a despicable person: anti-Israel, supporting terrorist organisations, supporting Hamas, supporting Hezbollah."
Another said: "We need proper people, proper democrats. He won't do us any good."
A third man said simply: "I can't stand the man."
The more than 1,500 people who stayed in the hall for Mr Galloway's speech gave him a rousing reception as he called for the UK to leave the EU.
He talked up reconnecting with the Commonwealth, access to more trade markets and the reassertion of sovereignty as the key reasons for Brexit.
Mr Galloway was not the only person with a connection to the left of British politics to appear at the rally, with Labour MP Kate Hoey also addressing the audience.
She called on Labour leader Jeremy Corbyn and Shadow Chancellor John McDonnell to rediscover their previous eurosceptism, which they appear to have abandoned since taking over the party.
The long-serving Vauxhall MP suggested that eurosceptics across the country hold up a blank piece of paper whenever they see David Cameron – symbolising the lack of any meaningful renegotiation with the EU.
Others to address the crowd in the QE2 Centre in Westminster included former Shadow Home Secretary David Davis, Tory MPs Peter Bone and Tom Pursglove and economist Ruth Lea.
With Mr Cameron's attempts to get a deal at the Brussels summit running until late in the evening, any hope of a Eurosceptic cabinet minster addressing the rally was scuppered.
A Cabinet meeting planned to take place on Friday afternoon – in which collective responsibility over the EU referendum would have been suspended – was cancelled as a result.