A 16-year-old boy has been critically injured after a helicopter crashed into the water in Pearl Harbor, Hawaii.
Video footage of the incident shows the moment that the vehicle loses control and plunges into the ocean.
There were five people on board the Bell 206 aircraft and all made it out alive, but the teenager was trapped underwater and had to be cut free from his seat, according to witnesses.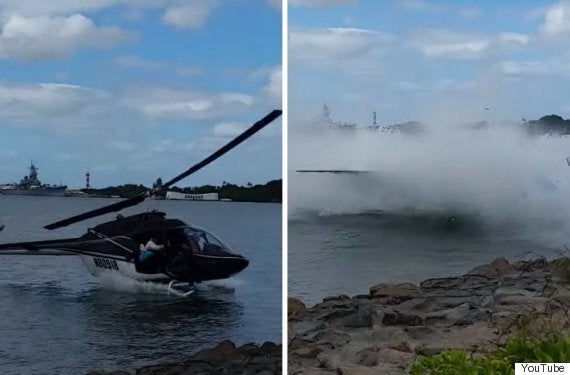 The helicopter crashed into the water
The aircraft crashed on Friday and was around 20-feet offshore according to a witness who said she watched as it "plopped down" into the water.
"I saw it like as it was coming in, and it looked pretty normal. It didn't look like it was shaking or anything," the onlooker noted.
As it started to near the shore black smoke appeared at the back of the helicopter, a witness said.
Federal records show the helicopter is registered to Jeffrey Gebhard of Kailua, Hawaii, according to CBS News.
The Navy said in a statement that the helicopter reportedly belongs to Genesis Aviation. A website for Genesis Helicopters says it conducts helicopter tours over Oahu and that Gebhard started Genesis in 1999.