Richard Branson has spoken of his admiration for the entrepreneurial spirit of people at The Jungle refugee camp in Calais, citing the extraordinary innovations there that save lives and alleviate discomfort there.
He said he was "shocked" to hear of the plans to demolish the southern zone of the camp, which could leave around 3,000 people homeless.
The innovations he praised include shops, a legal centre to help with asylum applications and dynamo bikes to charge phones.
One of the innovations can even save lives.
Writing on the Virgin website, Branson said: They also try to use the little resources they have to help others. I was inspired by the story of one Syrian refugee, Omar who uses his mobile phone to help save refugee lives in the Aegean Sea.
"His WhatsApp group provides weather reports and geo-tracking as refugees cross and calls the coast guard if they lose contact."
The legal centre at the camp helped win its first test case last month when four young refugees won the right to be reunited with their families in the UK.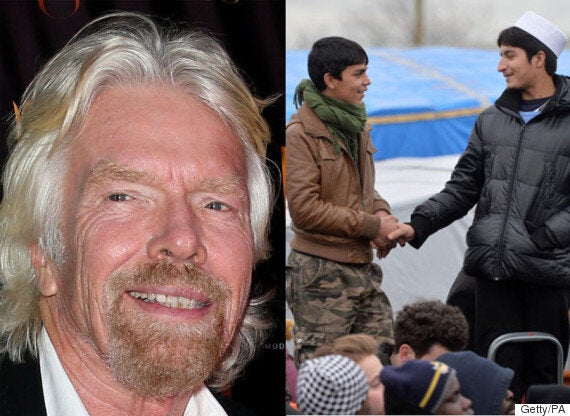 Branson said he was impressed by the entrepreneurial spirit of people at the camp
Branson wrote: "It can be hard to remain positive when so many face hardship all over the world. But we must continue to use our energy to fight on their behalf and against inhumanity and injustice."
He described how volunteers have shifted the homes of 1,300 people living in the area to be bulldozed, after the authorities asked for 100-metre piece of land between the camp and the motorway.
"The French authorities want the refugees to leave their shelters and relocate to the new shipping container camp at Calais, which will accommodate 1,500 people, however there are only 450 spaces left," he wrote.
"The other option is to join the hosting and orientation centres across France, although many who have family in the UK want to remain near the port."
He spoke of his astonishment that such a crisis was happening in Europe, so close to Britain.
"It's hard to look at the images of this camp and believe that this is happening in Europe, a mere 20 miles from the UK's shores," he said.
The mural was covered up and five euro charge was levied to those who wanted to see it.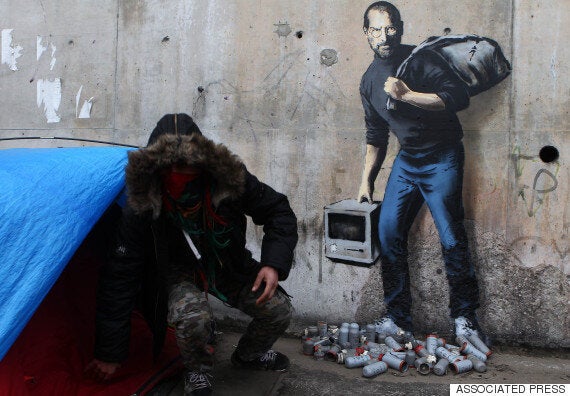 Banksy's Steve Jobs mural
The celebrities' call to allow unaccompanied children into Britain came as eight charities wrote an open letter condemning the bulldozing of the southern half of The Jungle.
The organisations say the refugees will effectively be made homeless because no viable alternative accommodation options have been offered.