The five Europe-tastic things you need to know on Friday February 19, 2016…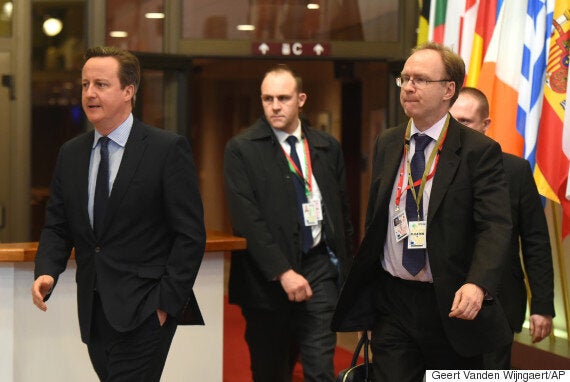 1) SLEEPLESS IN LE BATTLE
Were you up for Tusk and Juncker? No, thought not. But David Cameron was, only heading off to bed at 5.30am local time. After a three-hour power nap, he's expected back in the Justus Lipsius building that hosts this marathon EU summit.
After a series of one-on-one meetings (that officials love calling 'bilats') through the night, Cameron had made some progress but there's an awful lot more to do. On his way to bed in the wee hours, Czech Europe minister Tomas Prouza tweeted a photo of a lonely pre-dawn delivery truck.
Cameron had arrived on the Brussels red carpet yesterday vowing to 'Battle for Britain', a line guaranteed to give him a Standard splash and overnight holding front pages. Yet it is the Czechs (and Poles) who are digging in most on his plans to curb migrant benefits.
Sleepless summits happen now and again but this one really is testing the stamina. Cameron, Hollande and Merkel are all due bilats before the 'English brunch' (the breakfast slipped) starts at 11am local time. And the stakes really are pretty high, with EU leaders knowing Cameron has to get something he can sell back home. Pity the poor 'sherpa' officials most, they got no sleep at all as they hammered out a new text while Dave and others caught forty winks.
Given that sleep deprivation is a notorious torture technique, a casual observer may wonder why on earth such important matters are conducted like this. Yet forcing people into airless rooms with just a couple of flags behind them and a ticking clock can work. The Good Friday Agreement was famously sorted after Blair, Adams and Trimble pulled an all-nighter.
Elmar Brok, a German MEP from Angela Merkel's party and one of the 'sherpas', told Today that a Saturday overspill "might be a possibility." Dutch PM Mark Rutte said the same.
As one exhausted diplomat told the Telegraph, the ultimate aim of EU summits is "to try and make sure everyone walks away feeling like they haven't been completely screwed over". Yet as EU leaders set out their problems with Cameron's plans around the table last night, they used the perception that he needs a quick deal for a June referendum as leverage for their own concessions.
These rows are not choreographed, they're real. But that doesn't mean they can't get resolved Dalia Grybauskaitė, the president of Lithuania, was wonderfully blunt when she arrived yesterday: "I think everyone will have its (sic) own drama, and then we will agree." Which is exactly what Nigel Farage says.
The real question, as Eurocrats emerged bleary-eyed, was whether this will be all one big yawn for the British voters.
The Eurosceps are already saying this summit is 'a big row about tiny issues', compared to the bigger need to end unlimited EU migration and a creeping Eurostate. But small things and small talk are the oil that greases international diplomacy.
Cameron didn't get any surprise concessions overnight but he did at least pull a 'Peter Rabbit' out of the hat. The Prime Minister gave the Peter Rabbit, Squirrel Nutkin, the Flopsy Bunnies and Mrs Tittlemouse books to Belgian PM Charles Michel for his baby daughter, Jeanne. And the Times has a plumb quote from a Belgian official: "It was a really personal touch and Mr Michel was very moved…it might not be well known in Britain but David is really very charming."
The Times's indefatigable Brussels corr Bruno Waterfield reports a lovely quote from Cameron to fellow leaders: "I'm not asking for anything new or something impossible. I need this or it will be suicide".
As for child benefit, No.10 was digging in rather than caving on it applying only to 'new claimants'. Cameron set a high bar early last night on curbing wider in-work welfare payments for 13 years, with an initial seven-year period and then twice again for three-year periods. Eastern and Southern European leaders weren't happy and want an "emergency brake" of a maximum five years. Dave may take five years as a win though. But on the other big issue, will treaty change to protect the City of London be a red line he can't give up?
What seemed to rile EU leaders last night was when Cameron argued for a "live and let live" union. The French and Belgians didn't like that as a signal that treaty change would embed an 'a la carte', multi-speed EU at a time they want further integration.
But maybe the Squirrel Nutkin gambit worked. The Belgians, backed by the French, called for a new "last chance" clause, ensuring that Britain would never be allowed to reopen talks and the deal is the maximum that can be offered. It sounds like baloney, legally speaking. Yet No.10 liked this as it seemed to undermine the talk that Brits can vote Leave and then force Brussels to come back with a better deal to let us back in. The Boris-backed 'Second Referendum' idea is very tempting for some Eurosceps. Still, why doesn't Cameron say he can get even more reform when the EU next does get round to treaty change?
Don't forget that this summit is being pitched in Germany as the 'refugee summit' not 'the Brexit summit'. Merkel managed to park the migration issue until a joint meeting with Turkey next month. But Austria has imposed unilateral restrictions on migrants with a limit of just 80 asylum claims a day. Whether the PM likes it or not, migration could still be the big issue back here too.
Of course if a deal is done today and Cameron jets back for a Cabinet meeting, we could see him in Downing Street wheeling out the podium once more to announce the date of the referendum. It would be a truly historic moment.
But as in Brussels at his press conference, and on his return down the steps from his plane in London, the PM's aides know that one thing he absolutely must not do is hold the EU deal literally in his hands, let alone wave it. Eurosceps and newspapers would love a shot of him, Chamberlain style, holding a magic piece of paper (I wonder if any cameraman will yell, 'Just hold up a bit of paper, for a bit of light level Prime Minister'?).
After the Cabinet meeting, while the PM will use the trappings of office to make his statement (and a televised address to the nation hasn't been ruled out), Eurosceptic Cabinet minsters will finally be unmuzzled (but not allowed to make any rival announcement in Downing Street itself).
The Sun reports a "Gang of Five" Cabinet ministers are gearing up to back Brexit during a "weekend of pain" for the Prime Minister. Iain Duncan Smith, Chris Grayling, Theresa Villiers, John Whittingdale and Priti Patel will finally break ranks. An Out source says: "The feeling is this will play out over the weekend rather than a big bang on Friday. People want to do a drip drip rather deploy the big bazooka."
Will Boris do a quick doorstep before going off to plot his detailed position for Monday's Telegraph column? Will Michael Gove say a few words for a grateful nation? Remember that poll that said Boris is the only politician who could move markets on Brexit, adding upto 15 points to their cause. The PM is on Marr and expected to deliver the sovereignty plan aimed at keeping both on board. Farage is on the Marr sofa, but will IDS be allowed too?
As for not mentioning the war, one audience member on Question Time last night picked up on claims that the EEC was meant to stop conflict. Referring to Merkel, he said: "She needs telling this about preventing war: their country started the last two".
BECAUSE YOU'VE READ THIS FAR…
4) SMILE AND WAVE (LENGTH) BOYS, SMILE AND WAVE
Peter Mandelson is meant to be on Dave's side in this EU referendum but just can't help himself . He told Newsnight last night some of the PM's renegotiation would be "irrelevant" to voters. But Mandelson does think that migration is going to be a big issue and that Labour needs to grasp it.
In his strongest attack for a while on Jeremy Corbyn (whom many on his side still suspect is a closet Eurosceptic) the Dark Lord said the Labour leader had made "quite a serious political misjudgement" in dismissing Cameron's attempt to curb migrant benefits.
Here's the killer quote: "It is a completely legitimate part of the negotiation [Cameron] is undertaking in Brussels and I think that frankly if Jeremy Corbyn doesn't understand that then he's not really on the same wavelength as the British people."
Meanwhile, PoliticsHome has an exclusive break on a Michael Dugher piece for Tribune in which he too says Labour won't get a fair hearing from the public on the need for humanitarian action on refugees unless it backs action on migration. "The disastrously inelegant interview by John McDonnell, where he talked about the inevitability of 'open borders', also risks a meltdown of whatever credibility we have."
The dinner menu for the summit had a starter of avocado and shrimp 'Imparfait'. Proof that someone had a sense of humour about the imperfect nature of any deal Cameron may get.
But food glorious food is clearly an EU theme. Farage said overnight Cameron sounded like Oliver Twist begging for 'more' gruel. And Europhiles are at it too. Emma Thompson's 'cake-filled' island line prompted the Sun yesterday to present her with a cake of its front page, a slice of which she duly ate like a good sport.
But last night Britain Stronger in Europe and former Channel 4 presenter June Sarpong found her inner Kipper. "I see Britain as a fantastic Victoria sponge," the former T4 presenter told Question Time. "The one thing I am slightly anti-EU on is - as a pro-EU campaigner - I see far too many French tarts in our bakeries. Tatins."
Meanwhile, the hot consumer story is that Tesco is ending the curved croissant for the very British reason that its punters find them too tricky to spread jam on. Wait until the French hear THAT.
Final word the food fight front should go to Angela Merkel though. Bloomberg reports that at a private meal last month with German newspaper execs (who hate her pro-refugee policy), she served Arab food. As they say in Cardiff, tasty.
If you're reading this on the web, sign-up HERE to get the WaughZone delivered to your inbox.
Got something you want to share? Please send any stories/tips/quotes/pix/plugs/gossip to Paul Waugh (paul.waugh@huffingtonpost.com), Ned Simons (ned.simons@huffingtonpost.com), Graeme Demianyk (graeme.demianyk@huffingtonpost.com) and Owen Bennett (owen.bennett@huffingtonpost.com)
Popular in the Community