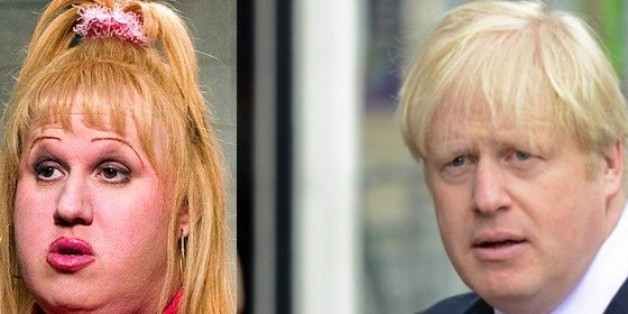 .
Boris Johnson has been dubbed 'the Vicky Pollard' of British politics after appearing to back a "no but, yes but" stance on the EU referendum.
After weeks of speculation, the Mayor of London finally came off the fence to declare his backing for the "Leave" campaign - but within hours suggested that he also didn't want full "Brexit".
Writing for the Daily Telegraph, the most famous Tory backbencher in the country made clear he felt an 'Out' voted would force Brussels to give the UK a better deal to thrive on its own terms within the EU.
And he gave a strong hint that he wanted the voters to scare European leaders into agreeing a two-speed EU with stronger protections for Westminster's Parliament.
"There is only one way to get the change we need– and that is to vote to go; because all EU history shows that they only really listen to a population when it says No," he wrote.
Explained: Everything You Always Wanted To Know About The EU Referendum But Were Afraid To Ask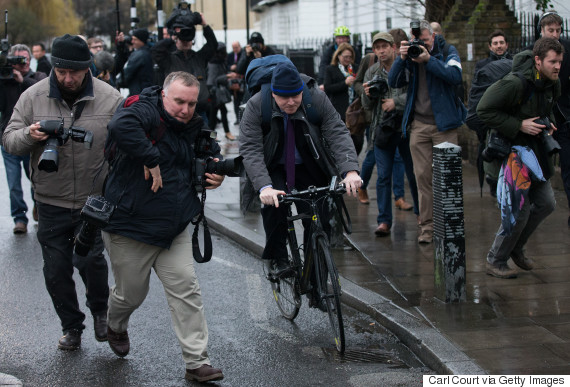 Boris Johnson cycles through members of the media as he leaves his home this morning.
The shift in stance came just five hours after Boris had electrified the EU referendum with his announcement backing the 'Leave' campaign, on the doorstep of his London home.
In a dramatic move that could ensure he becomes the next Tory party leader as well as determine the UK's future role in the world, the Mayor of London defied David Cameron and said he would vote 'Leave' on June 23.
His words signalled a huge rift with Downing Street, not least as the Prime Minister had pleaded with him not to side with UKIP's Nigel Farage and Respect's George Galloway in the EU debate.
A recent Ipsos/MORI poll found that of all the politicians in the UK, only Boris Johnson was capable of affecting the outcome of the referendum, adding a potential 15% to the 'Leave' campaign if he backed it publicly.
His announcement was a huge coup for the Brexit camp and immediately installed him as favourite to succeed Mr Cameron in a future Tory leadership contest, given the substantial grassroots Conservative movement in favour of quitting the EU.
But his Telegraph article appeared to equivocate on what would happen in the wake of a 'Leave' vote, suggesting that a fresh renegotiation with Brussels would follow.
Mr Johnson has in recent months flirted with the idea of a 'second referendum', proposed by former Michael Gove aide Dominic Cummings as a way to get a better deal for Britain during the two-year period required to legally extract the UK from the EU.
However, Mr Cameron, as well as the Belgian government and several Brussels experts, have warned that it would be highly difficult to get and win a second referendum.
And reaction to Boris's nuanced position was swift on Twitter.
No but, yeah but, Vicky Pollard argument not great on the doorstep BUT ....

— Laura Kuenssberg (@bbclaurak) February 21, 2016
Some of Out believe it could work to kill no 10s argument that a Leave vote would be irreversible

— Laura Kuenssberg (@bbclaurak) February 21, 2016
Have read the Boris column twice. If that's a case for actual exit - as opposed to leverage for another negotiation - then I'm a Dutchman.

— Janan Ganesh (@JananGanesh) February 21, 2016
So have I got this right? Boris is voting OUT so he can become PM to negotiate for us to stay in, but on better terms. Total fuckwittery.

— Iain Dale (@IainDale) February 21, 2016
There's a reason people said Boris was torn half in and half out. Because even now he is half in and half out.

— Tim Shipman (@ShippersUnbound) February 21, 2016
Boris's Telegraph column can be summed up as 'Indefinite Leave To Remain'. Apt given the migration debate pic.twitter.com/Ept0H2asGZ

— Paul Waugh (@paulwaugh) February 21, 2016
Vote Leave to Remain in Article 50 process for two years and then get a better deal under a practised negotiator? https://t.co/H7FEdCtfP2

— Faisal Islam (@faisalislam) February 21, 2016
Others preferred to read the Boris article as a plan to simply force Brussels into a swift new trade deal with the UK to continue the low tariffs that boost both the UK's and Europe's economies.
Boris' article doesn't argue we shld stay in EU after voting Leave. It argues a Leave vote wld mean a newly negotiated relationship with EU.

— Andrew Lilico (@andrew_lilico) February 21, 2016
Mr Johnson's "illogical" stance sparked criticism from his former mentor Michael Heseltine and his father Stanley even warned that it could be "a career-shattering move".
Critics also pointed out how much Boris's position on the EU had changed over the years - and recent weeks.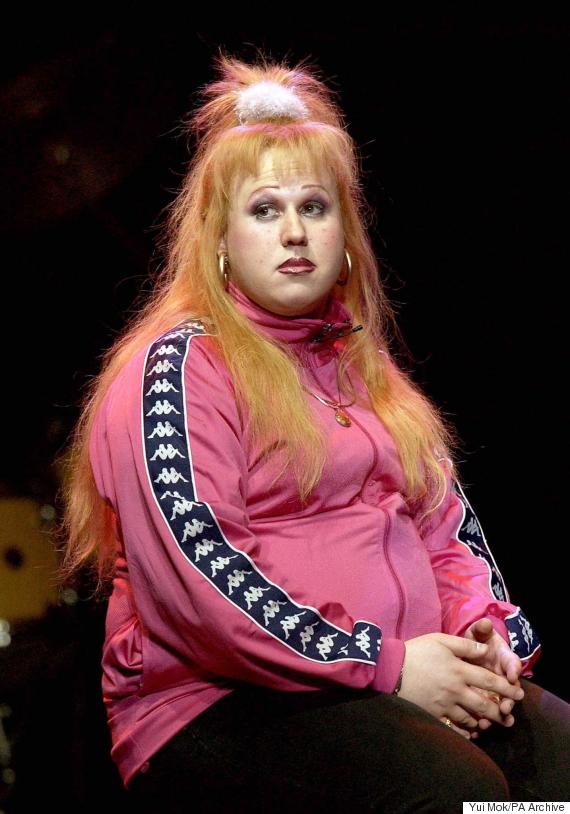 Little Britain's Vicky Pollard: a Boris role model?
In his Daily Telegraph article, Boris admitted there was a risk of 'tensions' that could lead to Scottish independence but argued that "most of the evidence I have seen suggests that the Scots will vote on roughly the same lines as the English".
His main argument was that Britons needed to vote Leave to halt creeping European federalism, declaring "this is the only opportunity we will ever have to show that we care about self-rule".
"And in the matter of their own sovereignty the people, by definition, will get it right."
With 140 Tory MPs set to back 'Brexit', Chancellor George Osborne and Home Secretary Theresa May now face a difficult task in a future leadership contest, even if the EU referendum results in an 'In' vote.
But if he's seen to be hedging his bets, both Eurosceptics and Europhiles may back away from the Mayor's leadership ambitions.
HuffPostUK has learned that several 'In' campaign supporters in the Boris camp were dismayed to learn of his final decision to back 'Leave'.
SEE ALSO: