In a dramatic move that could ensure he becomes the next Tory party leader as well as determine the UK's future role in the world, the Mayor of London will defy David Cameron to urge voters to support the 'Leave' campaign on June 23.
Speaking outside his home, Mr Johnson stressed that he would not share a platform with Nigel Farage or George Galloway and would not take part in any TV debates opposing any fellow Conservatives.
And crucially he added: "Whatever happens at the end of this.. and I've said this to the Prime Minister...he's got to stay [after any 'Out' vote]."
Boris, who had warned weeks ago that his decision would be unveiled with 'deafening eclat', added that the main reason he was backing 'Brexit' was "because I want a better deal for the people of this country".
His main argument was that Britons needed to vote Leave to halt creeping European federalism, declaring "this is the only opportunity we will ever have to show that we care about self-rule".
"And in the matter of their own sovereignty the people, by definition, will get it right."
But there was a hint from the Mayor that he felt that a Leave vote could trigger a desperate move by Brussels to give Britain more of what it wants, through a free trade deal - or a looser EU membership status approved by a second referendum.
"There is only one way to get the change we need– and that is to vote to go; because all EU history shows that they only really listen to a population when it says No."
His announcement prompted Nigel Farage to say he'd be delighted with headlines declaring 'Bojo was for BoGo', a phrase repeated on Twitter.
A recent Ipsos/MORI poll found that of all the politicians in the UK, only Boris Johnson was capable of affecting the outcome of the referendum, adding a potential 15% to the 'Leave' campaign if he backed it publicly.
His announcement is a huge coup for the Brexit camp and immediately installs him as favourite to succeed David Cameron in a future Tory leadership contest, given the substantial grassroots Conservative movement in favour of quitting the EU.
With 140 Tory MPs set to back 'Brexit', Chancellor George Osborne and Home Secretary Theresa May now face a difficult task in a future leadership contest, even if the EU referendum results in an 'In' vote.
Bookies Ladbrokes narrowed their odds to 2/1 on Boris Johnson becoming next Tory leader, with 3/1 for George Osborne
8/1 for Theresa May and 10/1 for Michael Gove.
Mr Johnson left Downing Street unconvinced last week after a meeting with David Cameron to discuss plans to assert British Parliamentary sovereignty over EU law.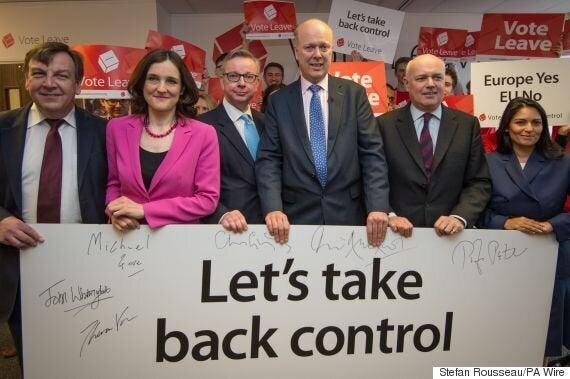 The Six Cabinet-attending ministers who have backed the 'Vote Leave' campaign
HIs decision to join the half dozen Cabinet ministers backing Brexit - Michael Gove, Iain Duncan Smith, Chris Grayling, Theresa Villiers, John Whittingdale and Priti Patel - led Eurosceptics to declare the 'Gang of Six' was now 'The Magnificent Seven'.
Reaction from Eurosceptics to his decision today was swift, with many delighted to have a big hitter on board.
Tories who had worried that Boris would put a job in the Cabinet before his principles were pleasantly surprised.
Some instantly spotted that David Cameron was now unlikely to give Mr Johnson a senior Cabinet post in any post-referendum reshuffle.
But the news was a direct rebuff to the Prime Minister, who had made his last-ditch plea to Boris to back the 'In' campaign on the Andrew Marr show on Sunday morning.
Mr Cameron had warned him against "linking arms" with Nigel Farage and George Galloway in backing Britain's exit from the EU.
"I would say to Boris what I say to everybody else, which is that we will be safer, we will be stronger, we will be better off inside the EU," he said.
"I think the prospect of linking arms with Nigel Farage and George Galloway and taking a leap into the dark is the wrong step for our country .
"And if Boris and others really care about being able to get things done in our world then the EU is one of the ways we get them done."
And as No.10 was kept in the dark, the announcement underlined just how difficult relations are now between Downing Street and the Boris camp.
In a fresh blow to Mr Cameron, it emerged today that Zac Goldsmith, the Tory candidate to succeed Boris as Mayor of London, was backing Brexit too.
Justice Secretary Michael Gove, a long-time personal friend and ally of the Prime Minister, also came out for 'Brexit' this weekend, along with five other Cabinet attending ministers.
But Boris's personal appeal - he is one of the few British politicians to have a net positive rating among the public - will rival that of Mr Cameron's, and exceed it among non-Tory voters.
Within minutes of the BBC confirming Mr Johnson's intentions, the Mayor's own previous writings opposing Brexit were dug up.
The 'Vote Leave' campaign was swift to react today, putting its umbrellas outside the Mayor of London's home.