Boris Johnson has suffered a verbal pummelling from David Cameron over claims that there could be a second referendum if Britain votes to quit the EU.
In his most savage public attack on the Mayor of London, the Prime Minister ridiculed his fellow Tory MP with a withering assessment of the idea that a 'Leave' vote would allow the UK to negotiate a better deal with Brussels.
Boris had already been dubbed 'the Vicky Pollard of British politics' for his latest 'no but, yes but' approach to the EU referendum, hinting that an Out vote could be followed a new negotiation and a fresh referendum.
His allies made clear to HuffPost UK on Monday night that he had dropped the second referendum idea some time ago and now felt the UK could have a "positive exit" with a free trade and co-operation arrangement with the EU.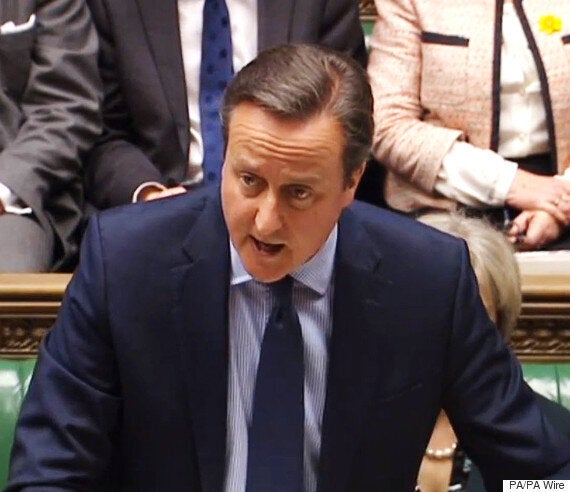 David Cameron in the Commons
The clarification came after Mr Cameron had aimed a series of barbs at Mr Johnson, as he confirmed for the first time that if voters backed 'Leave' he would trigger "straightaway" the legal process for Britain severing its ties with the EU.
As a frowning Mr Johnson looked on, the PM warned that a second referendum was "not on the ballot paper" on June 23 and added that the idea of Brussels being forced into a fresh negotiation was "for the birds".
And in what seemed like a jibe at the Mayor's private life, he even said he did not know of any couples "who have begun divorce proceedings in order to renew their marriage vows."
Boris was also ridiculed by Labour MPs - one of whom heckled "Speak for England, Boris!" - as he tried to ask his own question to the Prime Minister during the Commons statement on the latest UK-EU reform deal.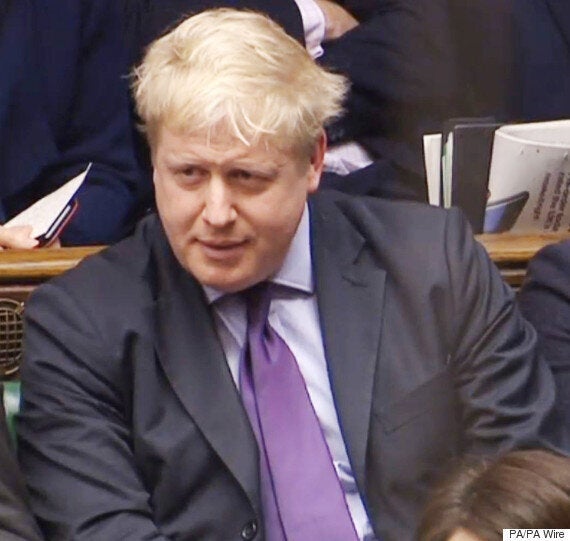 Boris Johnson, on the defensive for once
On a day when the Mayor felt a backlash in Parliament and in the City over his dramatic decision to opt for "Brexit", Mr Cameron fought back with his "passionate" case for staying in the EU.
Relations between No.10 and City Hall hit a new nadir on Sunday after Boris gave the PM just nine minutes' notice – via text message – of his decision to back the 'Leave' campaign.
In his Daily Telegraph column, he wrote: "There is only one way to get the change we need– and that is to vote to go; because all EU history shows that they only really listen to a population when it says No."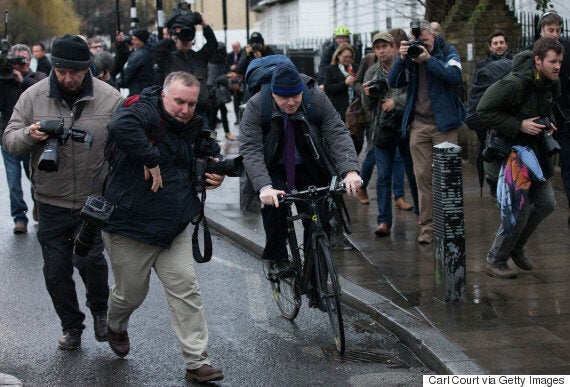 A clearly bullish Mr Cameron pounced on the Mayor's argument, as Downing Street aides made clear that Article 50 of the Lisbon Treaty, the formal process for a country to quit the EU, would start the same day the result of the referendum came in on June 24.
"For a prime minister to ignore the express will of the British people to leave the EU would not just be wrong; it'd be undemocratic," Mr Cameron told MPs.
And in a thinly-veiled reference to Boris's Tory leadership ambition, Mr Cameron pointed out that he was not standing for re-election as Prime Minister and so had "no other agenda" going into the referendum campaign.
He added: "I hope I've demonstrated today there's plenty of punch in this campaign".
The PM launched a broadside of verbal attacks on the Mayor including:
• "I have known a number of couples who have begun divorce proceedings but I do not know of any who have begun divorce proceedings in order to renew their marriage vows."
• "I won't dwell on the irony that some people apparently want to use a leave vote to remain. We should also be clear that this is a final decision."
• "I am not standing for re-election. I have no other agenda than what is best for our country. I'm standing here telling you what I think."
• "On diplomacy, the idea that other European countries would be ready to start a second negotiation is for the birds."
• "If the British people vote to leave, there's only one way to bring that about and that is to trigger article 50 of the treaties and begin the process of exit. And the British people would rightly expect that that should start straightaway."
Friends of Boris told HuffPost UK that he had not even noticed the PM's jibes about having 'an agenda' or about 'marriage' vows. and was relaxed about both.
They conceded that there had been some confusion over the Mayor's position, but he had never intended his Telegraph column to be interpreted as a hint of a second referendum.
The Mayor was instead trying to point out that a 'Leave' vote would put the UK in a strong position to secure a free trade and cooperation deal "without the supranational elements" of being a member of the EU, one insider said.
Downing Street had earlier stressed that "a vote to leave is a vote to leave" and rejected the idea that voters could have a 'second go' at the EU issue even if they opt for the UK to go it alone on June 23.
The idea of a second referendum has been pushed by Dominic Cummings, Vote Leave's campaign director and Michael Gove's former special adviser.
It is seen by some on the Out side as a valuable way of reassuring the public that a 'Leave' vote would not automatically lead to a 'leap in the dark', and in the process getting as many 'floating' voters on board as possible.
But Mr Johnson had decided some time ago that the second referendum plan would not work, a friend said.
Both 'In' campaigners and Eurosceptics today said it would be politically impossible for the Prime Minister to do anything to subvert the will of the British people in the referendum.
Mr Cameron also faced his own MPs at the backbench 1922 Committee, many of whom will be campaigning against him in the referendum.
As sterling crashed on the markets in the wake of Mr Johnson's statement on Sunday, he also came under fire from some of his closest supporters.
Tory MP Mark Field said the Mayor had given the impression he was not 'an Outer' and feared the City of London could be reduced to an 'offshore centre' as Eurozone financing shifted over the Channel after a Brexit vote.
With Boris Johnson attracting yet another media scrum of attention for his every move, No.10 also stressed that the referendum would give everyone a vote, "rather than just one individual".
Mr Cummings today again floated the suggestion that the Prime Minister did not have to trigger an instant exit after a 'Leave' vote. .
But Eurosceptic economist Andrew Lilico said that the vote's outcome should be obvious.
Richard Tice, co-founder of Leave.EU, said of Boris: "The referendum question is plain and simple, do we stay in or leave the EU? When the British people vote to leave there will then be negotiations on the terms of departure, not new terms to stay.
"We are concerned that he still harbours a belief that the EU can be reformed and that the best way to achieve this is to vote Leave and then open up fresh negotiations."
A spokesman for UKIP was equally scathing: "This referendum isn't a negotiating ploy, it is a decision. UKIP are utterly opposed to the idea of two referendums - if the British people vote to Leave the European Union on June 23rd it should mean exactly that.
"This talk of two referendums feels like an attempt to blunt the will of the people, and to muddy the waters. The choice is, are we in, or are we out. "