Boris Johnson's decision to back British exit from the European Union may be "career ending", his father has claimed.
Stanley Johnson said on Monday morning that his son was wrong to want the UK to leave the EU. "I happen to disagree with Boris, I have been a Europeanist all my life," he said.
Boris has been accused of choosing to back Brexit in order to further his political career by setting himself up as the frontrunner to succeed David Cameron as Conservative Party leader.
The next Tory leader, and prime minister, will be chosen by Conservative MPs and grassroots members - who are seen as more eurosceptic than the population at large.
But Stanley Johnson told BBC Radio 4's Today programme: "I can't think of any more career ending move to do what he did yesterday," he said.
"He is leaving the mayoralty in May. If he wanted a nice job in the Cabinet on May 8, this is certainly not the way to do it."
Stanley Johnson has worked as a Conservative MEP as well as a European Commission official. He said of his son: "I think he has done a really well-thought-out move. When I say move, it is a move in the sense it represents his deep conviction that at this moment this is what he needed to do. Honestly, I think to say this is a careerist sort of move would be a total travesty."
However asked if Boris' decision to back Brexit set him up to take over as prime minister before 2020, Stanley Johnson replied: "Who can say?".
FAMILY SPLIT: London Mayor Boris Johnson wants EU exit, not all of his family agree. Here's his dad Stanley Johnson pic.twitter.com/JJUO0JH70y

— BBC Breakfast (@BBCBreakfast) February 22, 2016
Revealing his decision to campaign against the prime minister's renegotiated EU membership package, Boris said yesterday: "I don't think that anybody can claim that this is fundamental reform of the EU or of Britain's relationship with the EU."
Defence secretary Michael Fallon dismissed the suggestion the London Mayor's decision was a blow to Cameron. "I think that was expected. I don't think anyone is particularly surprised by that," he told Today.
"The overwhelming majority of the Cabinet have decided to back the prime minister and the special deal he has got back from Brussels and Boris has taken the opposite view.
Fallon added that "obviously" the prime minister "would have liked more support from Boris".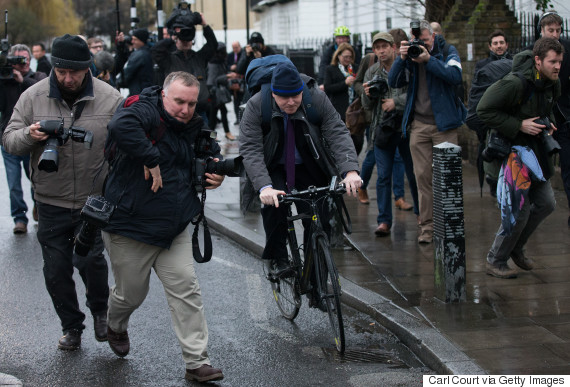 Boris Johnson cycles through members of the media as he leaves his home this morning.
Six Cabinet ministers have decided to defy the prime minister and campaign for Britain to leave the EU. But the the defence secretary insisted the government split would not do lasting damage. "When it's all over and the votes have been counted you can be sure the government will come together again," he said.
Writing in his weekly column in The Daily Telegraph, Mr Johnson said the EU was fuelling political alienation and the rise of extremism as voters witnessed the "impotence" of national elected politicians to deal with issues such as immigration.
"That enrages them; not so much the numbers as the lack of control. That is what we mean by loss of sovereignty – the inability of people to kick out, at elections, the men and women who control their lives," he said.
"We are seeing an alienation of the people from the power they should hold, and I am sure this is contributing to the sense of disengagement, the apathy, the view that politicians are 'all the same' and can change nothing, and to the rise of extremist parties."
SEE ALSO: How Boris Has Changed His Tune On Britain Remaining In The EU