Dozens of people crashed to a fall after an escalator suddenly began to move in reverse, in Ningbo, China.
CCTV footage captures the moment that the mechanics begin to fail, speeding up in the wrong direction and throwing people off course.
At least five people were injured in the accident in a shopping mall where people landed in a pile on top of each other.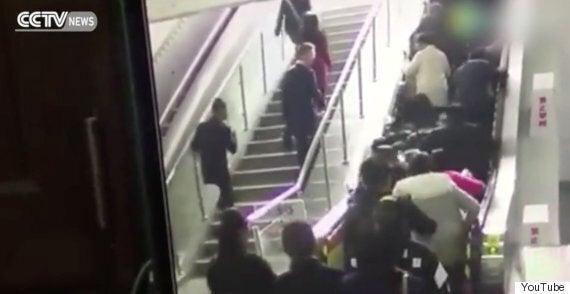 The lift malfunctioned causing the people to fall backwards
Authorities have launched an investigation into the cause of the incident, which took place last Thursday.
Last year a tragic incident saw a heroic mother fall to her death into an escalator.
The 30-year-old mother managed to throw her son to safety as she fell through the floor-plate of the escalator.
Two staff members tried to help the woman, as half her body became trapped in the machinery but were unable to save her. Rescue crews reportedly took four hours to remove Liujuan's body from the escalator.