George Galloway got into a heated argument with BBC presenter Jo Coburn on Monday afternoon after he was asked whether he was too divisive a figure to convince people to vote for Brexit.
The Respect Party leader accused the Daily Politics programme of having "misled him" by asking him into the studio to discuss him personally rather than "bigger issues".
In tense exchanges, Galloway accused Coburn of being "childish". Coburn, keeping her cool, marveled at the idea Galloway did not want to speak about himself.
Galloway reacted angrily after being shown a television package which showed some eurosceptics leaving the meeting in protest at his presence.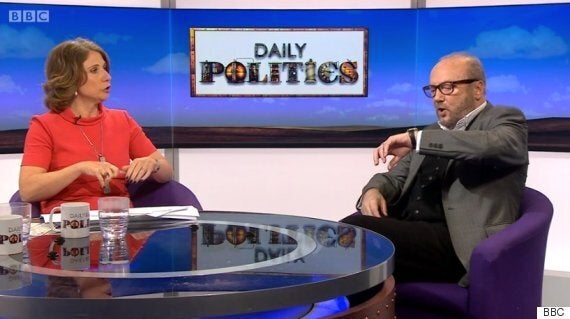 Galloway and Coburn's interview got off to a frosty start
George Galloway: "Not for the first time you've misled me by asking me to come in and talk about the referendum but instead wanting to talk about me."

Jo Coburn: "I'm sure we haven't misled you."

GG: "If you had told me that I was coming in to discuss me, I would have said there are much bigger issues that the British people are occupied by."

JC: "You want to defend what you're doing here..."

GG: "I don't want to defend me at all. You're not my judge, you're not fit to be my judge."

JC: "Well thank you very much. All I am tying to say is are you going to be a benefit to this campaign if there are people who are going to walk out?"

GG: "You asked me to come into this studio. I didn't ask you, you told me you wanted to hear my views on the referendum."

JC: "And I do. Are you happy to link arms, to use the prime minister's expression, with others that you don't agree with?"

GG: "I don't link arms with anybody. It's a binary choice. You're 'In' or your 'Out'.

JC: "What do you say to those people who obviously don't feel it is bigger than their personal antipathy towards you?"

GG: "Well more fool them. I hope they are not going to vote for the EU because they don't like me, that would be avery foolish and childish. You asked me to come here, presumably because you thought I had something that some people might be interested to hear."

JC: "Yes and we will get onto it..."

GG: Well I don't know when we will get onto it, we have almost finished the interview."

JC: "How do you know? I might have you on here for another ten or fifteen minutes."

GG: "I very much doubt that."

JC: "You're right. I'm not going to have you on for another ten fifteen minutes."

GG: "Please stop this, you mislead me into coming in here today and every question you've asked has been about me."

JC: "When have you ever not wanted to talk about you, George Galloway."

GG: "It's so childish, it's so tabloid, it's so Daily Mail."

JC: "God forbid we should ever be tabloid here at the BBC."
As people walked out of the rally on Friday, one man who left told the The Huffington Post UK: 'He's a despicable person: anti-Israel, supporting terrorist organisations, supporting Hamas, supporting Hezbollah."
Another said: "We need proper people, proper democrats. He won't do us any good." A third man said simply: "I can't stand the man."
The more than 1,500 people who stayed in the hall for Mr Galloway's speech gave him a rousing reception as he called for the UK to leave the EU.
Popular in the Community