A girl who grew up idolising Ariel the Disney sea princess has achieved her dream - and now makes her living as a real life mermaid.
Melanie Long, 25, grew up surrounded by murals of Ariel in her bedroom and told anyone who would ask that she wanted to be 'The Little Mermaid'.
But unlike most childhood dreams and ambitions, hers has come resoundingly true after she moved to Phuket, Thailand, five years ago to travel and work as a diver.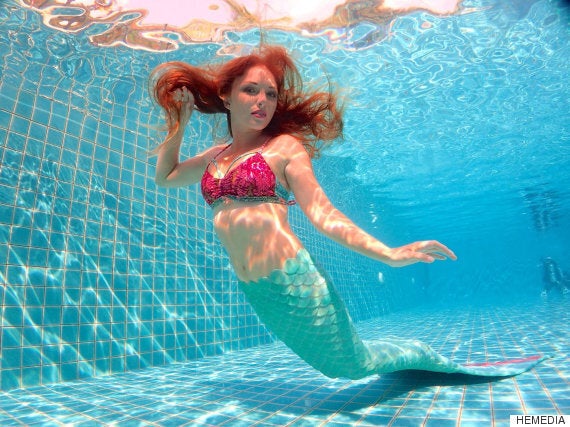 Initially, Melanie, from Clydebank, West Dunbartonshire, worked as a scuba diving instructor.
The job brought her into contact with a Thai children's charity that were looking for models to dress as mermaids at a gala ball.
She then made a mermaid outfit from scratch, worked on her breathing technique and now makes a living from her dream job.
She said: "When I was a kid, whenever people asked me what I wanted to be when I grew up, I would always say The Little Mermaid.
"Being a ginger kid you're open to ridicule and the only hero or princess that we, the ginger people, had to look up to was Ariel.
"It wasn't something I had ever actively pursued because I never thought it would be a possibility.
"So I got into scuba diving thinking that would be as close as I could get to become 'The Little Mermaid'."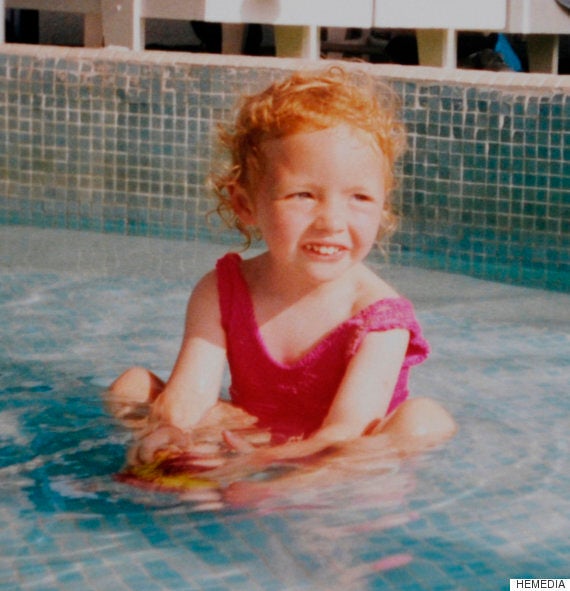 Melanie always loved the water
Melanie spent a year designing and constructing her very own silicone tail similar to those used in films such as 'Splash' and Australian mermaid soap opera 'H2O'.
The handmade four-foot long swimmable tail allowed her to enhance the illusion of a real life mermaid whipping its tail underwater.
She has since found herself in high demand in Thailand for appearances on television, film and music videos as well as at children's parties and weddings.
She added: "After a bit of research I realised that there is an entire community of mer-people and looked into making this into something I could make money out of.
"Working as a diver you could earn anything between £20 and £80 for a full day of work but being a mermaid was much better paid. It's a dream job.
"I eventually started a mermaid pod where I would train other girls to swim like a mermaid and hold their breath underwater.
"It got quite lucrative. I suppose you could say that I've been a pretty busy mermaid."
Melanie is able to swim up to 85 metres under water without coming to the surface for air.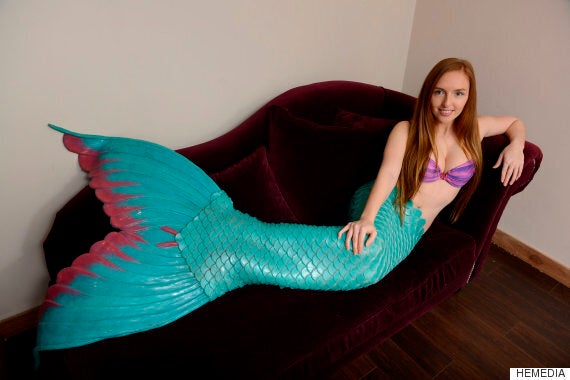 Melanie modelling her outfit
And the longest amount of time she has been able to hold her breath underwater is an impressive three minutes and 33 seconds without a mask.
She said the secret to pulling off the mermaid illusion came from her background as a freediver as it requires a very similar technique.
She said: "You need to put both of your feet in together in foot pockets within a monofin which can be quite unusual to get used to.
"Swimming like a mermaid is a similar core movement to what freedivers would use when monofinning.
"It's an undulation movement and I'd recommend not bending your knees to much as you'd lose a lot of power.
"In freediving, you're trying to maximise your efficiency so you don't use as much oxygen so you can stay down longer and being able to hold your breath for a long time is very much part of the illusion of being a mermaid."
Melanie spent £980 on the raw materials she needed to complete her very convincing scaly turquoise blue tail with pink tips design.
But the countless hours of effort which were all worth it once she saw the huge difference between a silicone tail and a fabric one.
But now she's about to put her mermaid work on hold to become a student.
She has returned to Scotland to study marine science and has conditional offers from Glasgow University, Aberdeen University, Edinburgh Napier and the University of Highlands and Islands all on the table for the autumn.
She says working as a diver has opened her eyes to the importance of protecting the ocean environment.
She said: "Becoming a scuba diver really made me understand the issues that are affecting the oceans right now. You don't really think about it until you've seen it with your own eyes."
Melanie's proud mum June, 64, a retired make-up artist, said she never imagined that Melanie would grow up to become a mermaid.
June said: "I'm immensely proud of her. I've always encouraged her to follow her dreams but when she was small I never imagined she'd grow up to become a mermaid."
Meanwhile, Melanie is in contention for a top diving prize which saw voting close at midnight Sunday.

Disney Princess Wigs For Kids With Cancer