The five things you need to know on Monday February 22, 2016…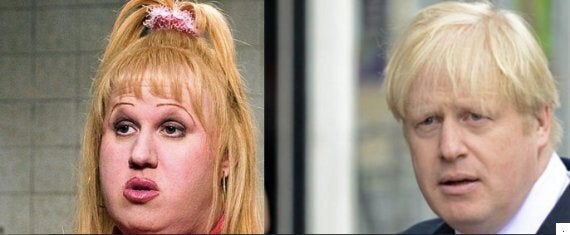 Be in no doubt, a 'Leave' vote in this EU referendum is an existential threat to David Cameron's premiership. And when the PM gets up in the Commons this afternoon to make his statement on his Brussels deal, he may see first hand the full extent of opposition - and nervousness - within his Parliamentary party. Many Tory MPs are acutely aware of the dangers to their leader and don't want to depose him, but the inexorable logic of Brexit may be unavoidable.
All these years after Boris first had the upper hand at Eton, and was the more senior member of the Bullingdon Club, it looks like the Mayor of London has finally found a way of overtaking the young whippersnapper who beat him to No.10.
Boris, following the lead of 1922 Committee chairman Graham Brady a few weeks ago, stressed on his doorstep that he wanted Dave to stay put. "Whatever happens at the end of this.. and I've said this to the Prime Minister...he's got to stay." But surely the PM would want to get out of Dodge pretty quickly if he's forced to spend his final years in No10 negotiating an exit he never wanted?
Those close the Cameron this morning say he's 'relaxed' about Boris's decision, but Nick Watt has a nice detail that the Mayor texted the PM just nine minutes before going public. Relations between City Hall and Downing Street have hit a new nadir. Boris emailed Cameron on Saturday morning to tell him he was likely to back Leave - and apparently received no reply. Michael Fallon on the Today prog didn't sound all that convincing when he said: "We are going to come together again after 23rd of June."
And as June 23 draws closer, blue-on-blue action is likely to get worse and the panic may set in Downing Street if the polls narrow. Owen Paterson last night on Radio 4's Westminster Hour betrayed the first cracks in the Eurosceps-for-Dave tactic, refusing four times to say if Cameron should stay after a Leave vote. No wonder the Mail splashed today with a great pic of Boris's outstretched hands and him 'Going In For The Kill'.
Even if there's a Remain vote, George Osborne's formidable operation is looking very vulnerable in a future Tory leadership race. With half of Tory MPs, a quarter of the Cabinet and God knows how many Tory party members backing Brexit, the Chancellor has a huge task ahead.
As for that Islington doorstep, the Guardian reports that the media scrum was meant to look spontaneous but was in fact engineered to within an inch of its life by Team Boris. Forget the Eton Wall Game, this was raw rugger with precision tactics. All of which points to that famous Bojo quote that he'd "have a crack" at it "if the ball came loose from the back of a scrum".
And yet, five hours after his 5pm doorstep, did Boris nearly throw it all away with his Vicky Pollard column in the Daily Telegraph? The 'no but, yes but' approach to the EU was the stand-out section in the entire piece: "There is only one way to get the change we need– and that is to vote to go; because all EU history shows that they only really listen to a population when it says No."
On one reading this was just a warning the Brussels that the UK would drive a very hard bargain to get a proper trade deal once out of the EU. But it was also a very clear hint that Boris still harbours the 'second referendum' idea floated by former Gove aide and Vote Leave chief Dom Cummings. Under this logic, you vote 'Leave' now in order to force Brussels to grant us fresh protections, which could then be put to the people in a fresh poll.
No.10 (not for the first time) has stamped all over this this morning, but so too has the Belgian government and other experts in the recent past. Some academics say it is a deeply flawed idea which misunderstands Article 50 of the Lisbon Treaty (yes, get swotting up on that folks) which sets out the two-year period of detailed negotiation for any state that wants to quit the EU. This article by the independent Constitution Unit on the 'Exit Clause' points out that a second referendum would be a further leap into the dark - with the risk of leaving the EU without any negotiated terms at all.
Boris's 'Indefinite Leave to Remain' approach (sorry, couldn't resist) proves again his own famous preference for being 'pro-cake and pro-eating it'. His Vicky Pollarding shows just why it was such a close call in the end. And it risks unnerving some Outers as much as the Inners who have until now remained loyally at his side. Some Inners close to him have made clear to me they are not amused by yesterday's events. The danger of being seen as a flip-flopper is real, as our list of Boris's twists and turns on Europe shows. Michael Heseltine, who knows a thing or two about ambition, called his stance 'illogical'.
Boris's dad is proud of his son, even if he thinks he's wrong. He told Today it would be a "total travesty" to call his decision "careerist" when in fact it was potentially "career-shattering move". Nigel Lawson was happy though, underlining the claims of the Sceps that June 23 should be portrayed as UK Independence Day. "What this is about is a declaration of independence by the United Kingdom," he told Today.
One final school note on Boris from Hugo Dixon, the data brain behind the Remain camp and an Eton contemporary who attended the same prep school as Johnson. He tells the Guardian that the future London mayor failed to prepare for a house debating competition when he was on Dixon's team at school – and they lost.
The Leave camp knew that the Inners would roll out the big gun arguments this weekend by claiming Britons would be 'safer' inside the EU. The PM went out of his way to do just that on Marr, raising the spectre of 'Putin to the East, ISIL/Daesh to the south', Somali pirates and a nuclear Iran (without EU diplomacy).
But as I've noted before, Project Fear works both ways in this debate. And Iain Duncan Smith's own first Brexit-ungagged interviews yesterday lunchtime saw him make a counter case. IDS even suggested that there would be more 'Paris-style' terror attacks if the UK stayed in the EU, suggesting Syrian (and Pakistani) extremist asylum seekers would get residency and be able to enter Britain.
John Whittingdale became the fifth of the Gang of Six (funnily enough Theresa Villiers hasn't been interviewed yet, or have I missed it?) to speak out today, with a chat with The Sun. Whitto seizes on migration as the big issue that dwarfs Cameron's migrant brake. He points out Dave will never hit his net migration target - especially with the National Living Wage jacked up by 2020 - is 'impossible..if you do not have control over your borders'.
Still, Whitto also says something that the Inners may pounce on: "I am not going to pretend that there aren't potentially some costs, obviously there may be some costs. I am not going to pretend that there aren't uncertainties." Just what will those costs be?
Jude Law visited The Jungle camp in Calais yesterday, urging Britain to take child refugees asap.
BECAUSE YOU'VE READ THIS FAR…
Jeb Bush finally pulled out of the Republican race for President. Watch him chest bump his brother not long before the bitter end.
4) DAVE AND GROWN UPS LOVE IT SO
The Sun reveals perhaps the best EU summit story: that the PM went through 23 bags of Haribo sweets during the marathon talks. To be fair it was both Cameron and his 12-strong diplo team who munched their way through the gummy bears and others over 30 hours. Wine gums got a showing too though.
At one stage, an aide was despatched to resupply the UK's room with a fresh batch of bags. A diplomatic source tells the paper: ""They have very quick energy release…It wasn't just the PM eating the Haribos, though he was one of the main culprits."
Could this addiction to the sweet stuff in any way colour the PM's view on the forthcoming 'sugar tax' verdict aka the childhood anti-obesity strategy?
Allies of George Osborne believe he's behaved in a more statesmanlike way than Boris over the whole EU saga. The Chancellor looks like getting the backing of big business, with the FT splashing that half of FTSE 100 bosses set to sign a letter of support. And Sajid Javid, the Business Secretary also came out for Remain, despite high hopes among some Outers. Still, Vote Leave are confident that armies of small business can counter all that. And the internal Tory politics still look very difficult for him.
There's more bad news for Osborne and his former Chief Secretary Danny Alexander (whom he recently got onto the Asian Infrastructure Investment Bank). The Treasury Select Committee today suggests Alexander gave the appearance of trying to 'lean on' the independent Office for Budget Responsibility in 2014. "It is clear that the Chief Secretary made requests for non-factual changes to be made to the Economic and Fiscal Outlook," the committee's report said.
Meanwhile, another former Lib Dem minister says next month's Budget could see a £4bn raid on pension savings by scrapping tax-free allowances on lump sums in a bid to save more cash for the Treasury. Not a good look for Tory backbenchers already not enamoured of the Chancellor.
If you're reading this on the web, sign-up HERE to get the WaughZone delivered to your inbox.
Got something you want to share? Please send any stories/tips/quotes/pix/plugs/gossip to Paul Waugh (paul.waugh@huffingtonpost.com), Ned Simons (ned.simons@huffingtonpost.com), Graeme Demianyk (graeme.demianyk@huffingtonpost.com) and Owen Bennett (owen.bennett@huffingtonpost.com)
Related