Warning: some people may find this video graphic to watch.
The girl, whose name is unknown, can be seen reaching inside the pregnant sheep, feeling the lamb's feet and body parts, before finally pulling her out.
The three-minute video was filmed and uploaded by a woman named Lilly Nicholas, who encouraged and guided the toddler with instructions.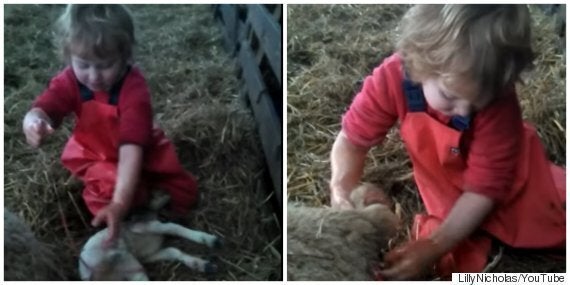 The young girl delivers the lamb with guided instructions from the person filming
The video, which was uploaded to YouTube on Friday 19 February 2016, has been viewed nearly 80,000 times in three days.
In the video, the three-year-old reaches inside the sheep in front of her who is ready to give birth.
"Can you feel anything?" asks the woman filming, to which the young girl responds: "I've got the lamb's feet".
The girl is then instructed to pull the lamb's feet to see if she can feel its nose.
As the lamb is delivered the girl shouts: "I done it, I think it's a girl," while she taps and strokes the lamb.
Now that's a lesson you won't learn at school.