The new Crossrail line has been revealed - although plenty of commuters have offered their own suggestions too.
The line will be named the Elizabeth Line after the Queen, it was announced on Tuesday.
The Elizabeth Line will appear purple on the Tube Map and will run from Reading and Heathrow in the west to Shenfield and Abbey Wood in the east via central London.
The new name was announced as the Queen visited Bond Street station with Boris Johnson.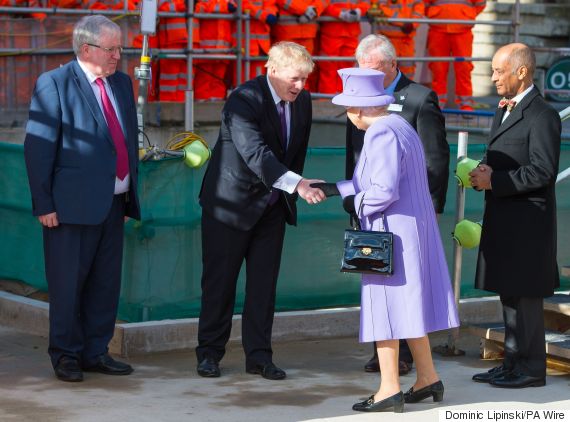 The Queen meets with Boris Johnson at Bond Street station
According to the Evening Standard, the Mayor of London said: "Queen Elizabeth has given extraordinary service to this country over an unprecedented period and it is entirely right that she should be honoured with a living tribute that will last for centuries."
Johnson is believed to have come up with the name himself.
The first section of the line is set to open in May this year, between Liverpool Street and Shenfield.
It will initially be known as Crossrail, before becoming the Elizabeth line once trains begin to run through central London.
Reaction to the announcement was mixed, with some supporting the new name...
Crossrail is to be named the 'Elizabeth Line' in honour of HM The Queen. It will also be purple.

This is AMAZING news.

— Christopher Golds (@chrisgolds) February 23, 2016
UKIP's response to Crossrail being renamed the Elizabeth Line is peak UKIP. pic.twitter.com/GarNTkPfyv

— Jim Waterson (@jimwaterson) February 23, 2016
Great idea and well deserved! Crossrail has been given a new official Royal name https://t.co/zFPMQSLiBC

— Mark Beaumont (@brycebeaumont) February 23, 2016
Elizabeth Line?Sounds great!#crossrail #England #GreatBritain

— ANTONIS MANIOTAS (@AntonisManiotas) February 23, 2016
While others were less pleased...
"Elizabeth Line" sounds like a small Home Counties boutique specialising in lilac satin Mother of the Bride outfits #CrossRail

— Alex T Smith (@Alex_T_Smith) February 23, 2016
Surely, with the Jubilee Line already in existence, renaming Crossrail the Elizabeth Line is slight overkill...? https://t.co/UMyz7U64QQ

— Philippa Wolff (@PhiliRW) February 23, 2016
As a republican, the things that bothers me most about naming #Crossrail the #ElizabethLine is the crushing lack of imagination.

— Jonathan Lomax (@jonathanlomax) February 23, 2016
I love HMTQ but Elizabeth Line sounds silly. 4 syllables I think is the problem. Liz Line/Lizzy Line - yep better.

— Martin (@MrBaileyM) February 23, 2016
And, of course, there was many a joke cracked over the name...
The Elizabeth Line....next stop Charles....then William....George #elizabethline

— Giles Dilnot (@reporterboy) February 23, 2016
The Busy Lizzie - is that what the new Elizabeth Crossrail line will be nicknamed?

— Simon Gompertz (@gompertz) February 23, 2016
@standardnews Yes, I know it's the Elizabeth Line but you still need a ticket love... pic.twitter.com/jpBVfJgE7R

— Lee Maloney (@leemaloney_) February 23, 2016
Spare a thought today for anyone called Elizabeth Line.

— The Sun Apologies (@SunApology) February 23, 2016
Lovely. Strikes on the Elizabeth Line should be considered Treason. https://t.co/0lApydZCZT

— Rupert Myers (@RupertMyers) February 23, 2016
The Elizabeth Line is a great name. Long overdue recognition for this slaying queen. pic.twitter.com/Hxxzlx8ZFh

— The Guyliner (@theguyliner) February 23, 2016
The Queen already has one Tube line named in her honour - the Jubilee line - and there is also named after her ancestor Queen Victoria.
She has also made many visits to the transport network through the years...