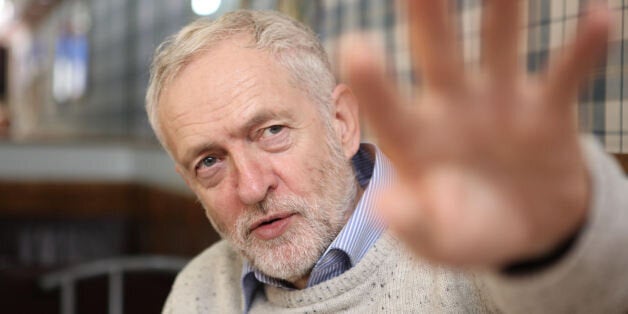 Jeremy Corbyn would win an even bigger landslide if Labour MPs forced him to undergo a fresh leadership election, a new poll has revealed.
The ElectionData/YouGov poll of party members found that 62% would re-elect Mr Corbyn, up from the 59.5% of first preferences he received when he swept to victory last September.
According to the new survey for pollster Ian Warren, he would easily beat his nearest rivals Hilary Benn (15%) and Dan Jarvis (12%) in a fresh contest.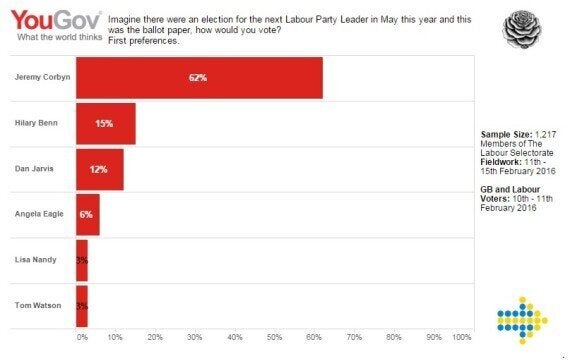 But if Mr Corbyn decided not to stand again, a single 'moderate' figure like Dan Jarvis could clinch the election against a 'left' candidate like Shadow Chancellor John McDonnell, an analysis for HuffPost UK suggests.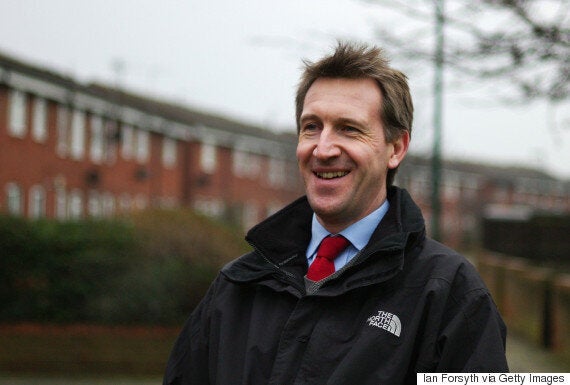 Former shadow foreign office minister and ex-Paratrooper Dan Jarvis
If 'moderates' rallied around just a single candidate who had the strong backing of deputy leader Mr Watson and Mr Benn, they could beat Mr McDonnell, the leading 'left' figure.
For now, however, Mr Corbyn is in a very strong position.
Nearly three quarters of members (72%) currently approve of Mr Corbyn as leader, and more than half (53%) think he should lead the party into the 2020 general election - even if Labour does badly in this May's local, London, Welsh and Scottish elections.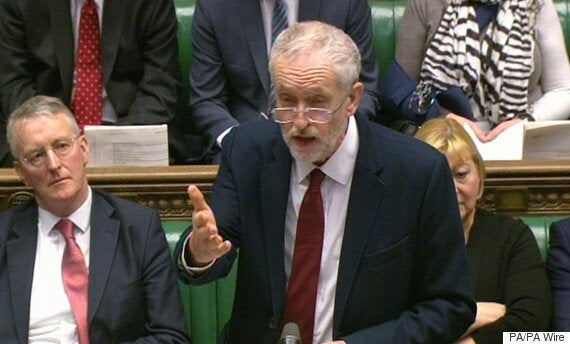 Jeremy Corbyn in the Commons
If for some reason Mr Corbyn did not stand in the next leadership race, Shadow Chancellor John McDonnell is not guaranteed to replace him, winning just 29% of first preference votes to Mr Benn's 20%, Tom Watson's 19% and Dan Jarvis's 15%.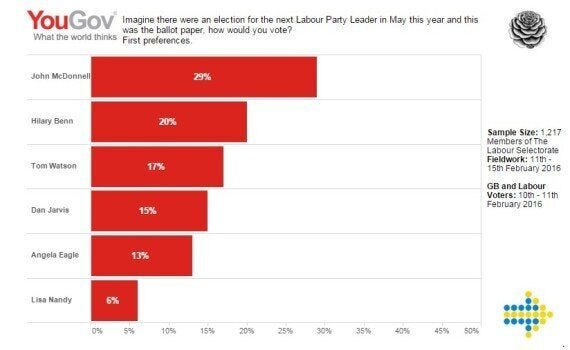 Shadow Energy Secretary Lisa Nandy, seen by some as a potential 'left' replacement for Mr Corbyn, garners only 6% of first preferences.
Mr McDonnell – whom Ken Livingstone has said would be his first choice to replace the current leader - wins just 40% of the votes of people who backed Mr Corbyn.
Mr Warren, who was hired by Labour in the run up to the last general election and his data guru skills have led him to be dubbed 'the UK's Nate Silver', says that at that point it is "game on" in the leadership race.
Shadow Chancellor John McDonnell
In a blog for HuffPost UK, Mr Warren reveals a new analysis that suggests the Shadow Chancellor could struggle to become leader of the party.
"If neither Mr McDonnell nor Mr Corbyn appear on the ballot, the leadership contest would, at present, be a close contest between Tom Watson, Dan Jarvis and Hillary Benn," he says.
And if one of them stood rather than three of them, Labour MPs would expect their chances of winning to surge.
With huge pressure among 'moderate' MPs to decide on just one candidate in the next leadership election – rather than the trio of Yvette Cooper, Andy Burnham and Liz Kendall in the last race – it is possible that a single non-left candidate could win a post-Corbyn race.
Any attempt by Labour MPs to challenge Mr Corbyn would spark an exodus among those who elected him, with nearly a quarter of the party (23%) saying they would quit straight away if he was toppled from power. However, 70% of members would remain in the party.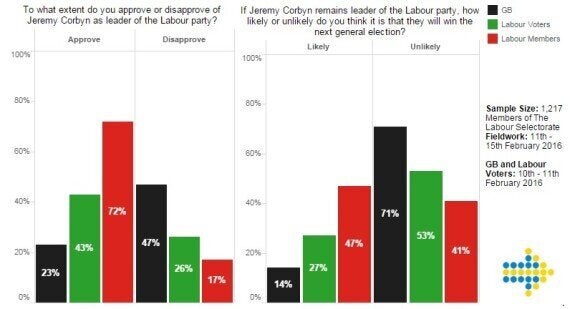 The big difference between Labour members, Labour voters and the public
Rebellious MPs may also take heart from the 40% of Labour members who said that they felt Mr Corbyn should quit either straight away or before the next general election if the party did badly in this May's elections – his first UK-wide electoral test as leader.
The ElectionData/YouGov poll also pointed to the stark difference between Labour party members and not just the general public but also Labour voters.
Just 23% of the public and 43% of Labour voters approve of Mr Corbyn as leader, compared to 72% of Labour members.
An even bigger difference
His net approval rating is high among Labour members, particularly women (+65%). But it is much lower among Labour voters, at +17% and tips into a net negative rating of -24% with the general public.
A mere 14% of the general public and just 27% of Labour voters think the party can win the election under Corbyn.
Over two-thirds (68%) of Labour party members oppose the renewal of Trident, compared to just over a quarter of the British public (29%).
A huge 84% of those members who voted for Corbyn oppose the renewal of Trident, the new poll found.
And if he remains as leader for the 2020 general election, even Labour members doubt he would win, with just 47% thinking victory would be 'likely',
In a sign of the new make-up of the party rank and file, the poll also found that 41% of Labour members had voted for the Lib Dems in the past and 34% had voted Green.
The party has widely divergent views from the public on issues such as Trident renewal and whether Ed Miliband's policies at the last election were too 'left wing'.
Writing for HuffPost, Mr Warren said: "For the time being, Mr Corbyn carries the overwhelming support of his membership… In the meantime the party risks moving inexorably further away from the British public."
Popular in the Community