"Celine Dion is one of the great vocal artists of all time, but I'd put Gaga up there with them, she's the real deal, I just think her experiments with performance and appearance have overshadowed that."
I'm having to pinch myself during this conversation, because it's not a fellow pop fan I'm chatting to about some of the great songstresses of our era, but Diane Warren, one of the most tireless and talented songwriters of the past three decades. If you've tuned into the charts at all during that time, chances are you've bopped, wept and sung along to literally dozens of her hook-friendly numbers.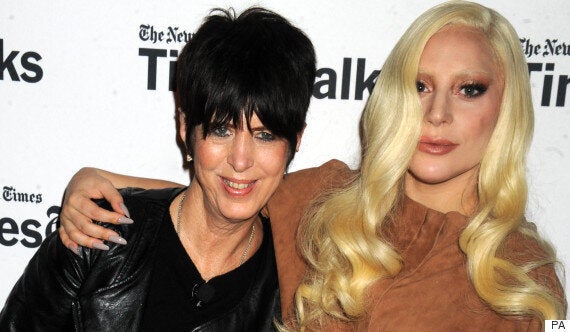 Composer Diane Warren with Lady Gaga, her Oscar co-nominee for 'Til It Happens To You'
Ever tapped your toe along to 'Don't Turn Around' by Tina Turner, later Aswad? Screamed along in the car to Michael Bolton's epic 'How Can We Be Lovers'? LeAnn Rimes' 'Can't Fight the Moonlight'? Belinda Carlisle's 'I Get Weak'? Okay, how about Justin Bieber's 'Born to Be Somebody'? More proof needed if required in the complete list here, although be warned, you're about to lose the next hour.
Her jaw-dropping discography includes a whopping eight Oscar nominations for Best Original Song, including power ballads 'There You'll Be' for 'Pearl Harbour' and 'I Don't Wanna Miss A Thing' by Aerosmith for 'Armageddon'.
This year, however, there's a song on the shortlist, penned by Diane Warren, co-written and sung by Lady Gaga, that she says means more to her than any previous offering.
'Til It Happens To You' provides the lyrical soundtrack for documentary 'The Hunting Ground', examining the disturbing epidemic of campus rape, and the shaming wall of silence faced by the, mostly female but not all, victims. It is a subject close to Diane's heart, and one that made her even more fuelled than usual to write an unforgettable song…
"It does feel special, this isn't just a pop song," she agrees. "I had to do something truly great, when I heard the girls' stories.
"I had had my own experience of sexual assault when I was much younger in my life. And these girls don't put up with it, they don't go back in the shadows. And that was inspiring to me."
Once Diane had started working on the music, she gave Gaga a call and the song took on another dimension.
"I'd heard she'd gone through something similar to the events explored in the film, and it could have gone either way, she could have wanted to run a mile, but she was great," says Diane now.
"Gaga made such a defiant anthem out of this. Her vision for the song was inspired, it was like a three-act play – shock and violence, then shame and silence, then coming out of that into survival.
"It was difficult for her because she had to be vulnerable," muses Diane. "But on the other hand, this was her chance to say 'fuck you'. There's such power in that."
As well as her Oscar nomination – her eighth, come on people, if Paul Newman can win for 'Colour of Money' after so many previous attempts, surely it's time to recognise Diane – she's eminently chuffed by the reaction it's had from fellow victims who've seen the film, heard the song, shared the experience.
"It's become an anthem for survival," she rejoices. "I've had so many letters from women saying it has made a difference to their lives, and I'm in the sidecar just watching. I have no idea how many Gaga got, but it will be thousands, I'm sure."
I wonder how important the choice of artist is to someone like Diane, who's composed music for the great pop artists, male, female, groups, of our age?
"When I write, I have no idea who they're for. I'm not thinking that's who needs to do it. I'm not a good singer myself, so I'm just happy they want them."
Is she ever worried she's going to walk to the well one day, and find it dry?
"No, never," she says immediately. "I stay open to inspiration. I just show up to work every day, and work at it. It's like breathing to me. Plus, new voices come along, that's what keeps it exciting."
I remember learning years ago that when Diane penned Celine Dion's epic 'Because You Loved Me' for 'Up Close And Personal', although it was a romantic song for the film, in the composer's mind, it was a song of gratitude for her father.
"Yes, that's true, I was kind of a delinquent kid, but my father never gave up on me, and then I found music, and he supported me, and that's what the song is all about.
"Music did save me then, but it saves me every day," she muses. "But these songs all have to fit more than one pair of ears. I want to reach as many people as possible. I heard once that song is one of the most played at both funerals and weddings, and that brings me a lot of satisfaction."
One of her most recent collaborations was with Paloma Faith on 'Only Love Can Hurt Like This'. Another hit, but hard-won, Diane reveals, with Paloma proving hard to tie down, not in the mood to make fresh music.
"I had to basically kidnap her for a day, force her to listen to the track," she laughs. "After she heard it, she said, 'Shit, now I'm going to have to record it.'
When I tell her how much I love the song – this whole conversation proving very difficult for me to avoid a 30-minute gush-fest of unseemly proportions – Diane is very gracious, and tells me there's another Paloma track on the way, "that you're going to love even more, I promise you".
The Oscars take place this Sunday 28 February in Los Angeles. We'll be bringing you live updates on the results as they are announced.