Warning: People may find the photos below extremely graphic.
MPs will debate whether to give the meningitis B vaccine to all children under 11 years old after a petition with more than 760,000 signatures was submitted to Parliament.
Parliament's Petition Committee today ruled MPs should debate the issue, after mass support for the reform led to it becoming the most popular e-petition since the system's introduction in 2011.
But the committee said it would not set a date for the debate, saying it would like MPs to first "have the chance to hear from some of the families who have been affected by meningitis B as well as from relevant medical experts".
The petition with the highest number of signatures prior to this was a call to block Donald Trump from entering the UK, which attracted 580,000 signatures.
The Bexsero vaccine against meningitis B was introduced in September 2015, but it is only babies under nine months who receive the jab on the NHS.
If parents want an older child to be immunised they must pay privately.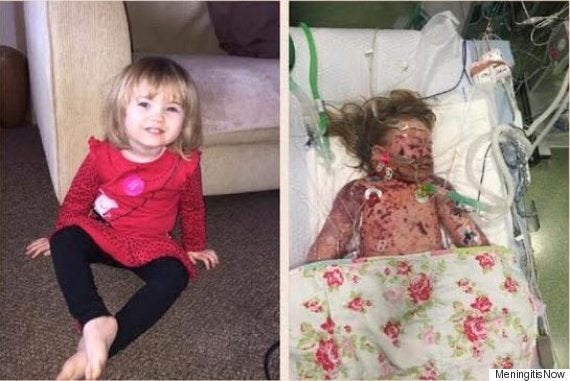 Faye Burdett before she fell ill (L) and hours before she died (R)
Faye's mum, Jenny, revealed her daughter was ill for just 11 days before she died.
Sharing her story through the charity Meningitis Now, Jenny said: "Faye was taken to A&E with a rash on her forehead.
"She was then transferred by South Bank Retrieval Service to Evelina Children's Hospital, where her heart stopped in the ambulance.
"They revived her and spent hours working on stabilising her."
"We were given a one per cent survival chance but she proved them wrong and carried on fighting."
"After a few days she seemed to have turned a corner, but the sepsis started to affect her more and the decision of limb removal was made. The extent of removal was massive, full leg amputation and one arm and plastic surgery."
"She was getting tired, her little body consumed by meningitis and sepsis (blood poisoning). We had to make the decision, a massive operation and she may die or we let her go peacefully on her own accord."
"We decided the latter and then watched our little girl slip away. At 9pm on February 14th she finally fell asleep forever. All this in only 11 days."
Lee Booth, who lives in Newcastle-upon-Tyne, launched the petition in September 2015 after one of his two daughters was deemed too old to have the vaccine on the NHS.
Meningitis B is a rare illness, affecting around one in 20,000 one-to-four year olds every year, but it carries with a fatality rate of 10 per cent.