Celine Dion paid emotional tribute to her to her late husband, René Angélil last night (23 February).
A month after René's death, which came after a lengthy battle with cancer, Celine returned to her Las Vegas residency at The Colosseum on Tuesday, becoming emotional as she sang a song especially for him.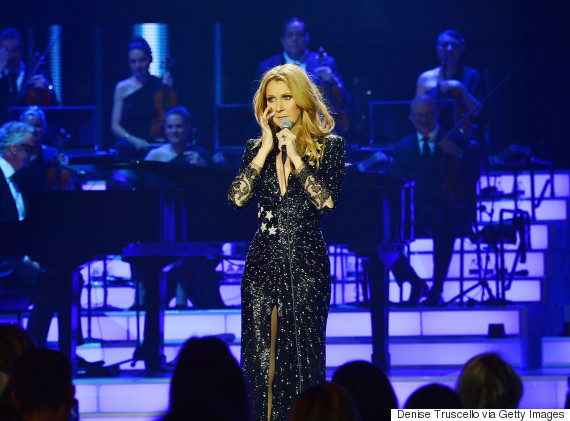 Celine Dion on stage in Vegas
Her show opened with a video montage of family photos and clips, before Celine emerged on stage, and got a standing ovation from the audience before she'd even sung a note.
She then began her first performance since René's death, singing the ballad 'With One More Look At You'.
After the song, she told the audience: "Through my life I only had eyes for my husband, who sat out here night after night. People thought that I was looking at him but I didn't need to because every time I closed my eyes, I felt Rene on stage with me.
"Whether he was seated in his seat right there, in the balcony, backstage, or at home with the kids - he's always been on stage with me and nothing will ever change that."
Discussing life without René, who also served as her manager throughout her career, Celine continued: "We were one and nothing has changed. We will always be one.
"You know, I might not hear his voice yet, but I talk to him, I think of him all the time. I feel, and I know he hears me, one way or another, I know he will give me a sign for his approval or not."
She then joked: "And now, I can feel that he's telling me to zip it - and start singing…"
Celine's fans were invited to stream the first 10 minutes of her tribute show on her official website.
The loss of René last month was particularly difficult for Celine, as it was followed just days later by the death of her brother, Daniel, who had been suffering from the same type of cancer as her husband.
Click the photo below for more photos of Celine and René...