Plans to scrap Britain's Human Rights Act are a "gift" to more repressive leaders like Vladimir Putin and "fatally undermine" our ability to stop them curtailing freedoms in their countries, Amnesty International has warned.
The Tory plans to replace the HRA with a British Bill of Rights and the government's wider position on the matter sets a "dangerous precedent to the world", the campaigning organisation said in its damning verdict on the UK's recent human rights stance.
Campaigners, including Amnesty, have expressed concern as to how Britain would enforce the principles of the European Convention on Human Rights or treat decisions by the European Court on Human Rights in Strasbourg with a Bill Of Rights.
Amnesty said the rhetoric in Britain about ditching the HRA had encouraged Kenyan President Uhuru Kenyatta and Vladimir Putin's Russia in rejecting outside legal scrutiny.
The International Criminal Court (ICC) accused Kenyatta in 2010 of inciting post-election violence in Kenya that left some 1,200 people dead and 600,000 displaced.
While defending himself against the charges, Kenyatta told his country's parliament: "The push to defend sovereignty is not unique to Kenya or Africa.
"Very recently, the Prime Minister of the United Kingdom committed to reasserting the sovereign primacy of his parliament over the decision of the European Human Rights Court. He has even threatened to quit that court."
The ICC withdrew charges against Kenyatta in December 2014, shortly after he gave that speech. He remains in power. The ICC prosecutor called the decision to withdraw charges "a painful moment for the men, women and children who have suffered tremendously from the horrors of the post-election violence".
"Kenyatta has cited the UK as an example of a state rejecting scrutiny and asserting sovereignty," an Amnesty spokeswoman told HuffPost UK.
"This is a man who has openly disavowed the authority of the ICC, where he was sought to be tried for war crimes and crimes against humanity."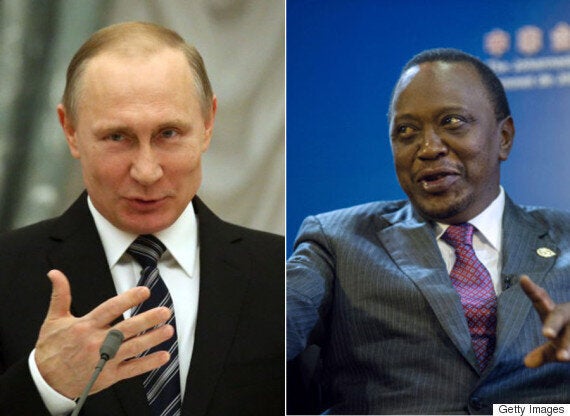 Putin's (left) Russia and Kenya President Uhuru Kenyatta (right) have both been encouraged by Britain's 'downgrading' of human rights, Amnesty said
Kate Allen, Amnesty's UK director, said: "The UK is setting a dangerous precedent to the world on human rights.
"There's no doubt that the downgrading of human rights by this government is a gift to dictators the world over and fatally undermines our ability to call on other countries to uphold rights and laws.
"People around the world are still fighting to get basic human rights and we should not let politicians take our hard-won rights away with the stroke of a pen."
Writing on HuffPost UK earlier this month, Council of Europe human rights commissioner Nils Muižnieks said that "the current debate in the UK has broader European ramifications".
"Every step of this debate and its outcome is closely scrutinised by other European states, in particular those with a much less flattering performance in protecting human rights," he wrote.
"Many are in fact eager to exploit any backsliding in Westminster's commitment to the Convention system to justify measures reducing their own citizens' and residents' ability to obtain justice."
In its annual report on the global state of human rights, published on Wednesday, Amnesty also said Britain was jeopardising its human rights standing by refusing to take in more refugees amid the migration crisis, boosting surveillance powers and selling arms to Saudi Arabia as it reportedly bombs civilians in Yemen.
A Government spokeswoman said Britain was "absolutely committed to promoting and protecting universal human rights".
She added: "The Foreign and Commonwealth Office's departmental report is clear that human rights, democratic values and strengthening the rules-based international system are vital and integral parts of the our work.
"The FCO has also doubled funding for global human rights and democracy projects to its highest ever level of £10.6m."
Justice minister Dominic Raab condemned Amnesty, calling it "irresponsible" to criticise plans for a Bill of Rights before the detail of it was unveiled.
"Amnesty have already been told our plans involve the UK remaining in the European Convention, so this scaremongering undermines their own credibility," he said.
Allan Hogarth, Amnesty UK's head of policy, said: "Far from scaremongering, we are genuinely scared because the human rights discussion in this country, led by this government, has exclusively been about reducing rights and diminishing protections.
"Our concerns are also borne out by people like Kenyatta actively praising the UK's plans to tear up human rights laws.
"The government could alleviate some of our fears immediately by publicly and unequivocally stating that under no circumstances will the UK leave the Convention, which they haven't done yet. Perhaps Mr Raab would like to put that on the record."
The government defended itself on other points Amnesty cited as failings on the human rights front.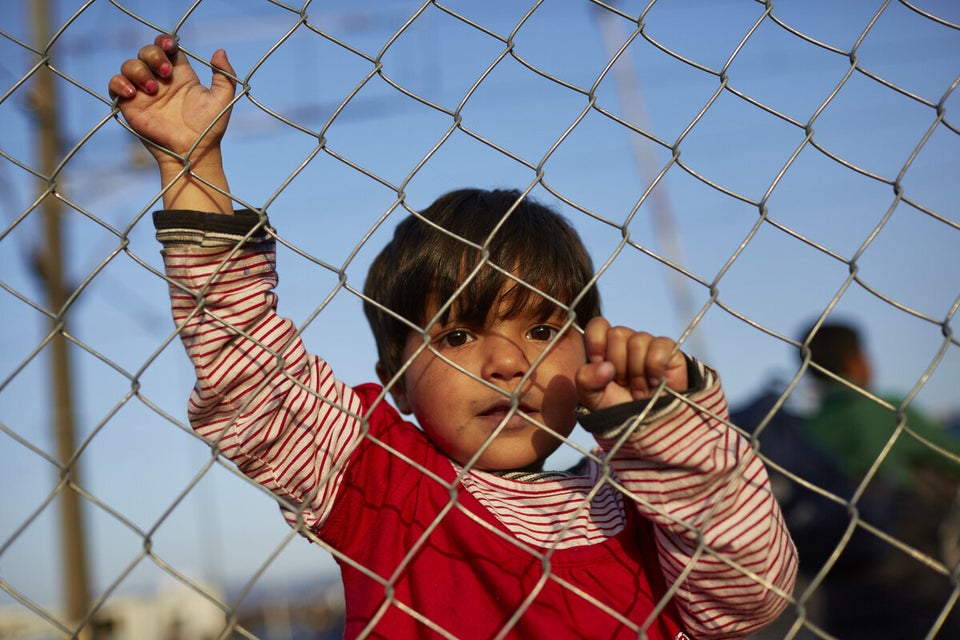 Human Rights Responsibilities Britain Has Shirked
Popular in the Community