Mhairi Black has launched a scathing attack on Tory ministers for imposing an "austerity of choice" on Britons - accusing them of finding endless amounts of money to fund wars but never enough to help embattled pensioners.
The SNP MP, who in May became the youngest Westminster recruit for over 400 years, lambasted Conservative frontbenchers for rushing through changes to women's state pension age to raise money for the Treasury's coffers.
In a fiery address on Wednesday, she claimed the move came despite Government always having enough to finance wars, including the recent intervention in Syria, and to refurbish the Houses of Parliament.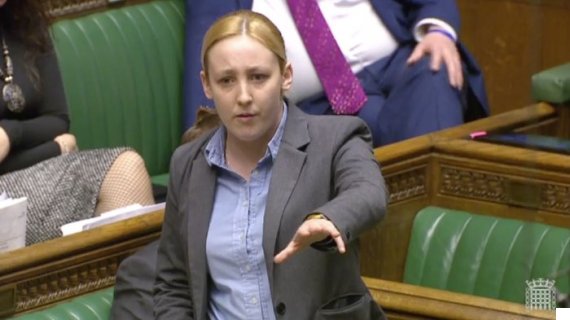 Mhairi Black speaking in the Commons chamber today
"We hear all the time about 'Where is all this money going to come from where are we going to find it?'" she said.
"But the truth is this comes back down to austerity - this is austerity of choice. And the frontbench can roll their heads all they like - this is a choice."
She continued: "I have yet to hear of a general or a defence minister say 'We can't bomb that country because we've exceeded our budget - we can't find the money.'
"When we want to bomb Syria we can find it, when we want to refurbish Westminster we can find it.
"But when it comes to giving our pensioners their pension, we can't do it. i just don't accept that whatsoever."
Her address sparked wide-spread support from fellow MPs and supporters.
Stonking speech from @MhairiBlack at #WASPI debate. Pensions a right not a benefit. It's an issue of respect @theSNP @WASPI_Campaign

— Joanna Cherry QC MP (@joannaccherry) February 24, 2016
@MhairiBlack Your speech was spot on, the Will of @HouseofCommons reigns. It must not be made party political. Lives are at risk.

— Joanne Welch (@2020Comms) February 24, 2016
. @MhairiBlack says that Westminster is more about ego than issue. That just about sums it up! #WASPI

— Sarah Pennells (@Savvy_Woman) February 24, 2016
Her speech in Westminster was part of a wider ongoing debate on women's pensions by the campaign group WASPI (Women Against State Pension Inequality Campaign).
WASPI is an action group campaigning against the "unfair changes to the State Pension Age imposed on women born in the 1950s".