asi como cuando dicen " nacio ENMANTILLAO" bueno... asi!

Posted by Jasmine Perez on Tuesday, 16 February 2016
Warning: Some may find this video graphic.
A fascinating video of a baby born inside the amniotic sac has been viewed more than 20 million times on Facebook.
The video, uploaded by Jasmine Perez from Spain, shows doctors handling and cleaning the baby while they are tightly curled up in the thin, clear membrane.
A doctor uses a scalpel to pierce the sac, after which the baby immediately takes their first breath and lets out a cry.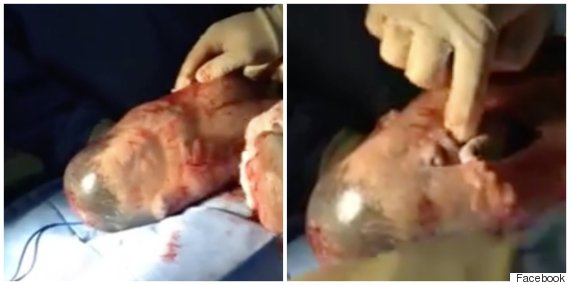 The doctor uses a scalpel to pierce the sac
The amniotic sac is a bag of fluid inside the woman's womb in which the unborn baby develops and grows, states the NHS. It is sometimes called the "membranes".
Before or during labour, the sac usually breaks and the "pale straw-coloured" fluid it contains drains out through the vagina. This is commonly known as "waters breaking".
The video garnered more than 20 million times in just nine days after being uploaded on Tuesday 16 February 2016.
The caption translates to: "Like when they say 'was born enmantillao [sic]' well... like this."
Perez did not explain where the video was filmed or if this was her child being born.
Michelle Lyne from Royal College of Midwives told The Huffington Post UK: "This is rare and is known as a 'caul birth' or 'veiled birth'.
"If this happens then the amniotic sac has to be ruptured to allow the baby to adapt to extra-uterine (outside the uterus) life.
"There is no known cause but it can occur more frequently in preterm births."