One of Britain's biggest 'Brexit' campaign groups has been caught flying the Union Jack upside down on one of its patriotic posters.
Leave.EU, which is campaigning for an 'out' vote on referendum day, posted a message thanking its 500,000 Facebook followers for their support but with a picture of a hot air balloon incorrectly emblazoned with the national flag.
The Union Jack was adopted in 1802 and does not have reflection symmetry - meaning it can't be flown either-side up - because of the slight pinwheeling of the St Patrick's (Irish) and St Andrew's (Scottish) white crosses.
In the picture, the thick white stripe appears above the thin wedge, which is instead how the flag is flown to be used as a naval distress signal.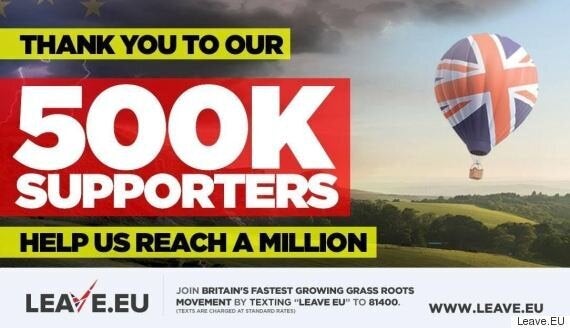 The campaign poster that sparked raised eyebrows
Charles Ashburner, chief executive of the UK's Flag Institute, told HuffPost UK that when the flag was flown upside-down by people who should know better "it is insulting, it is wrong, and it is technically something we should be offended at".
When asked to explain why the flag was depicted the wrong way round, a Leave.EU spokesperson had to check the post, then claimed it was in fact a cunning ploy.
"It's a tribute to the flag being flown upside-down when Mr Cameron was on his negotiation trip to Brussels," they said, adding: "That can be our comment."
Last week, the British flag was flying outside the European Parliament as Cameron was inside negotiating his reform deal.
There was, however, no reference to the incident on the post featuring Leave.EU's incorrectly adorned balloon.
Popular in the Community