In 2015, you'd think we'd have reached a point where men and women share household chores - but sadly, we have a long way to go until we reach domestic equality.
That's why a laundry detergent advert is urging men to do their share of the household chores. And no, that doesn't meaning 'helping women', because housework is not women's work alone.
An laundry detergent may seem like an unlikely feminist ally, but here's why it works...
The advert, which was created takes place in a family apartment. A woman comes home from work, but it is clear her work is never done. After walking through the front door she makes her husband a drink, begins preparing dinner and puts a load of washing, literally taking the shirt of her son's back - all of this chores she does singlehandedly and without complaint.
Her father watches her from a far, reading a letter to his daughter out loud: "My little baby girl. You're all grown up now. You used to play house. And now you manage your own house and your office. I am so proud and I am so sorry..."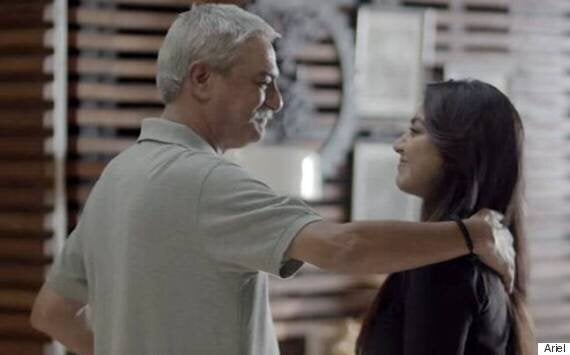 He adds: "I never told you that it's not your job alone, but your husband's too but how could I have said it, when I never helped your mom either. Your husband must have learnt the same from his dad... Sorry, on behalf of his dad... Sorry, on behalf of every dad who set the wrong example."
Sheryl wrote: "This is one of the most powerful videos I have ever seen – showing how stereotypes hurt all of us and are passed from generation to generation. When little girls and boys play house they model their parents' behavior; this doesn't just impact their childhood games, it shapes their long-term dreams."
The advert was created by BBDO India for Ariel India.