The five things you need to know on Thursday February 25, 2016…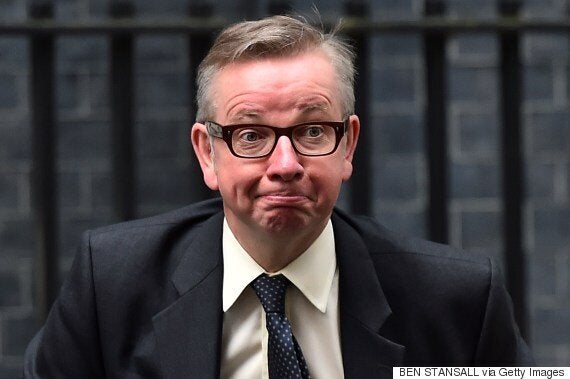 No10 has been pretty swift this morning in firmly dissing the Daily Telegraph splash, 'Gove Faces Sack', over his Brexit criticisms of the EU deal. A source tells me: "This is nonsense - the PM has full confidence in Michael Gove as Justice Secretary."
Despite the inevitable 'full confidence' football manager jokes, it's clear that Downing Street wants to stamp on any suggestion that David Cameron will stiff his old friend. (A cynic would point out Dave already did that by demoting Gove to Chief Whip in the last Parliament, a punishment that still stings in the Gove household, as Sarah Vine's lovely column yesterday underlined).
It seems that the PM is indeed irritated (but not enough to sack him) after Gove ditched his pledge to play a 'low profile' role in the EU campaign, claiming on the BBC that Dave's Brussels pledges could be unpicked by the European Court of Justice. Fellow Justice Minister Dom Raab claimed the deal had all the legal force of a washing machine warranty. And James Forsyth on the Speccie rightly picked up yesterday that the Ministry of Justice now has two ministers flatly contradicting a key legal argument of their Government.
The Speccie reports that George Osborne invited Gove to stay at his official country residence just hours after he declared for Brexit. Given that Boris had Gove to dinner, he's obviously a good guy to have on your leadership team.
No.10 had better get used to the daily war of Cabinet attrition. After Boris on Tuesday, Gove on Wednesday, IDS is in the Guardian today warning the EU deal does nothing to curb migration (nicely timed for the 9.30am release of immigration stats). What will worry those close to the PM is that the broadcasters legally have to give proper airtime to such attacks. And even if they get in a rebuttal (like Grieve and Wright yesterday on Gove), the damage is done.
As for the In campaign, No10 had the ignominy of admitting that Gen. Sir Michael Rose had not signed a letter to the Telegraph making the defence case for In. As Downing Street admitted too that it was to blame, the whole letter-signing stunt business was exposed for the sham it often is. It wasn't a good look for the Telegraph either, given its brilliant letters page history. Curiously, the paper itself today says Lord Bramall was pressured into signing the missive.
David Owen tells the Sun he's an Outer. His book 'Vote To Leave' points out the way Brussels has played with Turkey's possible membership. There's a Commons debate on Europe today, for all those not already bored.
Still, there's one big win for the In camp. Martin Lewis, the Money Saving Expert who polls say is the most trusted figure among the public, tells HuffPost he's narrowly in favour of staying in the EU.
It's an important few days in Labour's battle over Trident. Today, the GMB holds a conference in Newcastle with one convenor at Babcock Rosyth warning Corbynistas against "playing student politics with our jobs". On Saturday, Jeremy Corbyn attends the CND rally, in the process undercutting the party's attempt to focus on the EU In campaign that day.
On Tuesday, Ken Livingstone Emily Thornberrry (at the International Policy Commission meeting) and Des Browne (at a private backbench defence committee meeting) all found out just how much opposition they faced within the party. I'm told Ken at one point referred dismissively to John Woodcock as 'Woodcock', who felt it sounded a bit public school-y. At his event, Browne didn't take kindly to being lectured by Lord West.
Tom Watson has in the past called Momentum 'a rabble'. And the FT suggests his pals in the big trade unions now have a bit of buyer's remorse over backing the leftwing grassroots movement. The paper reveals three unions are refusing to give cash to Momentum. "I wouldn't use a Frankenstein analogy," says one union official. "But there have been times when we've wondered what exactly we've created." Still, as we learned yesterday that Labour is set to lose 24 seats in the boundary review (footnote:the Lib Dems could lose 5 of their 8 seats), watch for Momentum's influence to grow in what will be an effective deselection battle for many MPs.
The Times meanwhile reports that John McDonnell told a Momentum meeting on Monday that he wanted Labour's compliance unit, aka 'anti-infiltration unit', scrapped. "How we can move away from this regime that expels people, prevents people joining?" he asked. Only this week Jill Mountford, a member of Momentum's ruling committee, was expelled from Labour after it emerged that she had stood for the Trotskyist Alliance for Workers' Liberty in 2010.
A Labour spokesman coolly says McDonnell was expressing 'a personal view'. But this morning I'm told there is genuine anger at Labour HQ over the Shadow Chancellor's remarks and gen sec Iain McNicol is bound to fiercely resist any attempt to get the NEC to dump the unit that has protected the party for years.
BECAUSE YOU'VE READ THIS FAR…
4) OH MOTHER, WHERE ART THOU?
The 'your mum' spat at PMQs was unedifying in many ways. But some Labour MPs worry that Cameron's impromptu soundbite - particularly the 'sing the national anthem' kicker - will cut through with key voters.
Of course, the irony was that Corbyn himself refuses to cite the PM's mum (believing firmly that families should be kept out of politics) but it was three female Labour MPs around him who triggered the mother of all battles. Angela Eagle was first to yell 'Ask Your Mum!', followed by Carolyn Harris and then Emily Thornberry. Afterwards Corbyn's spokesman had a message not just for the PM: "We would encourage everyone in the Labour party to avoid personal insults…"
As for the PM telling someone to 'do up your tie', plenty pointed out yesterday that Cameron had created a political brand out of no-neckwear. The White House released a pic of a tieless Cam in a video conference call with Obama and at his 'Tories For In' event last night, the PM himself joked 'I've ignored my mother's advice'. See, you can have your cake and eat it, if you're ahead in the polls.
One doctor yesterday posted a pic of herself with a direct quote from Margaret Thatcher: "I always cheer up immensely if an attack is particularly wounding because I think, well, if they attack one personally, it means they have not a single political argument left." Corbyn's own esprit d'escalier Tweet (about Einstein) cheered up his fans, but it won't wash away that soundbite.
5) EVERY DAY IS LIKE SUNDAY
The curious thing about PMQs was that Cameron and Jeremy Hunt are actually on very shaky ground on the weekend deaths effect (as academics and doctors keep pointing out). And in the FT today, there is an ominous quote from Fiona Godlee, editor of the BMJ. Godlee, who has been critical of the way the deaths data has been used by politicians, says a new article in the BMJ, expected to appear next week, "will aim to address concerns about political interference in the peer review process and the source of Hunt's data".
Meanwhile, Mike Gapes, the Labour MP and Twitter enemy of many a Corbynista, has revealed how a 'seven day' NHS saved his life when he had serious heart trouble last November. Read our chat with him HERE.
Speaking of seven-day services, there's fresh rumbling about the Government's plans to relax Sunday trading laws. The Keep Sunday Special group has issued a letter setting out the case for a judicial review to contest the proposal. Peers (and bishops) are still seething the Government bypassed them on the issue. Setting out the case against, Labour's Jon Mendelsohn has blogged for HuffPost.
If you're reading this on the web, sign-up HERE to get the WaughZone delivered to your inbox.
Got something you want to share? Please send any stories/tips/quotes/pix/plugs/gossip to Paul Waugh (paul.waugh@huffingtonpost.com), Ned Simons (ned.simons@huffingtonpost.com), Graeme Demianyk (graeme.demianyk@huffingtonpost.com) and Owen Bennett (owen.bennett@huffingtonpost.com)