Facebook employees who defaced the black lives matter slogan on the company's signature wall, have received a stern warning from Mark Zuckerberg.
In a message, obtained by Gizmodo, he called the behaviour "disrespectful" and "malicious."
"There have been several recent instances of people crossing out 'black lives matter' and writing 'all lives matter' on the walls at MPK."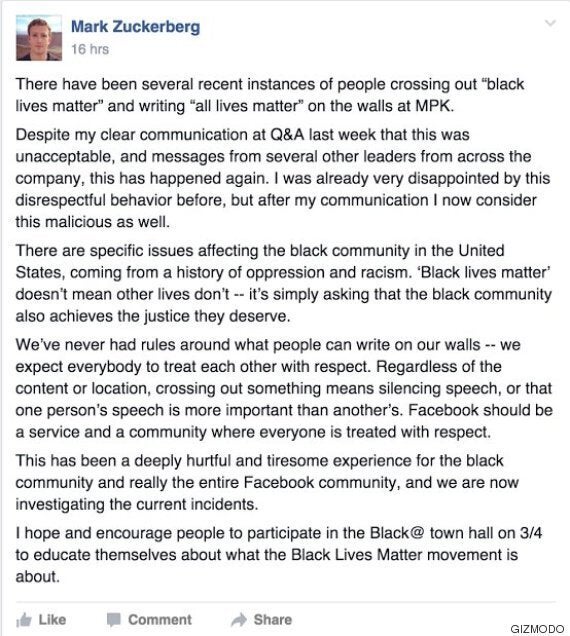 Mark Zuckerberg's message to Facebook employees, obtained by Gizmodo
"Despite my clear communication at Q&A last week that this was unacceptable and messages from several other leaders from across the company, this has happened again."
Facebook's offices have physical walls, as opposed to the digital version offered on social media, allowing employees to scribble on them at any time.
In his message, Zuckerberg said: "We've never had rules around what people can write on our walls -- we expect everybody to treat each other with respect.
"Regardless of the content or location, crossing out something means silencing speech, or that one's speech is more important than another's."
He also added: "This has been a deeply hurtful and tiresome experience for the black community and really the entire Facebook community, and we are now investigating the current incidents."
Black Lives Matter Seattle co-founder branded 'all lives matter' as a "racial slur" in an interview with Fox News.
'All lives matter is a new racial slur," she said.
"White Americans have created the conditions that require a phrase like 'Black Lives Matter.'"
Popular in the Community