BBC newsreader George Alagiah has said he is "a richer person" after his battle with cancer but says he is "under no illusions" that it could come back.
The 60-year-old met with the rest of the so-called "BBC survivors club" of Alagiah, Andrew Marr, Nick Robinson and Frank Gardner the first time on Friday, The Press Association reports.
Broadcaster Marr had a stroke, former political editor Robinson had lung cancer and correspondent Gardner is paralysed from the waist down after he was shot in Saudi Arabia.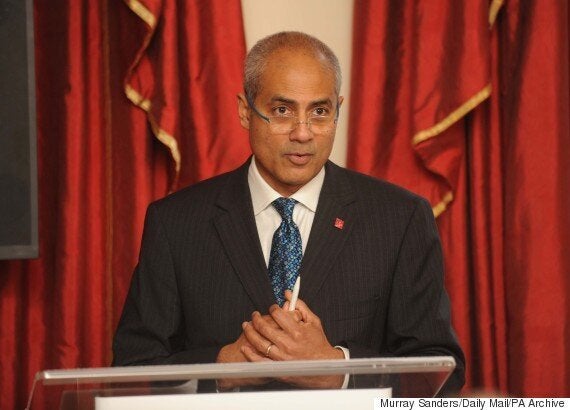 George Alagiah said he was a 'richer person' for having had cancer
"I realised I wouldn't give back a single day of the previous year's experience," he said. "I am a richer person for it."
When Alagiah noticed blood in his stools, his GP arranged a colonoscopy.
The presenter was diagnosed with the disease, which had spread to his liver and lymph nodes, in April 2014.
Bowel Cancer UK has said it kills nearly 16,000 people every year in the UK. It is the second most common cause of cancer death in the UK, behind lung cancer.
"I wasn't afraid of dying," the Sri Lankan-born newsman told The Telegraph. "I just wanted to get on with treatment."
He endured two rounds of chemotherapy and several operations, including the removal of most of his liver.
But Alagiah, who is married with two sons, kept himself busy with a journal. He also wrote a novel.
On October 28, 2015 he announced that his treatment was over and returned to BBC News At Six on November 10.
After his first show, he told viewers: "It's good to be back with you."
However the broadcaster, who was made an OBE in 2008's New Year Honours list, admitted to worries over check-ups.
"I try to shove that feeling into the attic in my mind a week or ten days before I am due to have a scan, yet I can't stop thinking about it," he told The Telegraph.
"I get anxious and then there is a huge relief when the doctor tells me it is clear again. But I am under no illusions.
"The doctor warned me last year, 'Your cancer knows the road, the pathway out of the gut'. It can happen again."
Alagiah joined the BBC in 1989 and spent many years as one of the corporation's leading foreign correspondents before moving to presenting.
He has been the face of News At Six since 2007.
Popular in the Community