He's famous for walking across the River Thames and levitating above The Shard, but magician Dynamo has been making "the impossible possible" since he was a child.
Dynamo, whose real name is Steven Frayne, got into magic as a way of dealing with playground bullies.
His great-grandfather, who he refers to as his grandpa, taught him some of the tricks of the trade.
"He kind of was my male role model in my life. My dad wasn't around," the 33-year-old told Richard Bacon for HuffPost UK's new original video series '30 Something'.
"My grandpa picked me up from school one time and he saw some boys bullying me and he showed me this technique to take away their strength so they couldn't lift me anymore.
"At first I was dubious, I didn't think this was going to work, but the next day when they tried to pick me up I did what my grandpa told me to do and they couldn't move me."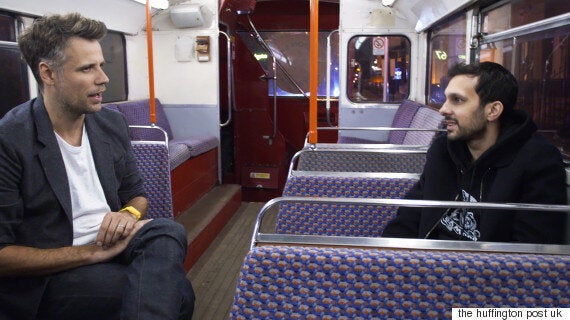 Dynamo talking with Richard Bacon
Dynamo was bullied for being smaller than the other kids at school and believes other children saw him as "geeky" and "a bit of a loner".
He realised something may be wrong with his health when he didn't experience the same growth spurt as his friends aged 13.
After experiencing severe stomach pain he was finally diagnosed with Crohn's disease - a long-term condition that causes inflammation of the lining of the digestive system - at the age of 15.
His playground levitation trick was enough to "freak out" the bullies, who left him alone for the rest of school.
Today, he still reflects on those childhood memories and uses them to drive himself forward.
"I was like 'I want to prove you wrong'. I took that negativity and turned it into fire and just wanted to show people," he said.
"I try and achieve the impossible for a living."