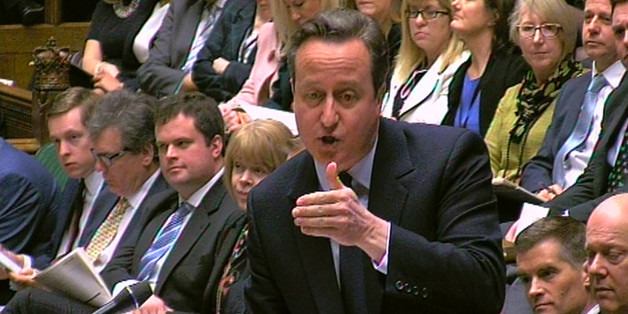 PA/PA Wire
Fresh from last week's childish jibes about Jeremy Corbyn's clothing choices, it's time for yet another instalment of PMQs - so let's see what's going on without all the usual jeering.
Let's see what childish nonsense comes out of #PMQs today. pic.twitter.com/aN9UBX9ClK

— Jack (@Jack_T11) March 2, 2016
Things were all the same as usual on the Labour front bench...
Tom Watson sits behind Corbyn like he's a bouncer keeping an eye on an OAP who snuck into a lap dancing club #pmqs

— Mic Wright ✍ (@brokenbottleboy) March 2, 2016
'and the award for 'Man Continually Haunted By His Situation' goes to.....' #pmqs pic.twitter.com/GxylofwaJ0

— General Boles (@GeneralBoles) March 2, 2016
Corbyn led with tax-free childcare, which has been held up in the government's plan, but he took his time doing it:
It's taken Corbyn three questions to get to what his surely his main point, the NAO report on free childcare #PMQs

— Joel Taylor (@JoelTaylorhack) March 2, 2016
But David Cameron was well prepared to fight back:
Almost as if Corbyn briefed Cameron in advance... Pitiful #pmqs

— Mike (@Dark_Blue_Box) March 2, 2016
I wonder if #Corbyn knows what an own goal is - someone should tell him #PMQs

— Susan Hall (@Councillorsuzie) March 2, 2016
So Corbyn moved on to teaching:
Jeremy Corbyn opts for a question from Tom the Teacher after making little headway with his own questions on childcare #PMQs

— norman smith (@BBCNormanS) March 2, 2016
The PM snuck in a joke about Corbyn's meeting with Yanis Varoufakis, but it was painfully planted and tenuous:
#AcropolisNow Not bad, though obviously prepared earlier. #PMQs

— Gillian Lazarus (@GillianLazarus) March 2, 2016
'Acropolis Now'.#PMQs becoming a Greek tragedy once again.

— André Lombard (@AndreLombard2) March 2, 2016
And obviously the Tory benches were brimming with planted questions to make the PM look good.
"Does the Prime Minister agree..." at the start of a question during #pmqs should activate a hidden gunge tank.

— Mic Wright ✍ (@brokenbottleboy) March 2, 2016
David Cameron meets with a Tory MP ahead of #PMQs pic.twitter.com/Sj2ogloMEc

— Ryan Barrell (@RyanBarrell) March 2, 2016
No one could quite tell what the SNP's Westminster leader was up to:
Angus Robertson bores the Commons with a question effectively supporting Cameron. #PMQs

— Dugald MacMillan (@DugaldMacMillan) March 2, 2016
Sorry dont know what Angus's second question was about. It made no sense #PMQs

— Single Father #2271 (@DonaldMcBride) March 2, 2016
Labour's Neil Coyle had a pop at the PM's suit jibes from the previous week:
Labour's Neil Coyle, asking his first #PMQs question, says to Cameron: "I do hope my suit and tie match his mother's high expectations."

— BuzzFeed UK Politics (@BuzzFeedUKPol) March 2, 2016
.@coyleneil with the bants ! #PMQs

— Jack (@Jack_T11) March 2, 2016
But the subject matter didn't really fit with the joke...
Probably don't open a question about the death of a child with a joke #PMQs

— Daniel Jackson (@danieljksn) March 2, 2016
First #PMQs question from Neil Coyle : start off with a suit joke, straight into a stabbing. Nice

— Liz Bates (@wizbates) March 2, 2016
Awkward.
The House was even more riotous than normal, especially when one MP failed to show up for his question...
"Where is the fella?" The Speaker ties to find Eurosceptic @bernardjenkin who appears to have gone awol. #PMQs

— Darren McCaffrey (@DMcCaffreySKY) March 2, 2016
March 2, 2016
And the PM genuinely tried to make a joke about electoral reform. And it was even that bad.
PM responds to David Davis' question, who stepped in for Jenkin: "I'm glad we've got the single transferable question". 😃😃😃 #PMQs

— Darren McCaffrey (@DMcCaffreySKY) March 2, 2016
Single transferable banter #pmqs

— General Boles (@GeneralBoles) March 2, 2016