The five things you need to know on Wednesday March 2, 2016…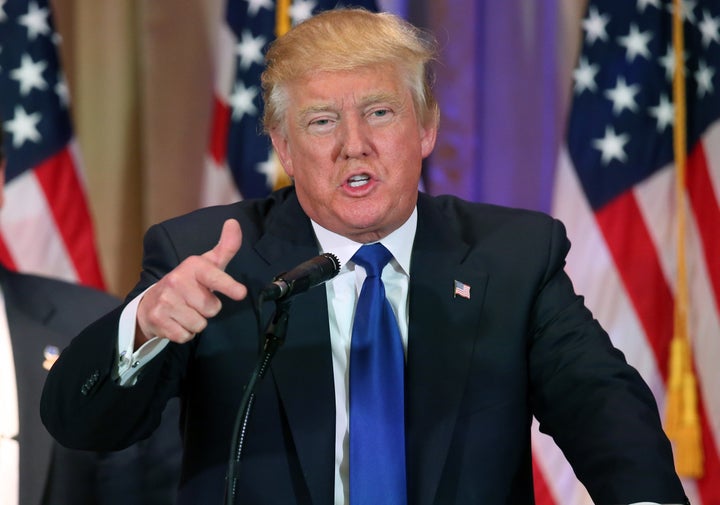 I know British politicos tend to get overly-seduced by the glamour and hype of American politics. From No.10 to Labour MPs, from Parliamentary researchers to Lobby hacks, we all smoke the 'West Wing', 'Veep', and 'House of Cards' like so much political crack cocaine. But as last night's Super Tuesday results showed, there's every reason to be more than a bit addicted today to what's going on in the US Presidential race.
And March 1, 2016 may go down in history as the moment that either President Donald Trump or President Hillary Clinton took their first real steps to the White House. My colleagues on HuffPost in the US have done a superb job through the night and you can catch live updates HERE, plus an excellent analysis of Republican party splits HERE. We also have a report on what UK-based Democrats Abroad are thinking HERE.
Marco Rubio had a terrible night, coming third in most races. Yet he insists he isn't going to quit, despite Cruz's plea, so the prospect of a split opposition letting Trump walk his way to the nomination looms larger. Clinton mopped up states efficiently.
As for Trump, he towers over the race. The big question has always been whether he will tack rapidly to the centre once he's won the nomination, and change rhetoric to win over worried floating voters. At his victory speech, The Donald adopted a notably more conciliatory tone. This morning, Piers Morgan (who got to know him in the US Celebrity Apprentice) told the Today prog that while he wouldn't vote for Trump, the brash billionaire was much more shrewd than we all think.
"I read Trump's going to be the new Hitler, and I find that an absolutely facile way of looking at a guy who is basically a right-wing Richard Branson," he said. "If people could hear him when he hasn't got the TV cameras in front of him and he was just one-on-one, he is a very different beast. He is a lot calmer, he's a lot more rational. This is bloke completely in control. Who knows exactly what he is doing."
OK, it's Piers Morgan saying this, remember. But if he's right, and Trump is doesn't actually believe most of the things he's saying, then that's perhaps the most damning verdict of all. Meanwhile, our excellent HuffPost Pollster charts shows that in a match-up between Hillary and Trump she'd win by 5 points (48-43%). Clinton-Cruz would be 48-43%, Clinton-Rubio would be 46-46%.
It's PMQs today again and in normal times Labour would relish the chance to quote a Tory Cabinet minister effectively calling the Prime Minister 'Dodgy Dave'. Chuck into this lethal cocktail a little bit of Iraqi WMD and his own anti-Brussels instincts, and you can see why Jeremy Corbyn could be sorely tempted to use Iain Duncan Smith's latest attack line.
But with the UK's future in the EU at risk, and most of the Labour party desperate to see the 'In' camp win, Corbyn will find it hard to deploy IDS's 'dodgy dossier' line. Not that that stops Tory Eurosceptics, who have been out in force to rebut the Government document claiming life outside the EU will look like a combo of Apocalypse Now and The Day After Tomorrow.
Philip Hammond has been on the breakfast airwaves, insisting that the Government document is a 'hard-headed assessment'. And he and Cameron know that one of their strongest cards is that the Outers haven't yet presented a clear vision of what life would actually be like outside the EU. When your opponent is not answering a Big Question, you naturally answer it for them and that's exactly what today's hare-em-scare-em dossier about Norway/Switzerland/Canada/WTO is all about.
At least in Scotland, Alex Salmond and Nicola Sturgeon produced a lengthy White Paper that sought to tell Scots what life would look like in an independent nation. They also had more time on their side than the Brexiteers down here. And still they couldn't defeat the massed ranks of Project Fear. While the next four months may seem a butt-numbingly long time for our own Brexit debate, it's really pretty short compared to the years of campaigning in Scotland.
Dom Raab was deployed by the Outers on the airwaves, saying the UK would need 'a very ambitious' trade deal (while admitting in agriculture and services 'we might get slightly higher tariffs').
Hammond admitted on he Today prog that "No one is saying we would be in some terrible situation…" outside the EU. Before then listing all the reasons why it would indeed be terrible. Still, as IDS's language proves - and there's no more toxic a charge in British politics than the 'dodgy dossier' charge - the Tory war over Europe is getting very dirty indeed. George Osborne yesterday warned that Brexit would be "a long costly and messy divorce". That may be a neat description of the Conservative party splits in coming years.
This morning novelists Allison Pearson and Tony Parsons appear at a UKIP-backed event to set out why they are 'Outers'. The 'book club mums' are the target, proof once more than all sides are desperate to influence what's seen as the risk-averse female vote in the referendum.
Life ain't easy for Jeremy Corbyn right now and David Cameron has plenty of PMQs ammo if he reads accounts of Monday's latest PLP meeting (there's a rather good one HERE, in case you missed it). Damian McBride also had his first day as Emily Thornberry's media adviser yesterday, and the PM may pick up on Corbyn's ITV Agenda line about the 'sinner' having 'repented'.
But with Labour facing a real prospect of going backwards in May's elections (everywhere apart from London), its MPs are mightily unimpressed with Jon Trickett's campaign plans so far. PolHome reports that the slogan for the local elections will be 'Standing Up, Not Standing By'. One Labour 'moderate' jokes this morning that the football chant in marginal seats could be 'Stand up, if you hate Jezza'.
The one area where Labour is expected to do well is London, so it's no wonder Michael Fallon deployed the 'danger to the nation' card he used to such great effect against Ed Miliband last year. Sadiq Khan says Fallon has demeaned his office by claiming he was "a Labour lackey who speaks alongside extremists".
Speaking of extremists, the claim and counter-claim over anti-semitism within Labour's youth ranks is looking uglier by the day. Jan Royall is investigating the allegations but Unite wants an independent inquiry. And yesterday the union tried to stop newly elected youth rep Jasmin Beckett from attending the NEC- it took Dennis Skinner to intervene to protect her.
At 10am today, Labour will be a bit more united, and united with the Lib Dems, as the Lords select committee on the Trade Union bill is expected to say it should be delayed until cross party talks get properly underway over party funding. Here's my seatwarmer from yesterday.
BECAUSE YOU'VE READ THIS FAR…
4) POVERTY OF EXPECTATION
With all eyes on Brexit and Trump, the IFS report on the incomes of the poorest in the UK risks getting buried. The research is as fair and straight as ever, pointing out that pensioner poverty will decrease thanks to the 'triple lock' on pensions and that the booming jobs market has helped lift many poorer families above the breadline.
But it is its projections of the impact of the 'two-child' welfare policies of the Tories that will be seized on by critics. The graphs show that 2.6m children will end up in poverty by 2020, mainly because larger families with three children or more, and single parents, will be hit hardest.
John McDonnell - undeterred by Osborne's zinger yesterday about him being advised by Paul Mason and Yanis Varoufakis because "Mao is dead and Mickey Mouse is busy" - is trying to ensure the study gets some attention. "This report should shame the Chancellor, as any upsides rely more on the policies of OPEC in setting oil prices than George Osborne in boosting wages," he says.
No fewer than 10 Written Ministerial Statements were released yesterday. When Downing Street listed some of them at Lobby, only a couple got mentioned (on the BBC's future and on bra queen Michelle Mone's start-up plan). What didn't get mentioned was the one WMS that could have a huge impact on millions of people - the new review into retirement ages and pensions by ex-CBI chief Sir John Cridland.
HuffPost and the Evening Standard were quick to spot the elephant on the Order Paper, and today most papers splash their front pages with varying warnings that younger people will have to work until 75 (Mirror) or 81 (Sun). Even the normally sober FT says it's a 'work til you drop' review. And the Mail rightly picks up on a hint that manual workers could be allowed to retire earlier than 'white collar' workers, in its a wonderfully retro phrase (does anyone other than David Cameron actually wear white collars these days?)
Lots of young people think pensions are boring. But they may have to adjust that perception. As the WASPI campaign for older women has shown, Whitehall often banks on you realising too late that your retirement will cost more.
If you're reading this on the web, sign-up HERE to get the WaughZone delivered to your inbox.
Got something you want to share? Please send any stories/tips/quotes/pix/plugs/gossip to Paul Waugh (paul.waugh@huffingtonpost.com), Ned Simons (ned.simons@huffingtonpost.com), Graeme Demianyk (graeme.demianyk@huffingtonpost.com) and Owen Bennett (owen.bennett@huffingtonpost.com)