Britain First leaders have used a "makeshift command and control centre" in south London to get around a police ban preventing them from entering Luton, imposed following their controversial 'Christian Patrol' in January.
Following the march, which was labelled "intimidating" and "inflammatory" by anti-islamophobia groups, Bedfordshire police successfully sought an order to ban party leader Paul Golding and his deputy Jayda Fransen from the town.
The ban was granted as the duo had worn "political uniforms" during their patrol which was in breach of an interim injunction Bedfordshire Police were granted in June last year.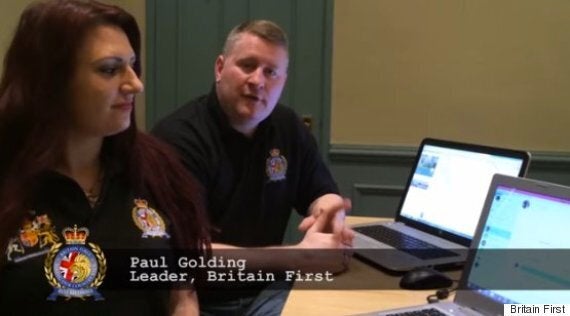 Britain First leader Paul Golding and his deputy Jayda Fransen in their 'make-shift control centre'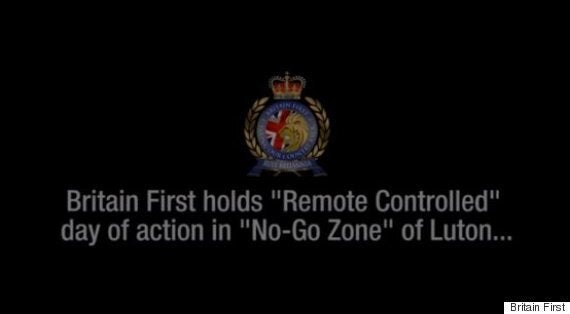 On Sunday around 30 Britain First activists returned to Luton where they handed out party newspapers, while filming locals reactions to their presence.
The activists, according to Britain First's website, "dominated the town centre, despite receiving threats and warnings from the local rotten police".
Video of the action shows Golding and Fransen holed up in a room with their laptops, communicating with their members via Skype, Periscope and "just normal phone calls". The party prides itself on its use of social media and technology, with its Facebook page having over one million 'Likes'.
Golding tells the camera: "The police specifically arrested myself and Jayda, they arrested us and put us on ridiculous bail conditions, specifically so we wouldn't wear Britain First merchandise; that Britain First wouldn't hold any days of action in Luton and me and Jayda wouldn't be able to direct activities. But here we are, we're in Britain First merchandise, directing activities on a big day of action in Luton."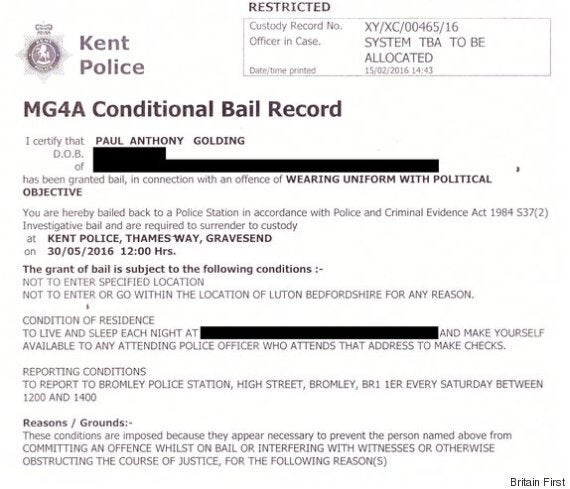 Golding's bail form which shows he has been banned from entering Luton
During the filming the far-right groups chief of staff, Rodney Lomax, is approached by a police officer who asks if he is in charge. He then contacts Golding and Fransen via Skype, who are then showing speaking with him from their "control centre".
The officer informs them that Britain First members are not allowed to enter Bury Park under the Public Order Act, as it may cause disorder.
Golding: "Our activists can go wherever they damn well like."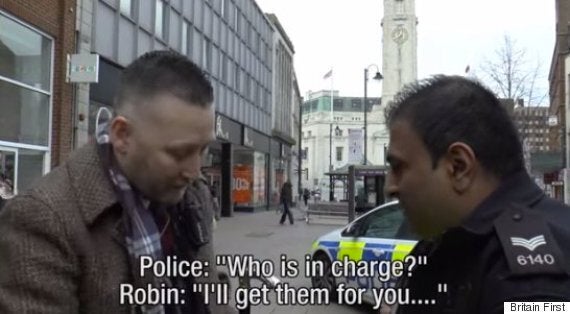 Britain First chief of staff Rodney Lomax is approached by a police officer, before putting him in touch with the 'control centre'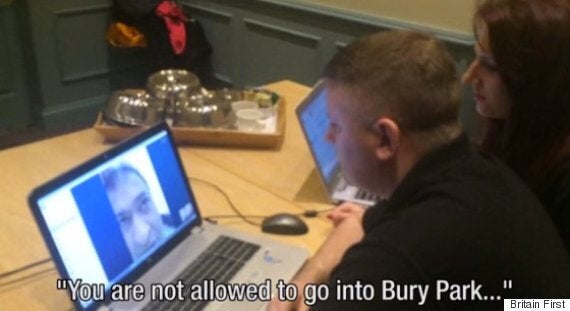 Golding and Fransen speak to the officer who tells them their activists can't enter Bury Park
The activists are later all ordered to leave Luton which Golding later tells the camera proves the town is a "no-go zone for anyone who goes there not on the Muslim's terms".
In the video Golding reaffirms the political parties intentions to continue to stage events in Luton despite the police ban saying it is to become a "target town" for Britain First. Members, Golding said, would march there on a "regular basis".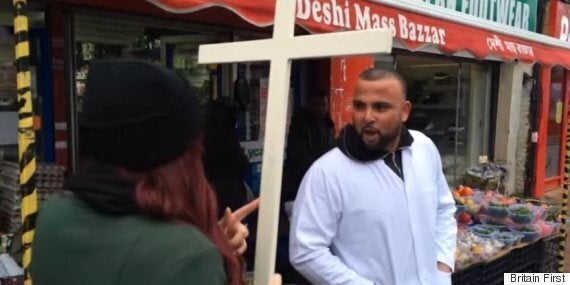 Fransen confronts a local Luton resident during the 'Christian Patrol'
Bedfordshire Police are yet to respond to a Huffington Post UK request for comment on Britain First's latest Luton march.
On 23 January, around 20 Britain First members marched through Bury Park carrying wooden crosses and confronting local Muslims about trying to "take over" Britain. A video of the event gained more than 25 million views on Britain First's Facebook page before the social network removed it.
Popular in the Community