David Baddiel is best known as a comedian and adult author, but it was his kids who inspired him to start his latest project.
The 51-year-old began writing kids' books after a conversation with his son Ezra about Harry Potter.
Baddiel told The Huffington Post UK: "Ezra said to me: 'Dad, why doesn't Harry potter just leave the horrible Muggle family he has to live with when he's not in Hogwarts? Why doesn't he leave them and go and find some better parents?'"
And it was that single question that gave Baddiel the basis of his first book, 'The Parent Agency', in 2014.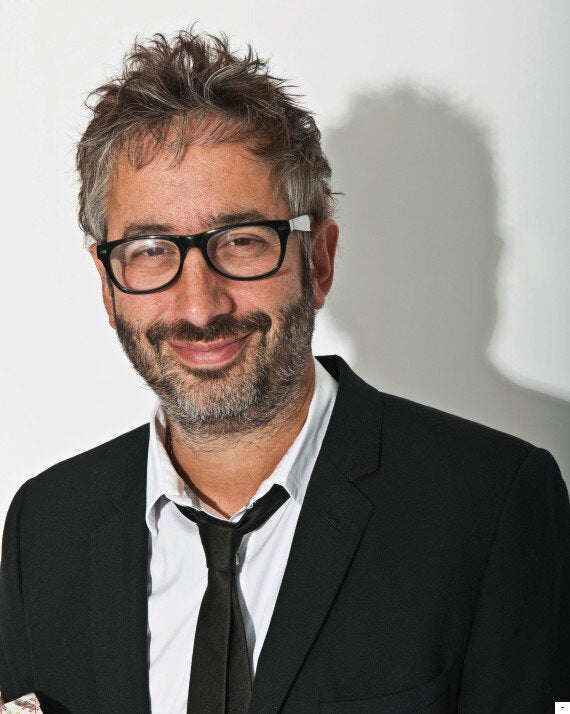 David Baddiel was inspired to start writing kids' books after becoming a dad
'The Parent Agency' is the story of a child called Barry who enters a new world where children are allowed to choose their parents after trying them out.
"At the time, I didn't think 'Well I'm not a kids' author so I can't write that'. I didn't recognise the boundaries between different types of storytelling so I just thought I'll write it," said Baddiel.
"And I did, and it sold 100,000 copies, so I thought I'd write more."
Shortly after the success of his first book, Baddiel released his second 'The Person Controller' in 2015. His third, 'The Boy Who Could Do What He Liked', was written for World Book Day 2016 as one of their £1 books and he describes it as being a "short novella".
"Having children was the key thing in deciding to write these books," he explained.
"After becoming a dad I found myself as a writer thinking more about what kids like in story terms and narrative terms.
"I would make up a lot of stories for my kids sometimes when I was at home or at bedtime.
"I just started seeing things from a child's point of view."
But what Baddiel also noticed when embarking on a journey of storytelling for kids, is that the gap between what is typically known as being an "adult" story, film or TV show and a child's one has narrowed incredibly.
While he was brought up watching 'Magic Roundabout', Baddiel said his kids watch 'The Simpsons' - a show that he said in his opinion is in no way "lesser" or "junior" than most adult programmes.
And he feels this works both ways, admitting he will often enjoy watching typical kids' films such as 'Toy Story' or 'Despicable Me'.
"I love it all. There's a whole bunch of typically 'kids' programmes which are better, in my opinion, than most films that win Oscars," he said.
"I mean, I don't put up with this stuff for the kids, they are brilliant and just so funny."
With this in mind, Baddiel made sure when he started writing kids' books, he didn't talk down to kids.
Instead, he wrote the way he would normally write for adults but in what he described as being a more "magical" way.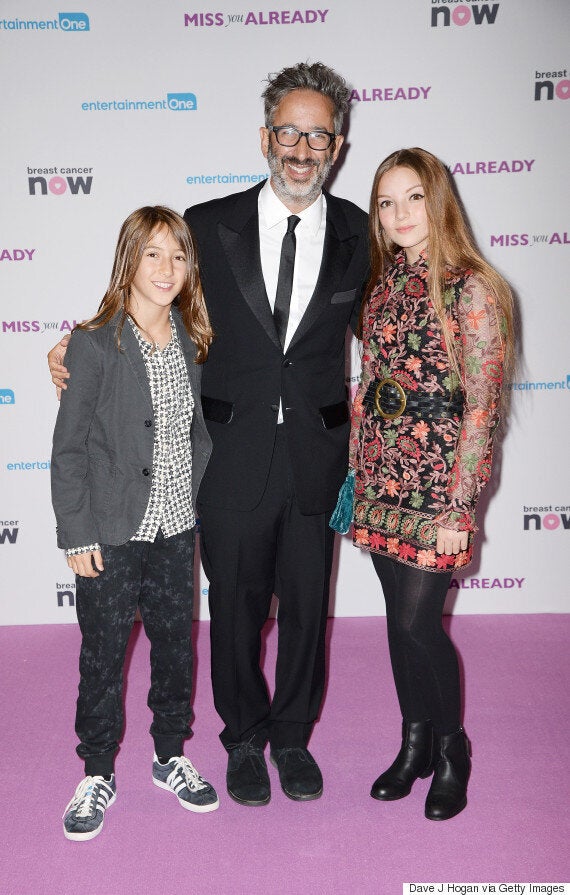 David Baddiel with his children Ezra, 11, and Dolly, 14.
Baddiel avoided swearing and made sure the sentence structure was clear, but didn't sway too much from his usual comic style.
"It just seemed to work," he said. "I thought, I'm going to have as many jokes as if it was a comic for adults.
"I've had parents say to me 'My child didn't read before and now he really likes reading, it got him into it and he really likes it'.
"I asked kids why they like them and straight away they say 'It's funny, it's really funny'.
"I think it's like a spoonful of sugar that helps the medicine go down because it's not just a book - there's comedy in there."
The success of Baddiel's kids books aren't just because of the comedy, but through the strong narratives he hopes take kids into a fantasy world.
Just as in 'The Parent Agency', kids imagine what life is like when they don't have to put up with their own parents shouting at them for tidying their room, 'The Person Controller' takes kids to a world where they have the power to control everything around them with a video game controller.
Baddiel says both stories tap into some kind of "primary fantasy" that children have - an ultimate wish they've no doubt had in their mind at one point in their lives.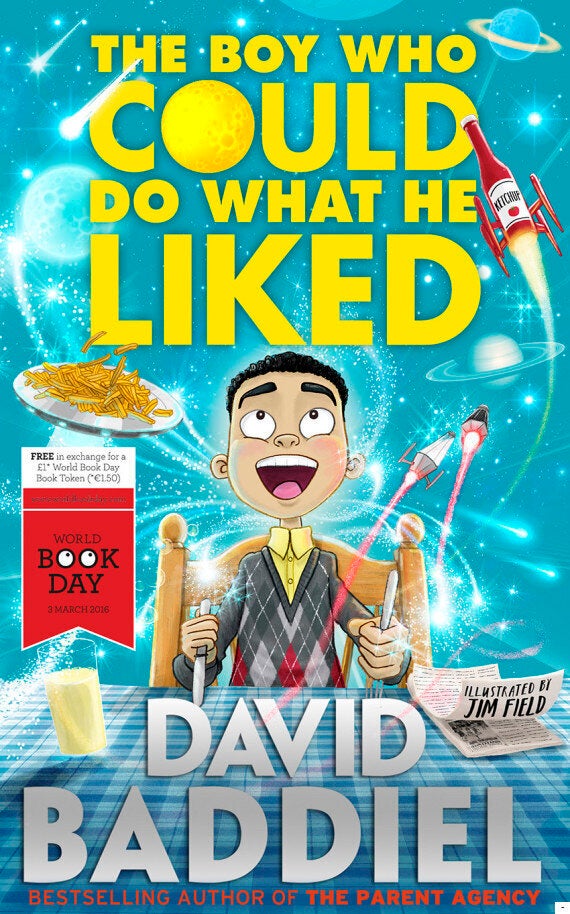 Baddiel was approached in summer 2015 about writing a short story for World Book Day 2016 - a book he said his daughter Dolly read in 45 minutes.
"It's based on the fact that when I was a kid, I had a very old babysitter called Mrs Stokes who was basically the oldest person in the neighbourhood," he explained.
"The boy in the book lives an incredibly controlled life and when his parents go out, the old babysitter likes to watch 'Strictly' so he can do what he likes.
"It's the furthest end of kids wanting to do what they really want and so I just brought it to life with excitement, but also brought it home in some level as the boy ends up playing out his routine."
Baddiel added: "I do genuinely hear from a lot of parents of boys who say they're really glad these books got their son over a problem with reading.
"But I think parents should know it's okay for kids to get reading in different ways - through comics and graphic novels - because what's great about reading is it gives children a chance to imagine in a different way.
"With any type of reading, you have to do a bit more brain work than simply watching a TV screen in front of you."
Baddiel's son - who is in the right age bracket for the books he writes - has read all his books and enjoyed them.
"He bloody loves those books and he'll even tell me that," Baddiel said. "My partner recently also bought him a book called '12 Minutes To Midnight' and he said it was scary, but he clearly loved it.
"I think it's about finding what books really interest kids and then they're more likely to want to read."
Baddiel isn't stopping with his third book, as he revealed he's already writing another one at the moment, provisionally named 'Annie Malcom'.
The story is about a boy who doesn't like animals and ends up going on a school trip to a farm. He confesses to a goat he doesn't like animals (and doesn't know why) then falls asleep and wakes up as a tortoise. As you do.
"I think it comes from the primal idea that all kids really love animals," Baddiel explained.
"I wanted to not write about not dealing with humans and having all the freedom to do what you like, like animals do."
David Baddiel is a World Book Day 2016 £1 Book author. His book, The Boy Who Could Do What He Liked, is available from bookshops in exchange for a World Book Day £1 Book Token.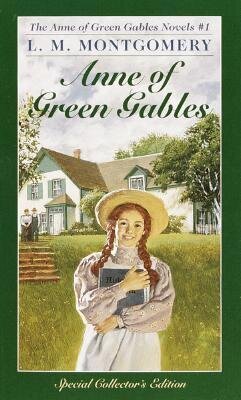 Cozy Books For Winter