The show's resident agony aunt called into the ITV daytime show to speak to hosts Holly Willoughby and Phillip Schofield, speaking for the first time since revealing she is battling the disease.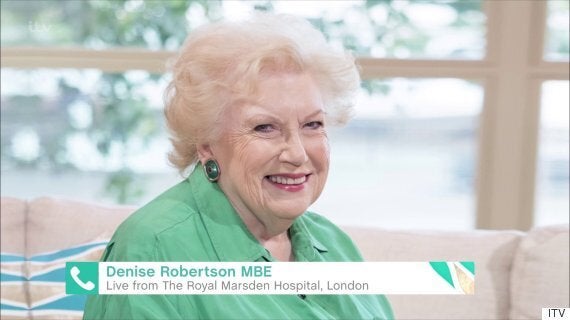 Denise Robertson called in to 'This Morning' to speak about her cancer diagnosis
Talking from the Royal Marsden Hospital in London, where she is currently receiving treatment, Denise said: "Can I just say how much it's meant to me - all the love and support that's come in from all of you - from colleagues, from viewers, it really is the most enormous help."
Holly replied: "That's good to hear Denise. And we hope you're going to be popping in to see us soon - we miss you so so much."
"Well I hope you're saving all those hugs for me Holly?" Denise asked.
"Of course I am, you know I will be!" Holly replied.
Denise added: "Everything is getting through to me and believe me, it's a real lift."
"Well we're so glad and we don't want to take up too much of your time and we don't want to tire you out - we know you've got all sort of treatments and things going on - we just wanted to check in Denise and send all our love," Phillip said.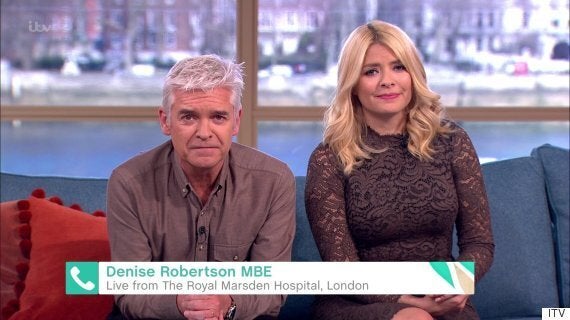 Denise spoke to hosts Phillip Schofield and Holly Willoughby
Denise, who has been a part of the ITV daytime show since it began in 1988, also paid tribute to the "wonderful nurses and doctors [who] couldn't be taking better care of me."
Announcing news of her diagnosis last month, she said in a statement: "It has come as a surprise to me and my family but we know many others have suffered and dealt with this condition and I don't plan to give up without a fight.
"My doctor is referring me for chemotherapy and hopefully that will start soon. I'd like to thank all the lovely viewers of 'This Morning' who have been concerned about my health and I hope I'll be back on the sofa soon."
'This Morning' airs weekdays at 10.30am on ITV.
Tap the picture below to launch slideshow...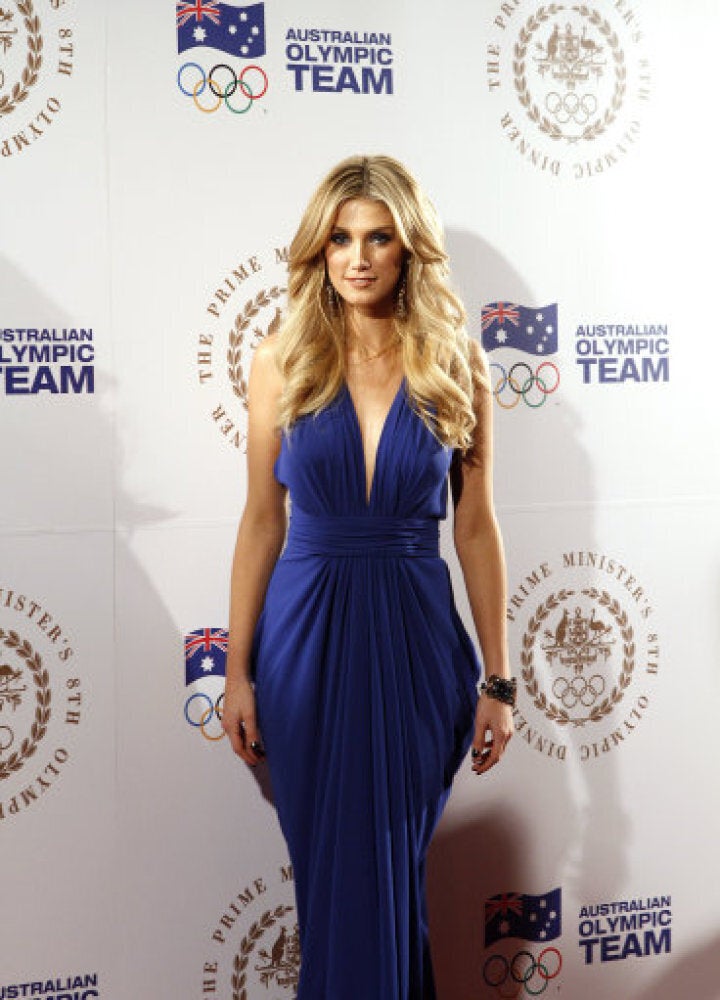 Celebrity Survivors
Popular in the Community