When Republican frontrunner Donald Trump enjoyed a number of wins on Super Tuesday earlier this week, it seems that a number of Americans began considering a rather drastic option: moving to Canada.
But it looks like US citizens keen to escape the growing popularity of Trump - and perhaps even the nightmarish possibility of him becoming president - could find themselves facing a particularly big hurdle. Or at least if Adam Hills has anything to do with it.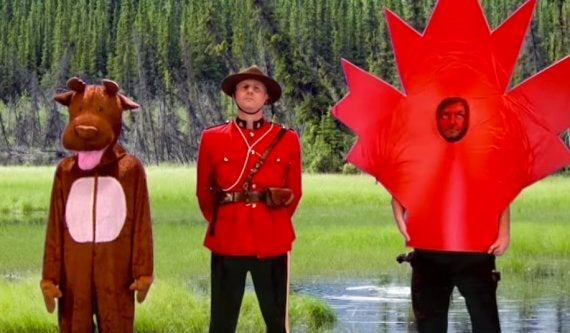 The Bricking It For Canada campaign is asking people to pledge bricks to a border wall between the US and Canada
Speaking on his show The Last Leg, Hills explained: "If I was Canada I'd be worried, because they're going to face an influx of refugees - and they are harder to look after than any other refugees because they need way more food.
"Plus Americans don't speak basic English, they carry more guns and they refuse to assimilate with other cultures.
"That's why we here at The Last Leg have decided to help Canada build a wall.
"We would like everyone in the world to pledge a brick to help keep Americans in America.
"And to do it, we've set up a website."
Enter the Bricking It For Canada campaign, which has the support of Alan Carr, Phil Jupitus, Jack Dee and even Monika from the Cheeky Girls, complete with "Brickstarter" to help the country build their wall.
At the time of writing, the campaign had already seen 1,889,382 of the estimated 1,545,454,550 bricks required to fence off Canada.
On Friday evening, the site crashed repeatedly as people tried to pledge their support.
Trump is infamous for his calls to build a wall along the border with Mexico to keep immigrants from crossing into the US.
Related