Boris Johnson has denied he expects to be the next prime minister and dismissed the idea that David Cameron will have to quit if Britain votes to leave the EU as "cobblers".
In a interview with Andrew Marr on Sunday morning which saw the presenter and politician talk over each other repeatedly, the London mayor sought to explain his reasons for defying the prime minister to campaign against EU membership.
Boris compared Brexit to a prison break. "This is like the jailor has accidentally left the door of the jail open and people can see the sun in the land beyond," he said. "It would be wonderful. It would be a huge weight lifted from British business."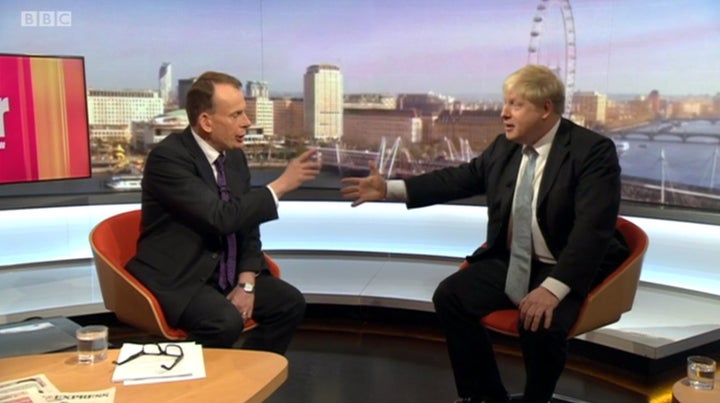 Last month Cameron openly ridiculed Boris for campaigning to leave the EU - implying he had only chosen to back Brexit to further his own leadership ambitions.
Asked if he thought he would be the next man in No.10, Boris told Marr: "Certainly not. We have a wonderful prime minister."
"To the best of my knowledge there is not single EU leader in the last 20 years who has had to step down as a result of a referendum whether on Europe nor not. I think the whole thing is load of cobblers," he said.
And he accused the BBC presenter of "trying to personalise" the EU referendum campaign "to make it more interesting to viewers".
Speaking to BBC Radio 5 Live's John Pienaar, former Conservative defence secretary and 'Out' campaigner Liam Fox suggested Cameron's leadership of the party was linked to the outcome of the referendum.
"It would be impossible on a powerful issue like the referendum to disaggregate that from that question of what is going to happen in terms of leadership," he said. "Timetable is a very different matter."
On Marr, Boris' long answers increasingly frustrated the presenter as he attempted to pin him down on the specifics of what leaving the EU would mean for Britain.
"I get to ask the questions, this not the Boris Johnson show it is the Andrew Marr show," the veteran BBC broadcaster scolded the mayor at one point.
But the Vote Leave campaign was unhappy, as was Ukip MP Douglas Carswell.
But Boris performance did not impress Scottish Conservative leader Ruth Davidson, who is backing the prime minister's campaign for a 'Remain' vote at the June 23 referendum.
Speaking on Marr, Boris admitted Brexit "might or it might not" lead to a period of uncertainty, but said the UK economy would be fine.
"What you do is as soon as you vote Leave, the EU treaties remain in force for at least two years and you have plenty of time to negotiate new free trade arrangements," he said.
"And I have to say, one of the feeblest arguments from the Remainers is we're so emaciated in our diplomatic and commercial abilities today that we could not negotiate free trade arrangements ourselves and we have to entrust it to these brilliant officials in the European Commission. I think that is absurd."
Responding to Boris' comments admitting there might be job losses, Alan Johnson, the chair of Labour In For Britain, said: "Boris Johnson's admission that jobs and our fragile growth would be put at risk by leaving the EU is at least honest. But it highlights the instability and uncertainty that wrenching Britain away from the EU would create.
"Labour will continue to make the case for Britain to remain part of the biggest commercial market in the world with all its protections for workers, consumers and the environment, rather than wandering off into an uncertain and isolated future."
Today Downing Street insisted it did not put pressure on one of the UK's leading business organisations to suspend its leader over comments suggesting the country could have a "brighter" future outside the European Union.
Number 10 said it was "surprised" by the views expressed by John Longworth, director general of the British Chambers of Commerce (BCC) and acknowledged that it "regularly" speaks to business organisations.
But a spokesman stressed that "no pressure" was put on the BCC to suspend Longworth, a decision which was branded "scandalous" by Brexit-backing London mayor Boris Johnson.
The mayor claimed that Longworth had become a victim of Project Fear - the label used by Brexit campaigners to criticise the tactics used by Cameron and his allies backing a Remain vote.
Boris said: "It is absolutely scandalous that John Longworth has been forced to step aside. This is a man who reached the conclusion - after long reflection and a lifetime's experience of business - that it would be better to vote Leave.
"His verdict reflects the reality - that the EU has changed out of all recognition from the Common Market that this country joined."
Popular in the Community