A sick and frail 92-year-old widow threatened with deportation, says she is "overwhelmed" to be allowed to stay in Britain, after a public outcry saved her from being removed from her carers.
Myrtle Cothill feared she would be sent back to her native South Africa despite suffering from heart problems, losing her eyesight, being unable to walk unaided and having to be looked after by her daughter, Mary Wills, in Poole, Dorset.
On hearing she had been granted limited leave to remain in the UK, Mrs Cothill told ITV News: "I am feeling very happy, overwhelmed. It is unbelievable."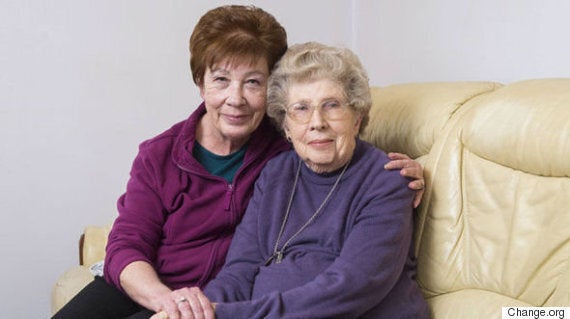 Mary Wills (left) with her mother Myrtle Cothill (right)
She said it was like going "from darkness to lightness, from night to day".
Mrs Cothill's lawyers presented medical evidence about the state of her health and she has now been told she can stay. She will have no recourse to public funds, including the NHS.
Immigration minister James Brokenshire said: "Last month Mrs Cothill's family were given the opportunity to provide further evidence about her health and fitness to travel.
"I asked that this evidence be carefully considered as a fresh application under the rules. In the light of this assessment, I have decided that Mrs Cothill should be granted limited leave to remain in the UK with her family given the compassionate and exceptional circumstances of this case."
Mrs Cothill's health deteriorated after she came to Britain in February 2014 on a six-month visa.
Mrs Wills lives with her husband David, who suffers from Parkinson's disease and has heart problems.
She could not travel to South Africa to look after her mother there because they have no right to live in the country, and her husband's health would not allow it.
The case attracted a huge amount of public support on social media, with more than 75,000 people signing a petition calling for her to be allowed to stay.
Mrs Cothill said: "I feel like a weight has been lifted off me. I want to thank everyone who has supported me and God bless them all. It has made such a tremendous difference to me."
Mrs Wills said: "Words cannot explain how I am feeling. I am overwhelmed. It is the best Mother's Day present we could have hoped for."
Her lawyer Jan Doerfel said the stress of the situation had left Mrs Cothill suffering from severe anxiety and depression and that doctors had given her just months to live if she was deported.
Doctors who examined Mrs Cothill said there was a considerable risk of mortality within the first three months of her return due to her physical and mental frailty, advanced age and emotional and physical dependency on her daughter for the provision of food, medication and self-care.
Mr Doerfel said: "It has been a heartbreaking situation. It would have been a permanent loss of her daughter, a permanent separation and there was an increased risk of her dying within three months of returning to South Africa."
Mrs Cothill and her family have been under "incredible stress" since September 2014 when she was refused leave to stay with her daughter.
Fearing she could be parted from her only daughter Mrs Cothill began her legal battles to stay. Mr Doerfel said "not surprisingly, this has taken a toll on Myrtle's heath".
The family are calling for a change in the law because immigration rules which do not allow relatives to look after vulnerable loved ones are causing "untold suffering" to many people.
Related