Just in case you were missing some serious bonny bonnet action on Sunday evenings, 'Downton Abbey' creator Julian Fellowes has come good and brought us this mini-offering with his three-part adaptation of Anthony Trollope's saga 'Doctor Thorne'.
With an all-star cast, plenty of ballroom baloney and a tireless drone camera dipping over some of the country's most sumptuous old piles, whose residents were inside, we learned, counting their diminishing pennies and working out who they could marry off to ensure the family fortunes.
So, all the usual 19th-century goings-on we'd expect of a self-respecting period drama, then.
Here are the 6 aspects we sat back and enjoyed...
It was a tale of two Tom Hollanders. While he was proving how nasty he could be as Hugh Laurie's sidekick in 'The Night Manager' over on BBC1, you only had to switch to ITV for a far sweeter version of the same. Here he was, as a doctor, doing his best in trying circumstances, with a niece whose secret parentage he had kept quiet for years. Deciding when to reveal her provenance was something to test that furrowed brow we're more used to seeing in 'Rev'.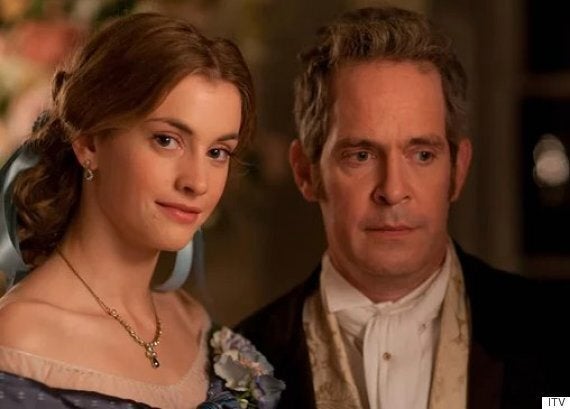 The furrowed brow of Doctor Thorne (Tom Hollander) as he dealt with the dilemma of his niece's parentage
The distinctive camera work that made everyone's head look particularly large - apart from when they were playing croquet, when it became all about their feet - contributing to a general, looming feeling we were about to be told it was all a spoof, or for the League of Gentleman to appear, or possibly French and Saunders. And how green was that picnic lawn?
Rebecca Front playing a woman in a bustle, desperate for her child not to continue romancing that becoming distraction they were toying with, and instead marry someone sensible aka rich, and allay the family's financial fears, i.e. exactly the same role she played in 'War and Peace'. It was all achingly comfortingly familiar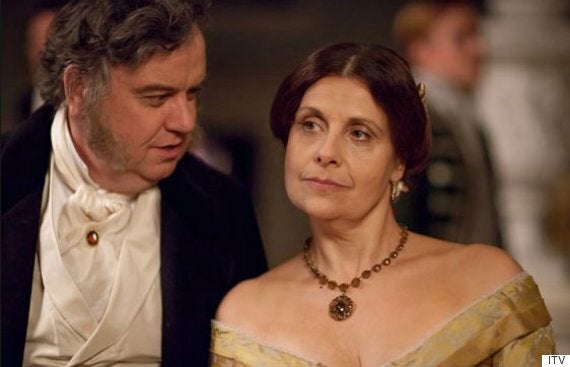 A woman on a mission - Rebecca Front as Lady Arabella Gresham
Amid all that talk that we'd get to watch Prince Harry's ex Cressida Bonas in action... yes, she did appear and yes, she is very pretty, but she was firmly out-bonneted by the delightful Stefanie Martini in the lead role of Mary Thorne. What a star in the making.
Just when it was getting all too prim for words, the very welcome appearance of American actress Alison Brie, as heiress Martha Dunstable. Fully aware of her dollar-laden appeal for British suitors, she was meant to turn Frank Gresham's head away from poor Mary. Instead she proved delightfully conspiratorial, finding a partner in crime in beleaguered Frank, right under his mother's nose.
There he is, Ian McShane in all his wizened glory as the deceptively wealthy Sir Roger Scatcherd
Lovejoy! or rather Ian McShane, chewing up the scenery in a nightshirt covered in… best we not know. How much fun he had playing this rich rogue can only come second to our pleasure in watching him. Hope his wizened Sir Roger Scatcherd doesn't succumb to his beverage tendencies too soon.
Oh, and an honorary mention for the sour lemon being sucked by Phoebe Nichollas as the unimpressed Countess de Courcy. (If ever there was a woman in need of Nookie Bear to lighten her day... joke for oldies!)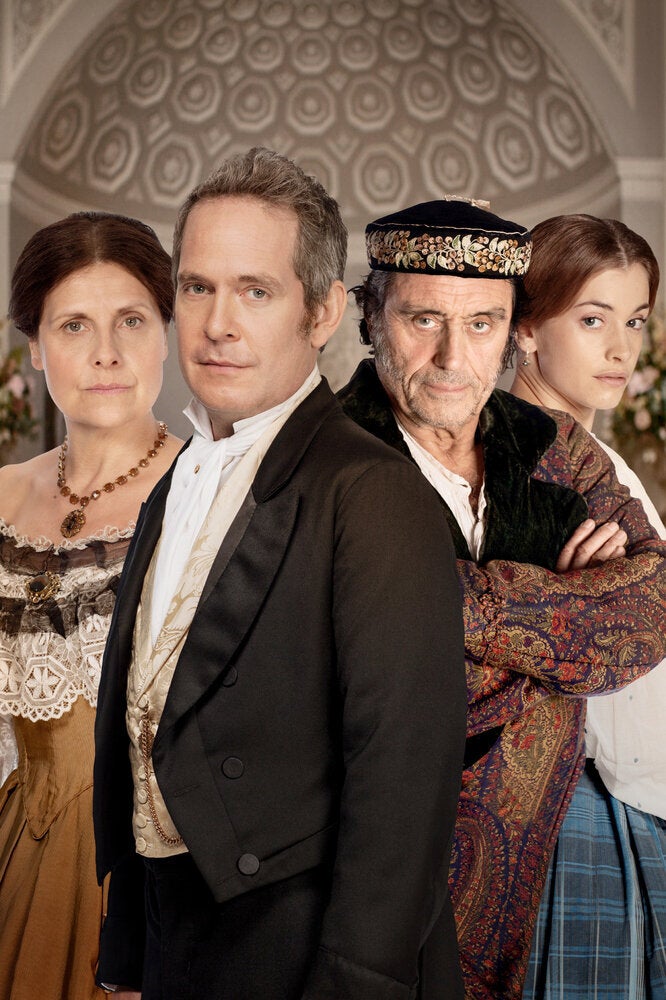 Doctor Thorne
Related