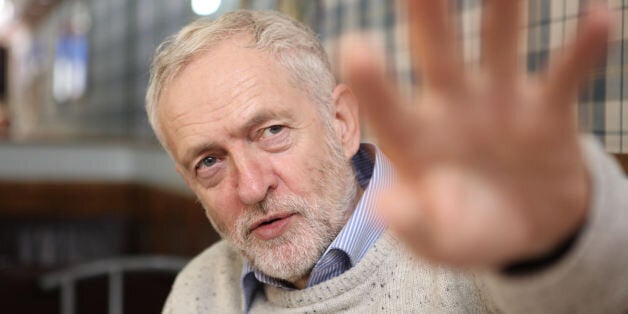 Jeremy Corbyn is facing a possible leadership challenge this summer if Labour goes 'backwards' in May's elections, HuffPostUK has learned.
'Moderate' Labour MPs believe that they have "one last shot" at ditching Mr Corbyn before his allies use this year's party conference in September to change the rules to protect him from a 'coup' by the Parliamentary Labour Party (PLP).
Although Sadiq Khan is expected to win the London mayoralty, some in the party fear Labour will lose key councils in the West Midlands and South, as well as constituency seats in the Welsh Assembly and Scottish Parliament, on May 5.
With few MPs wanting to disrupt the EU referendum on June 23, the expectation among a growing number of MPs is that there could now be a challenge in July, before the Commons breaks up for its annual summer recess.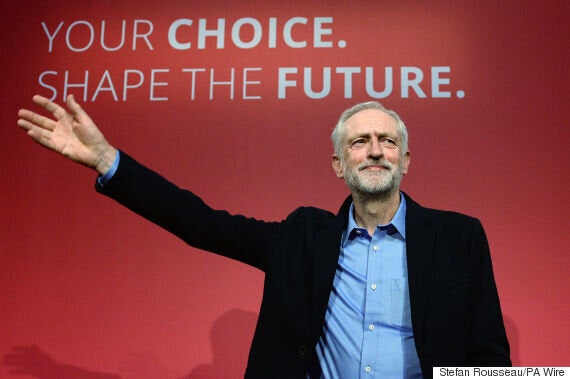 Jeremy Corbyn, the day he was elected leader in 2015
In a race against time for both sides, supporters of the Labour leader want to make it harder to get rid of Mr Corbyn and are planning to tighten up the rules to ensure a sitting leader is automatically included on any ballot paper after a successful challenge.
Current rules state that where there is no vacancy, "nominations may be sought by potential challengers each year prior to the annual session of Party conference", as long as they are supported by 20% of MPs and MEPs - in effect 50 names.
At present, the rules are unclear on how many names, if any, Mr Corbyn would need to stand again. Some believe he would need to gather at least 38 - and possibly 50 - nominations in order to stand again.
Labour sources have told HuffPostUK that allies of the leader want the National Executive Committee (NEC) – which now has a pro-Corbyn majority – to change the rules in July or September.
If 'moderate' MPs fail to launch their own coup attempt by the autumn, some of his most loyal allies want to leave the rule change until the very first day of party conference in Liverpool.
The move would "ambush" backbench critics and give them no time to submit a leadership challenge before conference delegates vote it through.
But attempts to bounce the rule change on the party with little notice could also risk a backlash from some of those sympathetic to Mr Corbyn on both the NEC and Conference Arrangements Committee.
Changes to the leadership rules have been mooted since last November, but Corbyn supporters believe they have to act at this year's conference in order to secure him in post until 2020.
The game of cat-and-mouse between the party leadership and Corbyn's critics is getting increasingly fraught as tensions between the leader and the PLP have worsened in recent weeks.
Allies of Mr Corbyn point out he has a huge mandate from party members, having secured a landslide of nearly 60% in the leadership election last year.
They also know that any attempt to oust a democratically elected leader would spark a furious backlash from many of the rank and file.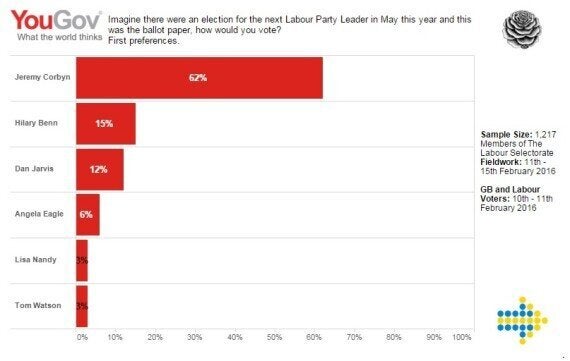 Another landslide - if Corbyn gets on the ballot
But 'moderate' MPs say that their leader's consistently poor poll ratings, combined with setbacks in the May elections outside London, would point to sure defeat in the 2020 general election. "We have one last shot at getting rid of him before he and his pals change the rules," one source said. "We've got to do it, before it's too late".
Labour MPs are privately discussing tactics, with some believing that Mr Corbyn has to be allowed at least 18 months to prove himself, and preferring to launch a challenge in 2017 instead.
However, his harshest critics point out that there is no obvious electoral 'trigger' in 2017, as next year's local elections are for English 'shire' counties and won't offer as thorough a test of national popularity as this year's regional, local, mayoral and Police and Crime Commissioner elections.
They believe that a change of leader would be justified, despite his big mandate from members, if he failed to win seats this year.
HuffPost UK revealed last week that Liz Kendall told the PLP meeting that an average of 434 seats was won by Opposition parties in council elections, outside general election years. And on some estimates, Labour could lose actually see net losses this year.
MPs are still split on not just the timing but also on who should launch the leadership challenge, although several former Shadow Cabinet ministers are being considered.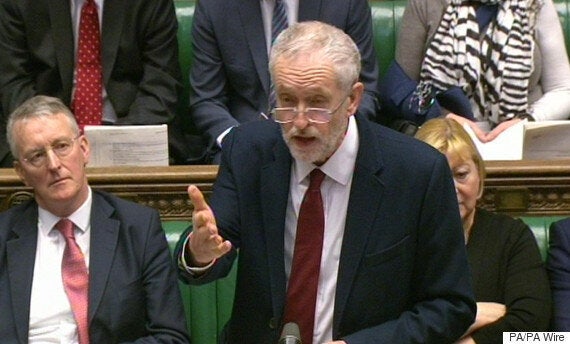 Jeremy Corbyn in the Commons
Under one plan, once the challenge is successfully triggered, other big names will then follow up in a bid to mop up as many nominations as possible and squeeze the number available to Mr Corbyn.
Although the Labour leader secured the backing of 35 MPs last year to get on the ballot, at least 12 of them refused to vote for him in the leadership election. His critics believe he would fail to get the 38 MP and MEP names required for a fresh leadership race, let alone the 50 of his challenger.
Even some of Mr Corbyn's toughest critics believe that this year is not the time to change leader, especially if the Tories are riven with splits over Europe.
Some MPs believe he has to be given more time and that he should be allowed to fight one general election. Other MPs argue that the damage done to the party in 2020 could be so great that it would take another decade to recover.
Unlike the Tories, Labour has never in its history needed to use its leadership challenge rules and for many they are unchartered territory in legal terms and political terms.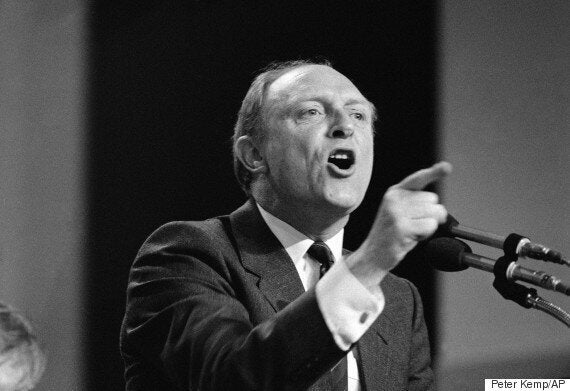 Neil Kinnock, the last Labour leader to gather nominations when challenged in Opposition
Corbyn allies are sure to point to a Labour victory in the London mayoralty as some evidence of progress under his leadership, along with the Oldham West and Royton by-election. Critics counter that in both cases victory is more linked to local candidate than the party as a whole.
The 2015 party conference passed a little-noticed rule change to include MEPs in the leadership nomination process and as the Conference Arrangements Committee cannot reconsider the same issue within three years, another threshold change is unlikely.
However, a simple amendment insisting that a sitting party leader has to be included on a ballot after a leadership challenge is possible, some insiders believe.
Former leader Lord Kinnock has pointed out to colleagues that he gathered fresh nominations for his leadership in 1988, when he was facing a challenge from Tony Benn. "Precedent could be crucial," one party source said.
Related