Speaking during a 'Loose Women' discussion (on Monday 7 March) about carrying a terminally ill baby to term so that its organs could be used for transplant, Sawalha said:
"I remember when I had my third miscarriage and I actually had it at home and delivered it, I was just not right in my head.
"I don't know what would have happened if somebody had come and asked me [to donate my baby's organs] at that point because I was just so strange.
"I was just past four and a half months [pregnant when I miscarried] and I actually kept the foetus in the freezer.
"I didn't want it to go anywhere because there's that connection - that lioness still comes out, but I wasn't able to do anything, I wasn't able to protect it and I wasn't ready to let go. In fact eventually we had a burial for it and that was really good."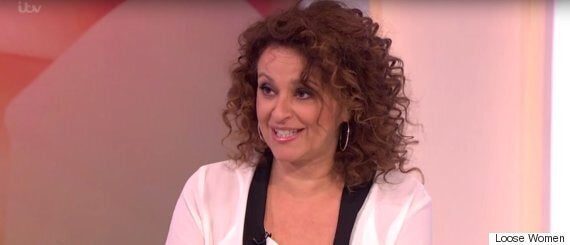 Nadia Sawalha has spoken out about suffering multiple miscarriages
Sawalha who has daughters Maddie, 13, and Kiki-Bee, eight, with husband Mark, suffered her first miscarriage before Maddie was born, then two more between her daughter's births.
Speaking to co-hosts Andrea McLean, Coleen Nolan and Jane Moore, she added that she felt the discussion about baby organ donation was very important because although in "the cold light of day" you may be able to imagine yourself making the decision to donate your baby's organs, you cannot prepare yourself for how you will react in a moment of heightened emotion such as the loss of a child.
"So I actually think it's really good to discuss that, because I didn't know you could do that," she concluded.
Jane Moore added: "The NHS wants us to stress that organ donation in young babies is extremely rare and no mention of it is made by the medics, it has to come from the parents, so there's no pressure at all.
"In the last two years the parents of 11 babies have donated organs to save lives."