The five things you need to know on Monday March 7, 2016…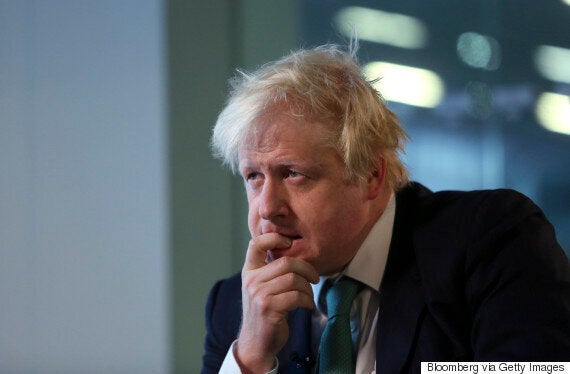 It's not so much Project Fear as Project Doubt that the In campaign is deploying in the EU referendum. Scaring the hell out of people misses the real target, which is to just plant a seed of doubt that voting Leave is a leap into the unknown. Polls and focus groups show that the great mass of 'undecideds' - particularly risk-averse women voters - have real concerns about what 'Out' would look like.
Boris set out a buccaneering case on Marr yesterday declaring it would be 'wonderful' outside the EU. But he stumbled on single market and failed to rebut Wolfgang Schauble's points that the UK would either have to pay or take migrants to stay in it. For all the talk of a 'special, British deal' that is unlike Norway or Switzerland or Canada, the Outers have yet to say what that deal really will be.
As for Boris, his performance got a real kicking from fellow Tories, with Ruth Davidson tweeting that his "bumble-bluster, kitten smirk, tangent-bombast routine" was failing to cut through. While Nick Soames (surely that account is a spoof??) declared Boris was floundering on the detail because "the dear old thing isn't a Leaver".
In the Sun, Trevor Kavanagh is unimpressed with Boris too. "This was the moment for a forensic response from the leader of the Out campaign. Instead Boris disappeared in a cloud of waffle." He points out Boris faces the Treasury select grilling soon and will have to 'up his game' if he's to do the Wembley Arena BBC event. I note that Trevor also has a scoop buried away in his column - that a Brexit Cabinet minister is set to resign soon in protest at Project Fear and the curbs placed on them.
2) BRUSSELS OUTS AND TURKEY
Today sees the emergency EU summit on migration in Brussels and the main issue is whether Turkey will get a deal that meets its demands to help curb a second wave of migration from Syria to Europe.
David Cameron is doing his bit, offering a Royal Navy amphibious ship (it's not really a 'warship') and helicopter capability to tackle the people smugglers. Many suspect this is his quid-pro-quo for the deal he got on British EU reform demands last month. The Times has a leaked summit document suggesting the UK will be forced into deploying 'all available means' to combat the migrant flows. Some worry that it's still very difficult indeed to stop these boats getting out of Turkey waters on their way to Greece.
As part of its own 'Project Fear', the Leave campaign knows that the spectre of mass migration (if refugees become EU citizens there's nothing to stop them coming here) is a key weapon in the EU referendum. Both Nigel Farage and David Davis also this weekend warned Turkey could take another step closer to becoming a member of the EU.
They may seize too on the FT's splash that Brussels wants to centralise asylum claims across Europe. But the European Commission in London has slammed as 'fabrication' newspaper claims that the EU will 'control our borders'.
Jeremy Corbyn will be at the Parliamentary Labour Party tonight and the PMQs tables will be turned as he faces questions from 'John in Barrow' or 'Jess in Birmingham' over a range of topics that have concerned his own MPs.
Ahead of International Women's Day, the Labour leader will be quizzed over his off-the-cuff remarks about decriminalising prostitution. One MP tells me 'the sisters are on the warpath' and I suspect Corbyn will have to clarify his remarks to make clear he was talking about sex workers rather than their clients - and that he's not proposing a change in policy. Other MPs are uspet that Corbyn undermined the party's EU In campaign day last weekend by attending a CND rally rather than hitting the streets for Alan Johnson.
But just as explosive could be the readmission of leftwing union leaders Mark Serwotka and Matt Wrack to the party (as revealed by HuffPost). Whip Conor McGinn last night tweeted his fury at a Guardian interview Serwotka gave in which he said 'no obstacles' should be put in the way of activists who wanted to deselect their MP. Serwotka's attack on the Labour government, plus Corbyn's own attacks on New Labour for the financial crisis, could well be raised too. Some MPs were none too impressed with the latest local election campaign ad and slogan - and don't forget May is Corbyn's first national electoral test among the Labour (and other) voters - rather than Labour members.
Rachel Reeves has a speech today. Yvette Cooper had one the other day. Dan Jarvis has one on Thursday. Unease is in the air.
Writing for HuffPost today, Gloria de Piero and Kate Green say the best thing women can do on Women's Day is spend three minutes registering to vote online.
BECAUSE YOU'VE READ THIS FAR…
We are in full pre-Budget mode this week and the lobbying by many groups appears to be working. No10 wants the Treasury to make this a 'risk-free' event that won't hack off key voters in the run up to the EU referendum, and George Osborne appears to be finally realising now is not the time for too-clever-by-half wheezes on tax reform. (Conor Burns all but admitted that on the Westminster Hour last night).
So after yet another Treasury U-turn (on radical pensions reform), we could get a partial climbdown over 'pay to stay' plans for market rents for council tenants.
One daft minister sparked speculation that there could be a fuel duty hike, when they told the Sunday Times: "The simplest way to raise cash is to put 2p on petrol. Prices are so low at the moment that people will hardly notice the difference." The Telegraph reports that Jason McCartney will meet Treasury minister Damian Hinds tomorrow to lobby against such a plan. Just as relevant, surely motorists' champion Rob Halfon would have to quit as a minister if there was a fuel duty hike?
Lots of Tory MPs are expecting a nice bit of tax relief for their voters with a raise in the 40p tax threshold. But will he impose fresh spending cuts to pay for it, a move that would impress some Conservatives but alienate floating voters.
The Sun's Harry Cole had a corking exclusive today that Osborne plans to announce a bid to 'eradicate homelessness'. Richard Gere (who plays a homeless man in a new Hollywood movie) met local government Ministers Greg Clark and Marcus Jones last week. Let's see what is actually pledged but it shows Osborne is keen on boosting the Cameroon brand to keep all those ex Lib-Dem and Labour voters mopped up last May.
Exactly a week before his Budget, Osborne is facing a possible Tory rebellion on Wednesday over his plans to relax Sunday trading laws. Never forget the Government's working majority is just 17, and some 23 Tories have signed up to join David Burrowes campaign to block the move, with PPSs and others set to abstain.
The SNP however are crucial in the arithmetic. Labour suspects the 56 SNP MPs will abstain and effectively allow a Government victory as part of a shady deal over financing for the Scottish government. The SNP meets trade unions today for a crunch meeting. George may have the numbers in the bag, but could signal a watering down or delay to the plans to kick it all off into the Lords.
For even if the Commons backs the changes, it could be the Lords where they face serious delay. Bishops were furious at the plans being snuck into the Enterprise Bill after the Lords stages and crossbenchers. But in both Houses, the Lib Dems could surprise people: they are actually in favour of the Sunday trading relaxation - because it means devolution. Tim Farron is on ITV's The Agenda tonight, maybe he'll expand on that as well as other topics.
If you're reading this on the web, sign-up HERE to get the WaughZone delivered to your inbox.
Got something you want to share? Please send any stories/tips/quotes/pix/plugs/gossip to Paul Waugh (paul.waugh@huffingtonpost.com), Ned Simons (ned.simons@huffingtonpost.com), Graeme Demianyk (graeme.demianyk@huffingtonpost.com) and Owen Bennett (owen.bennett@huffingtonpost.com)