We all know that a lump on one's breast could signal cancer. But if you spotted small dimples there instead, would you jump to the same conclusion?
Kylie Armstrong has shared a photograph of three "very subtle dimples" on the bottom of her breast, which prompted her to go and see her doctor.
After undergoing a mammogram and ultrasound, Armstrong was diagnosed with breast cancer.
She is now trying to raise awareness of the unexpected symptom.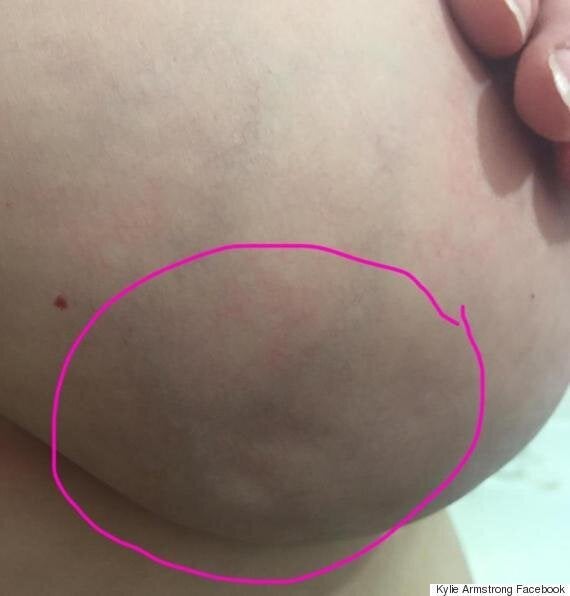 The image that Armstrong shared on Facebook
"However, she listened to me when I said my breast looked different to usual and when I raised my arm I could see very, very feint [sic] dimples on the underside of my breast."
After going for a mammogram and ultrasound scan, Armstrong was told there was a tumour deep in her breast, close to the muscle.
"These three dimples have turned my world and my families world upside down," she explained.
"We are shocked, we are numb, we are emotional, we are sometimes ok, we are pretending it's not happening, we are trying to absorb information, we are dealing with tests, we are crying, we are trying to continue as normal.
"We are angry, we are sad. We have more questions than answers. We are doing our best to cope.
"The messages and phone calls to me, my husband and my children sometimes help and sometimes make us all cry."
She wrote: "I am sharing this because I hope I can make people aware that breast cancer is not always a detectable lump. Please go straight to your GP if you notice ANY change in your breast. It could save your life."
The Facebook post has been shared more than 100,000 times and many women have commented on the post, thanking Armstrong for sharing it.
One woman said it had even prompted her to go and get her breast checked. Gemma Webb wrote: "I have a very similar looking breast, its probably nothing but I've booked a doctor's appointment for tomorrow.
"I have a few other symptoms that I wouldn't have known about without seeing your photo and reading up on it.
"I've had three operations to remove pre cancerous cells from my cervix, and one to remove stage 1 cells. I'm currently awaiting biopsy results to see what's happening next, although I have a feeling inside it won't be the news I want.
"Thank you so much for sharing your photos and story. You're a beautiful, brave, admirable women."
Meanwhile Kristin Daniels shared her experience: "Kylie, I saw your post because one of my friends shared it. I, too, had the dimple, however I found a lump first, then noticed the dimple. That was 4 years ago. Thank you for posting this, it's so important for women to know ALL the changes that are BC signs."
She wrote: "We took the first major step in making me cancer free yesterday. I say 'we' because this affects everyone around me.
"My surgery went well and after a bit of early nausea, I am now recovering well. My family are tired but relieved this part is over. We hope all the cancer is now out of my body.
"Once I have fully recovered and my batteries have been recharged, we will jump head on to further treatment and we will do everything we can so I can beat this."
[Tap on the picture below to launch slideshow]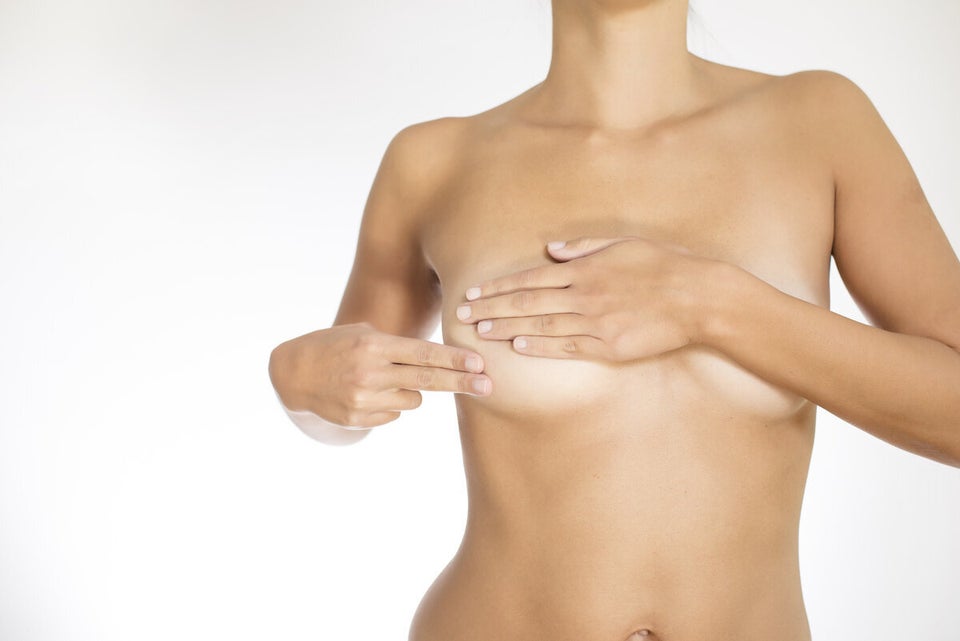 Breast Cancer Signs And Treatment