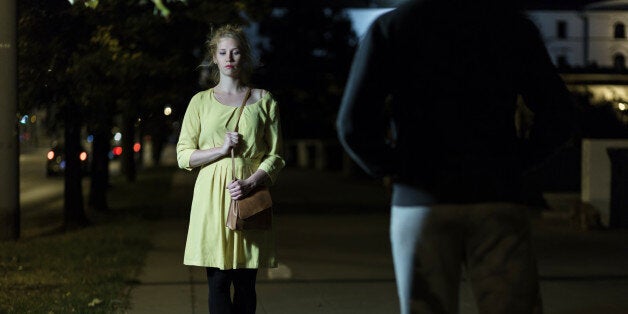 Nearly nine in 10 young women have been sexually harassed in public, with only 11% saying someone intervened when they experienced unwanted sexual touching, a report has found.
The YouGov survey, commissioned by the End Violence Against Women Coalition, found 85% of women aged 18 to 24 have experienced unwanted sexual attention, with 45% experiencing unwanted sexual touching in public.
Nearly two thirds of women of all ages across the UK have experienced sexual harassment in public places, making it the most common form of abuse, with 81% saying they would have liked someone to intervene.
Of the women who were sexually harassed, more than a quarter were aged under 16 the first time it happened, and more than three quarters were under 21 when it first happened.
The survey also found that significantly more women than men say they feel unsafe in public places - 63% compared to 45% - and almost half are doing conscious "safety planning" if they go out in the evenings, such as avoiding public transport and paying for taxis, leaving early and taking a different route.
Sarah Green, Acting Director at the End Violence Against Women Coalition described sexual harassment as an "everyday experience".
"Women and girls learn to deal with [it], but it's time to hold a mirror up to it and challenge it.
"We did this survey to find out about the scale of sexual harassment and the impact it has on the way women live. If women are planning their lives around not being harassed or assaulted, they are not free. Women should be free to live their lives without the threat of harassment and violence, not having to plan and limit their choices to make sure they're safe."
In the survey, which questioned 1,650 women, females were asked what they thought should be done about sexual harassment in public places. More than half said they supported more police, 38% said better street lighting or more transport staff and 35% wanted public awareness campaigns encouraging others to intervene. None of the women asked thought the problem should be ignored.
Susuana Amoah, NUS women's officer told HuffPost UK: "These statistics don't surprise us, however we hope that they will show those in power the importance of using education and other systems to tackle sexual harassment towards young women."
Green added: "Girls and young women are.. learning to change their behaviour so they can manage these incidents because they are so regular. We need to really question any idea that this behavior is trivial or in any way acceptable given what we can see about its impact."
In the survey, examples of sexual harassment included sexual comments, exposure, staring and wolf-whistling.