The Government has had its offer of a one per cent pay increase for thousands of public sector workers derided as "miserly", as unfavourable comparisons with MPs' pay expose a shocking disparity.
Tuesday's decision means medics, including junior doctors, dentists and some nurses, as well as members of the armed forces will continue to be affected by the decision to adopt a one per cent cap on public wages.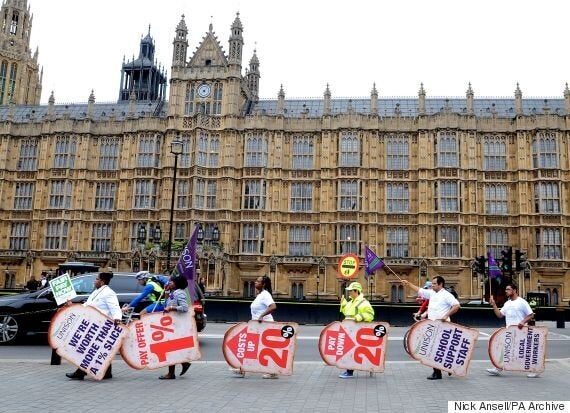 Trade unions have argued public sector workers are worth more than a "slice of 1%"
Chancellor George Osborne has insisted annual public sector pay increases must be capped until the end of the decade, and the latest decision continues the policy ahead of next week's annual Budget.
Trade unions were quick to slam the increase as wholly inadequate.
UNISON Head of Health Christina McAnea said: "Government pay policies since 2010 have seen most health staff lose thousands in real terms – nurses are down more than £4,700 since then.
"This one-percent pay rise falls way below what health workers need and deserve after years of pay cuts, especially as changes to national insurance and pension contributions will absorb much of this miserly increase."
Unite assistant general secretary for public services, Gail Cartmail said: "Once again, the hardworking and dedicated employees in the public sector are the whipping boys for the government's misguided and discredited austerity agenda."
And the gulf between the pay rise of politicians and that of public sector workers was heavily criticised last month, when people made the link between the junior doctors' strike and MPs' pay.
However, not all public workers had their pay restrained by the cap.
The Treasury decided prison officers would be given a 1.36% increase following "highly ambitious" reforms.
Junior doctors will strike from 8 am tomorrow in the continuing dispute over the imposition of new terms and conditions.
Defending the decision to award an increase of 1.3%, the Independent Parliamentary Standards Authority (Ipsa) earlier said: "This is in line with our determination on MPs' pay, published in July 2015, where we committed to adjusting MPs' pay for the rest of this Parliament at the same rate as changes in public sector earnings published by the Office of National Statistics.
"The ONS index takes account of promotions and bonuses which may explain why the figure is higher than the one per cent wider public sector pay policy."