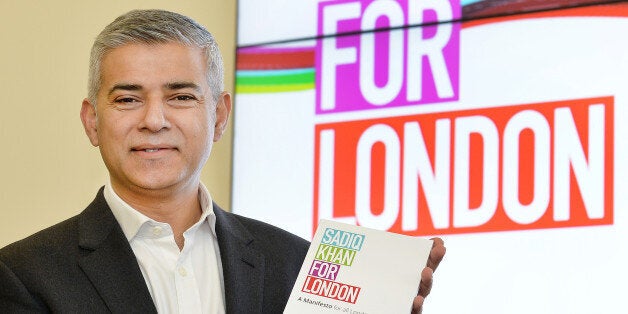 Commuters in Birmingham, Manchester and other UK cities could keep travel costs down for London workers if Sadiq Khan becomes mayor of the capital.
The Labour Mayoral candidate today pledged that Transport for London – the body which runs the capital tube network – would bid to operate services in other UK and European cities to create a "revenue stream".
Khan said the money raised from TFL's expansion would help fund a freeze in fares for Londoners.
Speaking at the launch of his manifesto in Canary Wharf this morning, the Tooting MP hit out at foreign government's running 40% of London's bus franchises.
He said: "One of the things that we need to do is increase the revenue streams from TFL.
"Unlike the current Mayor, and the guy that wants to replace him from the Conservative Party, that shouldn't be from fares from Londoners.
"What we should be doing is using TFL's commercial arm, have a commercial arm, to bid for contracts in cities around the world, cities around the country, but also for our buses in London.
"I think Londoners will find it slightly odd that our fares we pay on buses in London goes towards reducing fares in France, Germany and Holland, whereas TFL could be bidding to run the buses but aren't."
Khan has pledged to freeze all TFL fares for four years if he becomes London Mayor after the May 7 vote – a policy which he claims will cost £450million.
In order to make the savings, Khan would merge some TFL departments, cut down on the organisation's use of consultants and seek to raise money from "revenue streams".
However, TFL claim the real cost of fare freeze will be £1.9billion as Khan's team did not take into account inflation-linked ticket increases and the additional money coming in from Crossrail passengers.
But Professor Tony Travers of the London School of Economics believes the true figure is around the £800million mark
Today, Khan insisted his sums did add up and speaking to reporters after his manifesto launch said: "I bring in way above £900million by the way, just to reassure you."
He claimed that TFL had accepted hundreds of millions could be saved through back office mergers and cutting down on the use of consultants, as well as a "commercial arm which would bring in hundreds of millions."
Popular in the Community